"Daddy, do you like my picture I made for you?"
"Oh yes, Pebbles, I do. It's beautiful"
If you're a parent, you know this exchange by heart. And, assuming you're not raising the next Renoir, you also know that you're stretching the truth mightily when it comes to the role of art critic. Sure, the sentiment is beautiful. The idea that your child wanted to draw something for you is certainly heart-warming. But, be honest, the picture in question isn't beautiful. At least not at my house: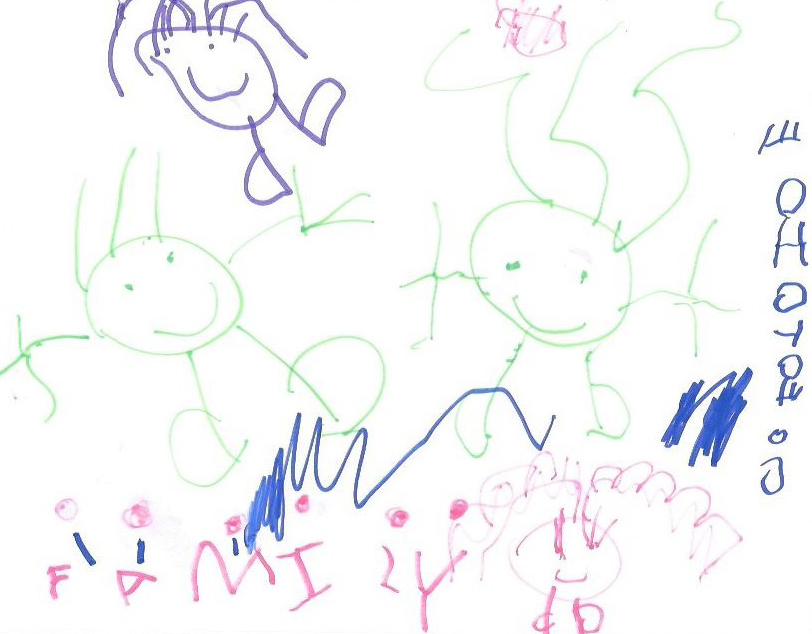 Now, I'm not saying this isn't a perfectly acceptable level of artistic skill for a 4-year-old (though, my head is slightly smaller than that and my arms a little better developed). Charming? Sure. Beautiful? Not really. Still, fawning over toddler artwork is a rite of passage for parents and we do it for good reason. We believe that positive reinforcement will encourage our child to be more creative, to try new things and use their imagination.
These are all admirable goals and I'm not suggesting that anyone should stop lavishing their little one with praise for attempts at art. But it's also important to recognize that in those moments we're, essentially, lying to our kids and declaring that something completely average is absolutely sublime. Like I said, that's a fine idea when it comes to a toddlers' art work. But, more and more, the lying becomes the defacto way of judging everything our kids do. In fact, we've reached a cultural tipping point at which this kind of automatic praise is institutional policy well into the teen years and beyond.
These days, the sign up fees for youth soccer include the cost of an end of season trophy -- a trophy the kids can count on receiving whether they win, lose or never even show up for a game. On my son's bookshelf are side-by-side trophies for a 0-11 season and an 11-0 season that are virtually identical. Any indication that one of those seasons was miserable and the other was glorious has been scrubbed away.
By the time our kids go to school the dynamic is set. From elementary school to undergrad, the idea that someone might fail a class is virtually unheard of. "Social promotion" -- the concept of promoting a student to keep them with their social peer group regardless of their academic ability -- is policy in a vast number of schools throughout the country. Everybody moves on to the next grade because everybody is a star pupil. Poor grades are blamed on teachers, not students because, after all, parents have spent a young lifetime telling their kids how fantastic they are. The truth, however, is something else entirely. Like it or not, the odds are that your child is utterly and completely average. That's not my opinion, that's math. And the same is true of my kids. There's absolutely nothing wrong with "average." But if average wants a shot at exceptional, he/she will have to put in an exceptional amount of effort. How can any child be expected to do that when they already believe they're great at everything they do?
The result of this "happy failure" school of parenting is not only entitlement (since I'm an unqualified success, why shouldn't I be celebrated by the world at large?) but also a generation of staggeringly average kids who, when they have to enter the real world, are stunned to find that they're just not as amazing as they've been led to believe.
The mistake is not that we support our kids and try to build their self-esteem. It's that we offer unconditional approval and mistake it for unconditional love. They are not at all the same thing. Yes, positivity and support can help a child achieve. But we can't praise and reward our kids into being athletes, scholars or beauty queens no matter how many times we mindlessly tell them how wonderful they are. In fact, exactly the opposite is true.
It's precisely the possibility of abject failure and the sting of emotions that comes with it that makes success worth striving for and attaining. Failure can hurt, but it can also motivate and inspire. How can we hope for inspiration in a parenting culture where everybody gets a trophy just for getting out of bed?
It hurts me to tell my son "I think you can do better" when I really want to just say "You did great!" But if I truly believe he's capable of great things, I have to be honest with him. Ideally, my children will find confidence not because I stopped them from falling down, but because I taught them how get up and to summon the courage to try again -- even if they know they might fail.