The holidays are supposed to be all about comfort and joy, but they're more often about discomfort and self-disgust, at least for women. Not only 'tis the season to shop 'til you drop, 'tis also the season to overindulge, then beat yourself up for overindulging. Joy to the world: There's another way!
As promised in my previous blog, there are simple, effective ways to go easier on yourself and stop the downward eating spiral before it starts. For this post, I was ready to excerpt a few of my favorites from "The Self-Compassion Diet," when I thought better of it. A far better thing to do, I decided, was to compare notes with the self-compassion experts coming to town for this week's Massachusetts Conference for Women.
Before 7,000-plus women descended on Boston for the state's largest women's conference, I made a holiday promise to myself: track down and chat up the most compassionate speakers on the program. Making good on that promise, I interviewed Jess Weiner, a binge eater turned Health At Every Size advocate; Brené Brown, a researcher who has spent the last decade studying vulnerability, courage, authenticity and shame; and Caitlin Boyle, a health blogger who discovered the transformative power of Post-its. What follows are a handful of questions and answers from those recent long-distance chats.
Jess Weiner, author of "Life Doesn't Begin 5 Pounds From Now," is committed to boosting the self-esteem of girls and women worldwide. Photo by Dana Patrick.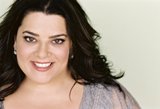 Q. Why do you think women are so hard on themselves this time of year?
A. We are so inundated with perfect commercial-advertiser versions of how our life is supposed to be that when we actually come face to face with our own reality -- uncomfortable family dinners, or relatives you can't stand, or the fact that we ate too many carbs -- we end up beating ourselves up. It's also prime diet-talk time coupled with the most delicious-sounding recipe box. It's a mixed message of indulgence and restriction, and women get caught in the middle of that.
Q. What's your best advice for going easier on yourself right about now?
A. Most dieters believe life begins on Monday, but it's important to remember there's an infinite number of do-overs. One bad meal doesn't need to set you on track for a binge. One tight pair of pants doesn't mean you're a horrible person. Instead, practice daily gentility with yourself. The kindness we give to ourselves is the greatest defender against the negative choices we make. If you're kind to yourself, you'll probably choose differently.
Q. What's your second best piece of advice?
A. The holidays are intense pressure-cooker times for families. No one knows how to push our buttons better than family because they're the ones who installed them. [To take off the pressure], have your friends on text stand-by. I have an agreement with three or four people, and it's fantastic! Ask them [ahead of time]: "Can I have permission to text you when I'm feeling out of control? You don't have to text me back, but I want to be able to reach out to you."
Brené Brown, author of "The Gifts of Imperfection," is devoted to helping one and all let go of who we think we should be and embrace who we are. Photo by Andrea Scher.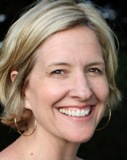 Q. Why do you think women are so hard on themselves this time of year?
A. Most of us hold our lives up against the Pottery Barn catalogue image of the holidays. There's nowhere to go from there but disappointment. That disappointment can lead to not taking care of yourself: not sleeping enough, not eating well, not practicing self care, not saying "no." That perpetual disappointment can turn into shame; it can turn into "I'm not enough."
Q. What's your best advice for going easier on yourself right about now?
A. Take all of your greatest expectations and ask yourself: "What's going to happen if nine out of the 10 don't materialize? What's going to happen if the one that does materialize, materializes on its own terms, not yours?" Then ask yourself how you're going to make it a good holiday season if that happens?
Q. What's your second best piece of advice?
A. Schedule a lot of "white space" or unscheduled time. It's far easier to do everything that's asked of us, then stay pissed off and resentful the whole time. Not only are we feeling resentful, we're feeling ashamed because we're not supposed to feel that way. The moment I shift from looking forward to events to just wanting to get them the heck off my to-do list, that's when I realize I'm doing so much that I can enjoy nothing. The anti-Santa Claus thing to do is say "no." Say "no" to every party except the one you really want to go to. Say "no" to the 44 Christmas Day visits and choose the ones that are really meaningful to you.
Caitlin Boyle, author of "Operation Beautiful," is dedicated to helping every girl and woman take a kinder, gentler view of herself and all womankind.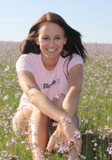 Q. Why do you think women are so hard on themselves this time of year?
A. Marketing companies pray on our insecurities to make us buy products. They pitch guilt so we'll use their tricks, gadgets and diet pills. But the holiday season isn't about how to avoid gaining two pounds at the Thanksgiving buffet. It's about family, fun, food and charity. Also, it's hard for a lot of people because everyone's so busy. It's cold. It gets darker earlier. Maybe you're not exercising the way you used to. All those things culminate in feelings of discomfort and sadness.
Q. What's your best advice for going easier on yourself right about now?
A. It's really important to have visual reminders of the way you want to talk to yourself. Operation Beautiful is about posting notes for others in public places, but you can post notes for yourself, too. Put them up in your bathroom or on your fridge. Remind yourself: "You're beautiful inside and out." "You don't have to be perfect." "Being healthy is beautiful."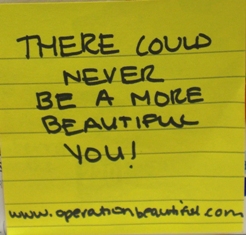 Q. What's your second best piece of advice?
A. There are a lot celebrations, treats and opportunities to eat junk food. One part of being healthy is realizing that, just because it's there, doesn't mean you have to eat it. It's OK to enjoy favorite holiday treats, but maybe store-bought sugar cookies that you can get all year-round aren't worth it if they're going to make you feel bad about yourself. Don't think twice about the sugar cookies you made with your niece and decorated while watching "Elf." But don't just mindlessly graze on store-bought, icky cookies.
Jean Fain is a Harvard Medical School-affiliated psychotherapist specializing in eating issues, and the author of "The Self-Compassion Diet." For more information, see www.jeanfain.com. Got compassion-enhancing holiday tips? Please share in the comments section.