Multi-discipline design and innovation firm IDEO has announced the fall launch of a new nonprofit arm, IDEO.org. In a move to bring human-centered design to the social sector, IDEO will identify projects that can be addressed by design, and will have a lasting impact on low income communities around the globe. I spoke with co-leads and executive directors Jocelyn Wyatt and Patrice Martin about the initiative.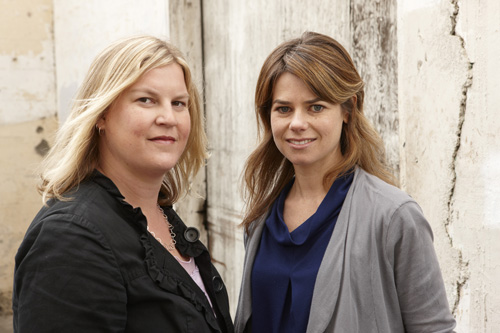 Jocelyn Wyatt and Patrice Martin, co-leads and creative directors of IDEO.org
What informed the decision to start IDEO.org?
Jocelyn: IDEO has been undertaking work in the social sector for the past ten years.
Over this time, what we've seen is an increasing interest among foundations, non-profits and social enterprises in using human-centered design as a way to solve their common challenges, especially those challenges related to poverty. At the same time, we've seen interest in designers focusing their skills and talents on a common good.
So we realized that the best way for us to increase the impact that we have and scale the social work that we wanted to do. Creating a nonprofit will allow us to make our services more accessible to non-profits and therefore scale the amount of work and the impact of the work that we're doing in this space.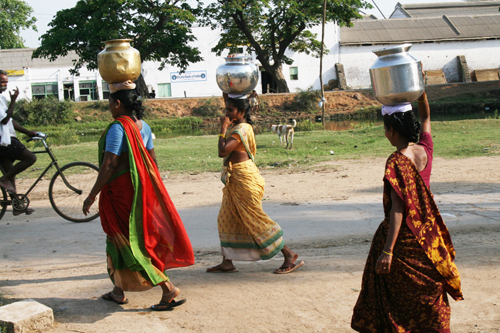 Women in southern India gather water from a local well.
Is your focus on bringing social awareness to the design world or bring design to the social sector?
Patrice: It's actually both. We're really looking at this as a breakthrough model to use philanthropic funding to spread human centered design through the social sector and improve the lives of low income people across the globe.
We are looking at how we bring the idea and methodology of human centered design to all the organizations that are working on the challenges of poverty. And also create one more way for designers who are hungry to work on these problems to have access to it and use it to frame the way they approach the world of design.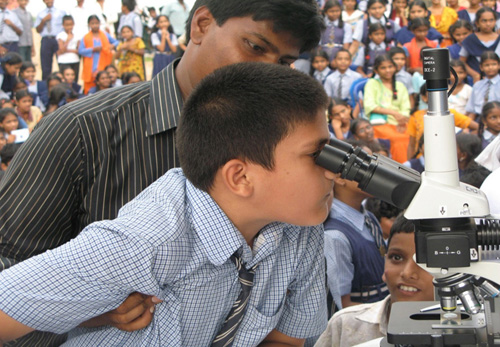 A boy in Southern India looks through a microscope to compare clean and dirty water.
Are there any projects that you can talk about that you're working on?
Jocelyn: We're working on a project right now in Ghana with the organization Water and Sanitation for the Urban Poor. The project is based around understanding the needs of local Ghanaians related to sanitation. Most people are using public toilets, which are pretty filthy and inconvenient. We are working to design household sanitation solutions. Basically taking camping toilets or mobile toilets and putting them into households and providing removal services. We're working on the design of the products, the service and the business model to provide widespread access to household sanitation in Ghana and beyond.
Patrice: We also have a team working with a micro-financing institution in Kenya, helping them mobilize savings. Through that process, we've been going out into the community in Kenya and learn about low income women's lives, and their relationship to saving.
We've been going to their homes, talking about money, looking at their businesses through many rounds of interviews. Seeing what we can really do to help a behavior change. We've learned that people really see saving money as something that is dormant, and there's no real connection to what that money is. They have a disconnect between the money that they save and something that is actually very active and tangible. We have been working with this institution to develop their savings programs around these findings to provide services that the local community can understand and connect with.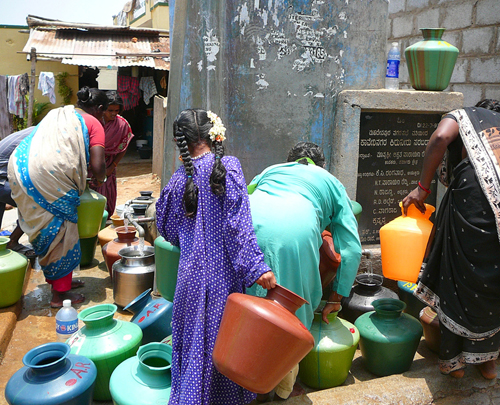 Women collecting water at a bore hole in Bangalore, India.
How do you identify these projects, and decide whether to take them on?
Jocelyn: We're working with non-profit partners who we've connected with in a variety of ways. But really what we're looking for is projects that fit our three criteria.
First is that the organization that we're working with is a non-profit, and NGO or a social enterprise.
Secondly, that the project is ultimately going to benefit a low income community.
And third, that the challenge we're taking on is tangible. That the impact will truly be seen by the community: it needs to be product design challenges, service design challenges, or systems challenges.
Patrice: We're really seeing the majority of work related to the challenges of poverty across agriculture, water sanitation, health, financial inclusion and gender equity.