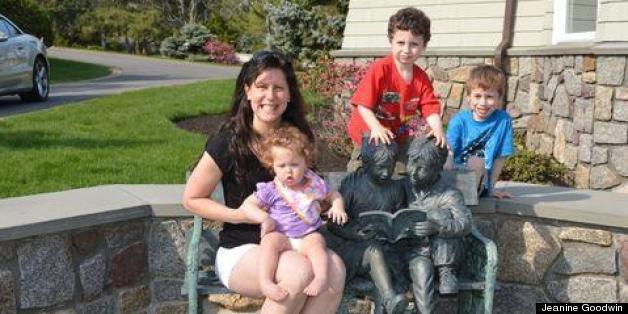 My husband and I have three children, ages 7, 4 and 2, and we live in Newton Corner, right next to the Massachusetts Turnpike, which divides Newton from Watertown. So we are a few minutes' drive from where this is all happening, close enough to Watertown that the authorities have ordered: don't leave, don't drive, don't open the door for anybody unless it's a policeman in a uniform.
My husband works from home, so having him home during the day isn't unusual for us. But we've been up basically since one o'clock, when we were awoken by the sirens of what seemed like a hundred police cars flying down the Mass turnpike at record speed, and the helicopter flying overhead. We spent the early morning glued to the television, in awe of the events as they unfolded in real time around us.
And then the inevitable eventually happened: The kids woke up ready for their day ahead. While law enforcement officers were risking their lives on the streets, working around the clock to keep my neighborhood safe, I was saddled with my big question: how to entertain the kids. Normally we try to restrict the use of the iPad and the computer, but on this beautiful, warm spring day we're being extra lenient with video games. And longing to visit our favorite playground in Watertown.
All of this is familiar to us in the past from our encounters with severe Boston weather over the years; such as the two recent blizzards and a couple of hurricanes. There's the cabin fever you get from being trapped inside, with kids wanting to be entertained. But really, when we think about the victims of the bombers, the first responders and the families affected by the tragedies, I realize all of what we are going through is simply just a big inconvenience. With a palpable tinge of fear unlike any of us Bostonians have experienced in our hometown. Maybe a lot like what L.A. went though recently with a rogue cop on the loose.
The most difficult thing with respect to the children is that the two boys are old enough to understand enough of what they hear on TV. My two oldest didn't know all about what happened on Monday at the marathon. But we did talk to our 7-year-old about the bad men who wanted to scare people in Boston, and how explosions were set off, and that everyone was a little bit worried.
We had to explain to our oldest son why his planned play date wasn't going to happen today. This would be difficult to explain to any 7-year-old in the context of the events this week. But my son is an ultimate worrywart. So to keep his fears at bay we have been keeping the atmosphere at home very lighthearted. And of course he peppered me with questions -- why, why, why? So my husband pulled him aside and said it would be a lot easier for the police if people didn't go out today, so they can catch the bad guy from Monday. It seemed to keep him calm; yet only time will tell if all of what my kids have been told gives them nightmares.
In a fit of "bravery" I did take my 2-year-old outside into the sun for a few minutes. But when the sound of birds rustling the leaves in our yard made me jump out of fear, imagining a terrorist hiding on the side of my house, I made the decision to bring her in kicking and screaming. One day I'll explain to her future-self why mommy didn't want her to play a hero; or a victim. But today I just had to take her punches.
Like most Bostonians, I never dreamed that we would experience a day like this in Newton. And I just keep thinking about the irony that two of my Boston area friends are abroad visiting family; one in South Korea and the other in Israel. And of course I wrote to them, saying, "You're missing all the drama in Boston." But really, given our relative safety in the confines of our home, I realize that under the circumstances we really are probably quite safe and blessed.
HuffPost Readers: Were you or someone you know in the area affected by the bombings or the manhunt? If you have any information to share, or want to tell us what you experienced, email openreporting@huffingtonpost.com. Include a phone number if you're willing to be interviewed. Let us know if you wish to remain anonymous.
PHOTO GALLERY
Notes From The Lockdown