One in three women worldwide risk shame, disease, harassment and even attack because they have nowhere safe to go to the toilet. 526 million women have no choice but to go to the toilet out in the open. Women and girls living without any toilets spend 97 billion hours each year finding a place to go.
These are just a handful of the shocking statistics highlighted in a new report, We Can't Wait jointly published today by the United Nations hosted organisation Water Supply and Sanitation Collaborative Council, international charity WaterAid and Unilever's leading toilet brand Domestos.
Our report, We Can't Wait, was presented today at a United Nations event in New York, held to celebrate the official recognition of World Toilet Day by the UN. The day serves to remind the world that over 2.5 billion people lack access to a safe toilet, with devastating consequences in particular for the well-being, health, education and empowerment of women and girls worldwide.
Sanitation and hygiene are motors which drive health, social and economic development around the world. An environment that lacks sanitation and clean water is an environment where achieving other development goals is an impossible dream. Indeed, the international community acknowledged the importance of sanitation by including targets in the Millennium Development Goals. At current rates of progress however, the target will be missed by half a billion people.
With the 2015 deadline fast approaching, the fact is we simply cannot wait to take action and it is our collective responsibility to find a solution and to make sanitation for all a global development priority.
Our organisations have come together today to put forward a number of recommendations.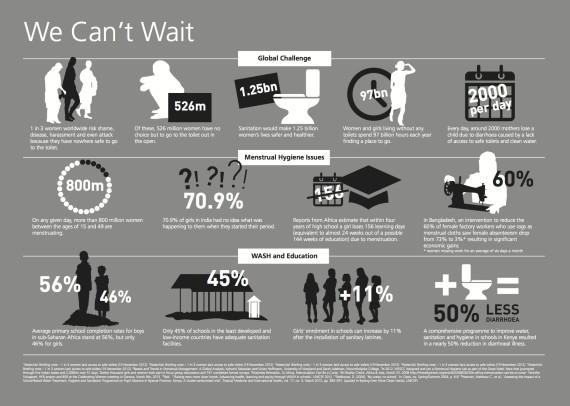 From a government perspective, the message is clear: strengthen the sanitation sector, significantly increase financial resources and prioritise bringing the Millennium Development Goal target on sanitation back on track. There's a role too for education policy -- sanitation should be integrated into education policy and supported by sufficient resources and concrete plans to ensure that all schools have adequate sanitation facilities.
What is needed more than anything however is a collaborative approach between governments, civil society and business -- an approach that combines the experience, knowledge and resources of both public and private sector organisations. More actors in the private sector must also wake up to the social and business opportunities and invest in social development. Increased cross-sector collaboration is essential to achieving real progress.
As UN Deputy-Secretary General, Jan Eliasson, and Paul Polman, Unilever Chief Executive Officer, declare in the introduction of our report: "By acting decisively we can now make a positive impact on global health, education, women's safety, social equality and economic growth for generations to come."
We can't wait for improved sanitation. We must act now.
Help break the taboo to get the world talking about this urgent and devastating issue -- join the global conversation this World Toilet Day using the #toiletday and #wecantwait hashtags.