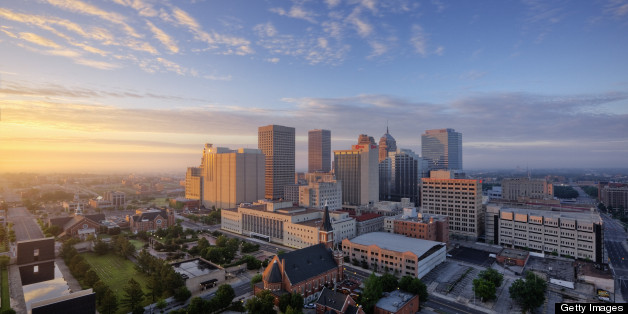 I grew up in Oklahoma City.
My family moved there when I was 10. When the moving truck was still unloading furniture, and the front door of our new house at 6609 N. Hillcrest was wide open, my 5-year-old sister Nancy escaped.
We learned later that she had gone up the street ringing doorbells with her tiny fingers, saying, "I'm Nancy Bishop," introducing herself to her new neighbors.
At some point, we noticed she was missing. Panic ensued. We combed the neighborhood, going house to house, apologetically, 'til we arrived at the end of Hillcrest Avenue, at the Kennedys' house. It was a grand house with a green lawn stretched out in front. We were welcomed in by a dignified, white-haired couple. There Nancy was, in their kitchen, sitting at a counter, swinging her legs, eating an apple, happy and at home. Nancy, the lost child, had been saved by kindness. The Kennedys took her in.
I remembered that kindness tonight when I turned on the news and saw the devastation in Oklahoma, not far from where Nancy was rescued. Two elementary schools had been hit by the level EF4 storm (the maximum is EF5). Children were dead. Parents who flocked to the school were reportedly kept away from the perimeter so that rescuers could hear any voices that might be crying for help.
My first thought as I surveyed the rubble was, Why?
Children in Oklahoma starved during the Dust Bowl of the 1930s. Nineteen children under the age of 6 perished in Oklahoma City on April 19, 1995, when Timothy McVeigh blew up the Murrah Federal Building in the deadliest act of terrorism on American soil before 9/11. Now this. Haven't the people of Oklahoma City suffered enough? I groped for answers.
During Lent, I had the privilege of meeting Rev. Roger Paynter. Baptist minster, he shepherds the lively congregation of First Baptist Church of Austin, Texas. He grew up in Oklahoma City, played football at Putnam City High School. When the bombing occurred, he was called on to act as chaplain to the families of the missing and the dead.
His job was to be part of a team of law enforcement, social workers, therapists and the like to notify those who were waiting on word of the fate of their loved ones. Roger's team was limited to one such notification a day, because of the trauma it inflicted, not just on those notified, but on those with the heavy burden of giving notice: your husband, your mother, your child is no more.
Roger told me that often, all there was to identify a lost loved one was a body part: an ear, a foot, a severed limb. Thereafter, he couldn't hear the words of Paul in Scripture referring to the "body of Christ," and each of us as parts of that body, without conjuring that image.
On the day of the tornado, I called my friend Bud Welch, whose only daughter Julie Marie died in the Oklahoma City bombing. A translator for the Social Security Administration on the first floor of the Murrah Building, Julie was 23 years old when her life was lost.
I Facebooked my high school friends, who had been in and out of tornado shelters all day, who had lined up to donate blood and money to rescue efforts.
But most of all, I thought about the Kennedys, the kindly, elderly couple who took in a lost child. Nancy lived another 20 years after that day, until a murderer's bullet took her life. She was 25 years old and pregnant with what would have been her first child when she and her husband were shot to death by an intruder in their home. We got to have her all that time, because of hospitality and love, the kind that Oklahoma CIty excels in: the kind that opens the door when a five-year-old rings the bell, invites her in and offers her an apple.