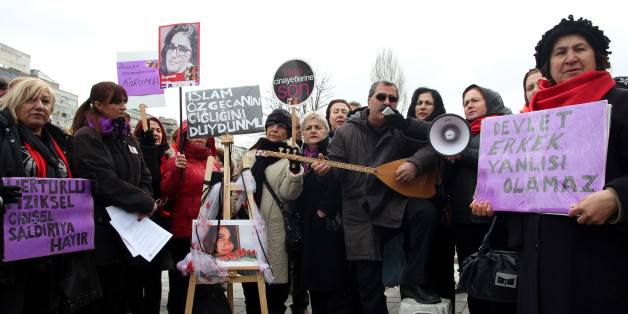 Thousands of men across Turkey and Azerbaijan are posting pictures of themselves on social media wearing miniskirts. They are not only taking photos, they are also taking to the streets to express solidarity with those who have been protesting violence against women in Turkey for over a week now.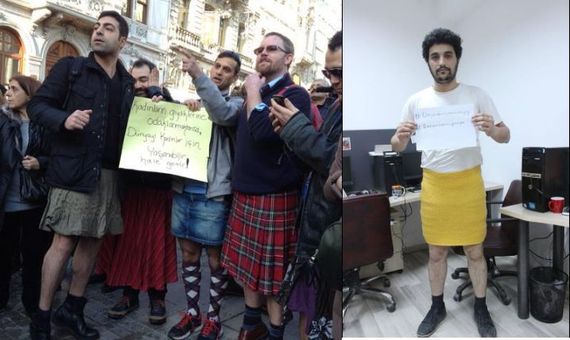 And their efforts have not gone unnoticed. Just yesterday British actress and UN Ambassador Emma Watson who has been in the news most recently trying to fend off reports that she is dating Prince Harry, took time to tweet her support.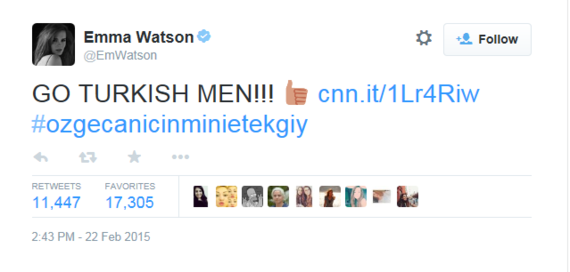 The protests were spurred by the events surrounding the brutal killing of 20-year-old Ozgecan Aslan. The young psychology student went missing on February 11. She was last seen taking a bus home from college. Her body was found days later in a riverbed in her home town. Authorities subsequently arrested the bus driver, his father, and a friend. The driver is alleged to have taken Aslan to a remote area and attempted to rape her. She fought back using pepper-spray but was unable to overcome her assailant who beat and stabbed her to death. Then, with the assistance of his accomplices, he burned and dumped her corpse.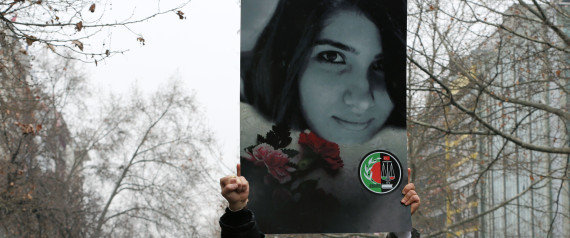 The alleged murder has prompted outrage across Turkey where protestors have taken to the streets to demand reform. They have also taken to social media. Shortly after Aslan's slaying, Turkish women began sharing their stories of sexual assault using the hash tags #sendeanlat or "#tell your story". In the last 30 days, over 742,000 tweets were posted under this hash tag. In that same period, the hashtag #ozgecanaslan has been used more than 3.7 million times, making it one of the most popular topics on twitter for several days in a row.
The latest trending hashtag being used now primarily by men is #ozgecanicinminietekgiy or "wear a miniskirt for Ozgecan". The BBC reports that this movement originally started in Azerbaijan and has since spread into Turkey and beyond. Topsy reports that over the last 7 days (February 16-23) this hashtag has been used more than 9,500 times.
But the men are not stopping there, they are also going out on the streets in their miniskirts to join protestors in a show of camaraderie. Their efforts to increase support for the cause have also prompted the use of the hashtag #EteginiGiyTaksimeGel or "Come to Taksim wearing a skirt".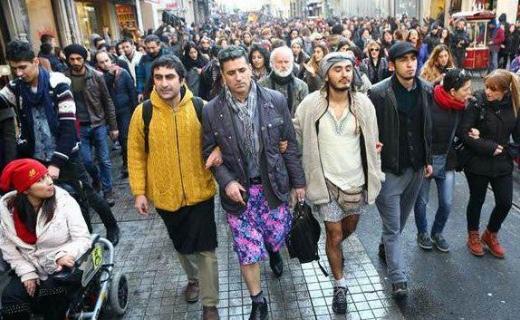 Regardless of dress, what the protestors hope to do is draw attention to the problem of increasing violence against women in Turkey and to push for reform. Much of their frustration has been focused on the Islamist Justice and Development Party (AKP). In the more than decade since the AKP came to power violence against women has skyrocketed. Government reports suggest that between 2002 and 2009 violence against women rose 1400 percent. It is not clear what has happened since 2009 because the government has been unwilling to release new data for several years.
Moreover there is a growing sense that via both their words and inaction the AKP has allowed this type of violence to escalate. It wasn't long ago, for instance, that ruling party parliamentarian Ayhan Sefer Ustun said "a rapist is more innocent than a rape victim who chooses to have an abortion." Similarly, President Recep Tayyip Erdogan has been taken to task for making the case that it is impossible to speak about equality between the sexes. Both of these statements were made prior to Aslan's killing.
It is yet unclear what the outcome of the current protests will be from a policy perspective. But there is no question that Aslan's death has prompted women and men across Turkey, and in neighboring countries, to take to both the streets and social media to express their outrage.