In the last laps of his close recall election, Arizona State Senate President Russell Pearce has doubled down on his extremist bona fides in a desperate appeal for funding and support from the nation's most notorious right-wing fringe activists.
After their disastrous attempt to fabricate a sham Latino candidate to dilute the votes of his moderate Republican opponent Jerry Lewis, Pearce and his supporters are now touting the endorsements of a rogue's gallery for the self-proclaimed "Tea Party President."
Architect of Arizona's draconian budget cuts in education and health, and the controversial SB 1070 "papers, please" immigration law, Pearce unveiled a new campaign website this week with some notable changes. (Earlier this summer, Pearce had been exposed in Salon.com for wholesale cutting and pasting on his website from unabashed state's rights and white supremacist theorists.)
In his newly revamped website, Pearce lists the endorsements of Arizona's right-wing establishment, along with anti-immigrant fringe activists like Ted Hayes, a notorious California "black nativist" who once aligned himself with the controversial Minuteman Project vigilantes on the US-Mexico border.
At a special rally at Hohokam Stadium in Mesa for Pearce on this Friday, Hayes has been listed as one of the featured speakers, along with former American Constitution Party gubernatorial candidate Tom Tancredo, who has campaigned to retake the Panama Canal, abolish the Voting Rights Act of 1965 and return all federal lands to the states. Last month, Arizona's far right Congressman Trent Franks, who drew national attention in the fall of 2009 for calling President Obama "the enemy of humanity," sent out a Pearce fundraising appeal to fellow hardliners.
Among the hundreds of speeches and video available on Pearce, his campaign website has thrown all moderation to the wind and selected a single video to represent the Tea Party President: Pearce's controversial appearance at the United We Stand rally in the summer of 2010, where hundreds of extremist border guard wanna-bes congregated on the ranch property of Glenn Spencer, an infamous figure hailed by the Southern Law Poverty Center as a "vitriolic Mexican-basher" and "anti-Semite."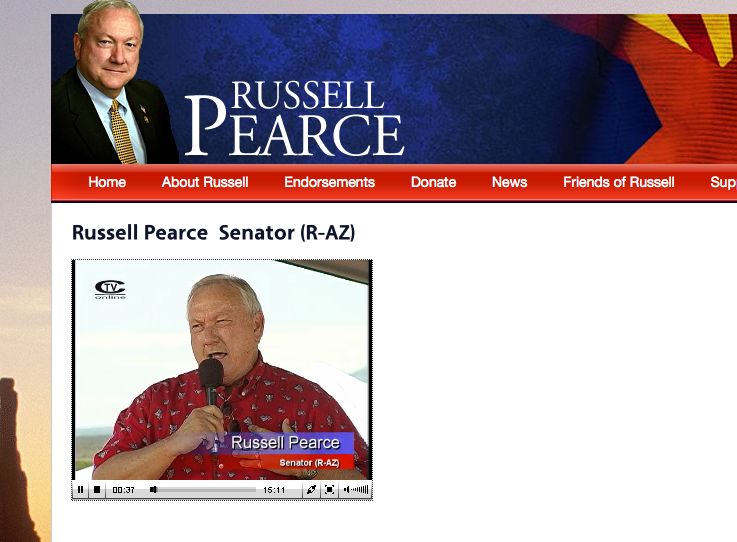 The timing of the video and its lurid location boggles the mind: A year before Pearce took the stage, convicted child-killer and anti-immigrant vigilante Shawne Forde had been arrested nearby, after making a pitstop to send an email from Spencer's ranch house.
Why does Pearce want his constituents in 2011 to see this old video?
Calling President Obama's opposition to SB 1070 an "impeachable" offense, Pearce parroted Spencer's well-known charges that an "invasion in this country that is going to destroy this republic," and then gave a shout out to his fellow 10th amendment revisionist stalwarts: "Again, it's not we the people of the United States. It's we the people of the sovereign states. These rights that belong to the states are inherent in the constitution. We have an inherent right to enforce these laws... that's exactly what 1070 is about. "
Invoking the themes of crackpot historian and conspiracy theorist Cleon Skousen, a rabid anti-communist and avowed racist whose constitutional beliefs have become popular again thanks to Glenn Beck and Pearce's brother Lester, Pearce reminded the crowd of divine intervention in the American Revolution.
As Pearce's recall race comes down to the wire on November 8th against businessman, educator and Mormon bishop Lewis, the state senate president will apparently not be relying on divine intervention as much as the support of his extremist followers.