In this age of climate destabilization, including record bouts of drought, flooding and severe storms in the heartland, it seems almost unreal that the Democrat-controlled state of Illinois is leading the charge for a fracking and coal mining rush.
And this week, as central and southern Illinois folks pick up the pieces from a horrific series of tornadoes, environmentalists and citizens groups are scurrying to respond to the unmitigated disaster of the state's newly released fracking rules.
"Behind the story you hear is the one I wish I could make you hear," my dear friend Dorothy Allison wrote in her book, Two or Three Things I Know For Sure.
While the news headlines now tell us that "environmentalists feel betrayed by proposed fracking rules," the truth is -- as one southern Illinois resident told me -- the "criticisms are peanuts compared to what environmentalists gave away to industry in the negotiations that led to the statute."
Two or three things we know for sure: Southern Illinoisans have a long, long, long history of betrayal over environmental and community rights issues. Still deeply entrenched in poverty and unemployment, southern Illinois has been plundered for two centuries by the logging industry for its forests, plundered by the coal industry for its coal reserves, and is now on pace to be plundered for its oil and gas reserves (after a similar oil rush in the 1940s).
"The four organizations who betrayed Southern Illinoisans on the fracking bill -- Sierra Club, Natural Resources Defense Council, Environmental Law & Policy Center, Faith in Place -- are now whining that the legislation which they so loved last Spring has putrefied by Winter," said Sam Stearns, a former oil rig worker, coal miner and long-time Shawnee National Forest activist in southern Illinois. "They might as well save their hand-wringing histrionics. We here in Southern Illinois have seen this show before."
Stearns added a quick history lesson:
It was the "professional" environmental organizations back in the 1970s who signed on to a watered down Surface Mining Control and Reclamation Act (SMCRA). SMCRA paved the way for the abomination of mountaintop removal mining. Here in Southern Illinois in the 1980s it was the Sierra Club which signed an agreement with the U. S. Forest Service allowing for logging on tens of thousands of acres of our Shawnee National Forest. This logging has been stayed for a couple of decades now thanks to the efforts of grassroots environmental activists; but in the interim this same Sierra Club has acquiesced to other environmental degradation on the Shawnee, including commercial development of Wilderness areas and the application of synthetic chemicals in designated Natural Areas on the Shawnee.
And now, suddenly "betrayed" by Gov. Pat Quinn's Illinois Department of Natural Resources (IDNR), Chicago-based environmentalists like NRDC's Ann Alexander think the fracking regulations just "need fixing," to stem any concern about potential water contamination, earthquakes, air pollution, well abandonment and fracking.
Here are two or three more things we know for sure -- at least from environmentalists and citizens groups that live in the fracking-targeted region of southern Illinois, unlike those quoted in the various news articles:

1) Over the Next 40 Days, We Need to Bury the IDNR in Comments About the Loophole-Riddled Fracking Rule -- And Jump Start the Fracking Moratorium Movement: As Illinois native and renowned scientist Sandra Steingraber has admonished -- and done well in New York -- the only way to keep Illinois from fast-tracking the incredibly flawed rules into law is to bury the understaffed IDNR officials during the public comment period, who are required to respond.
In the meantime, equipped with new scientific studies on health and environmental hazards, renewed efforts must be launched to place a fracking moratorium back on the agenda of the Illinois legislature.
By the end of the week, several citizens groups and environmental organizations, such as Southern Illinoisans Against Fracturing Our Environmental (SAFE) and the Illinois People's Action launch a daily comment email alert and website. Contact them or the many other grassroots groups who are working on this effort.
2) Despite the urban legend that southern Illinois is a hopelessly pro-fracking region at any cost, the media needs to interview southern Illinois citizens and environmentalists, instead of relying on paid environmental lobbyists, and recognize a Simon Institute survey that shows the region is evenly divided on the issue -- and, in fact, the majority of moderates and independents are against fracking.
Again: Five counties in southern Illinois have voted for a fracking moratorium.
3) Is IDNR rigging the fracking deck? On October 25, less than 24 hours after the news media reported that Mitchell Cohen was appointed the Director of IDNR's Office of Oil and Gas Resource Management, he was huddling at a Holiday Inn in Mount Vernon, Illinois for the Fall Membership meeting of the Illinois Oil & Gas Association.
As part of the new IDNR Oil and Gas website, in fact, IDNR provides direct links to the Illinois Oil and Gas Association -- and zero links to any environmental or citizen watchdog group.
The state of Illinois should either take down these links -- or add links to representative citizens groups in the region.
Again, IDNR's record on coal mining regulations is notorious and needs to be taken into consideration.
4) The four environmental representatives appointed to the state fracking task force should temporarily resign until at least ONE environmental representative from fracking-targeted southern Illinois region is appointed. This is sort of a no-brainer for environmental and citizens groups -- out of a minimum of respect for community rights, basic on-site monitoring accessibility, and the reality of the region's unmatched experience with coal mining regulatory machinations.
This situation, in fact, is kind of weird: Would Chicago accept a state task force on monitoring Lake Michigan that didn't include anyone from Chicago? None of the four environmental representatives appointed to the state fracking task force -- including Alexander from NRDC in Chicago; Jennifer Cassel, staff attorney for the Environmental Law and Policy Center in Chicago; Terri Treacy, with the Sierra Club; and Brian Sauder, with the Urbana-based Faith in Place -- is actually based in the fracking-targeted areas, or has any bona fide following in the region.
There are many, many environmentalists and environmental/citizen groups in southern Illinois who could serve on the task force. The four appointees above have the moral obligation to include them on a task force that will literally impact the fate of their community's health and future.
5) Did so-called Illinois environmental leaders actually bungle the fracking regulatory rules process out of naivete, inexperience, arrogance -- or a combination of all of the above -- and now are scrambling to save face?
In Sunday's Chicago Tribune, we read: Environmentalists feel betrayed by proposed fracking rules.
Perhaps the Tribune needs to make a correction: Chicago-based environmentalists that cut a deal with the Quinn administration, far from the actual fracking-targeted areas in southern Illinois, feel betrayed by the proposed fracking rules.
Why?
In southern Illinois, along with the five counties that voted for a moratorium on fracking, the truly representative environmental and citizens groups were against the flawed fracking regulatory bill.
On the West Coast, the big environmental organizations wisely dropped their support of California's flawed fracking regulatory bill.
On the East Coast, even Roger Downs, the conservation director of the Sierra Club's Atlantic chapter, called out the compromise of his fellow Illinois environmentalists: "California and Illinois have blindly rushed into the fracking fray and will stumble through the pitfalls that Governor Cuomo has wisely contemplated."
In Illinois, a Democrat-controlled state, NRDC attorney Ann Alexander crowed the Illinois fracking regulatory bill was a "model of cooperation." Alexander added: "SB1715 will at least give the public a voice in the process, and a suite of basic protections."
Give the public a voice? Basic protections?
Now, Alexander feels betrayed and complains about the lack of opportunity for a public voice--and yet, according to southern Illinois environmentalists, Alexander still fails to include the agreed-upon disclaimer that fracking is not safe.
Even Jennifer Cassel, staff attorney for the Environmental Law and Policy Center in Chicago told the Tribune: "We supported this law understanding that these requirements were in the law because that's how it is written. We would have thought a lot harder and maybe wouldn't have supported the law had we known these critical provisions wouldn't be included."
6) The staff -- as opposed to the grassroots ranks -- of the Sierra Club, Environmental Law & Policy Center, the Illinois Environmental Council, and the tiny Faith in Place -- need to stop giving awards and touring pro-fracking and "clean coal" regulatory champion Mike Frerichs as a clean energy rock star.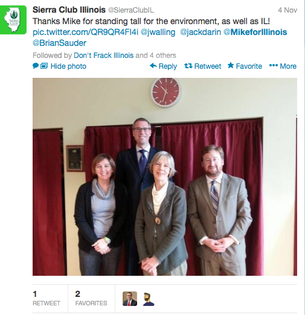 7) IDNR Director Marc Miller needs to stop invoking the beloved Aldo Leopold on Twitter and Facebook. Miller came into office as the great hope of environmentalists, but ultimately the buck stops at his office for the current disasters over fracking rules and coal slurry and coal mining crises.
Aldo Leopold is the greatest voice on conservation to emerge out of the heartland: What would Aldo Leopold do in Illinois? Most likely, he would be ashamed of IDNR's policies.
"We abuse land because we regard it as a commodity belonging to us," Leopold wrote. "When we see land as a community to which we belong, we may begin to use it with love and respect."
Such a sentiment remains deeply rooted in the fracking-targeted, over-logged and stripmined Shawnee Forests and rural communities in southern Illinois.
Just ask someone, like an environmentalist, from southern Illinois.