Amid a growing controversy over the state's pension cuts and budget crises, the Illinois Environmental Council broke from its past neutrality over heavily-subsidized "clean coal" projects and announced its commitment today to an end to budget-draining state subsidies to the coal industry.
The bold announcement comes as a direct challenge to the pro-coal policies of Gov. Pat Quinn and "clean coal" subsidy booster state Sen. Mike Frerichs, the Democratic nominee for State Treasurer.
The surprise action by IEC comes one day after residents in Saline County redoubled their efforts to stop an expanding strip mine that threatens their homes and watersheds.
In a twitter response to HuffPost blogger and Illinois environmental activist Will Reynolds, who called for the retirement of the state Office of Coal Development, the Illinois Environmental Council agreed and declared: "It's time for legislators to take a leadership role on ending coal subsidies."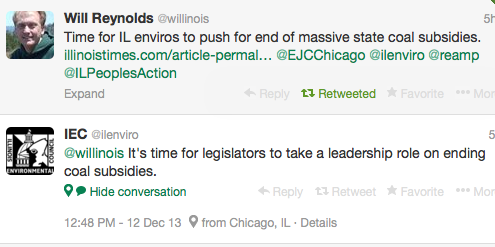 The question remains: After recently recognizing the state's two lawmakers with their top honors as environmental leaders, will the Illinois Environmental Council now confront Quinn and Frerichs -- who also engineered the recent hydraulic fracking regulatory fiasco -- on the coal subsidies crisis, or quietly retreat?
Speaking on behalf of a statewide consortium of environmental groups, as the "eyes, ears and voice of the Illinois environmental community," the IEC reiterated its support for ending coal subsidies in a second twitter post and cited a recent study that found "the net impact of the Illinois coal industry on the Illinois state budget, when taking all revenues and expenditures into account, amounted to a net cost of $19.8 million in Fiscal Year 2011."
In essence: Deeply in debt, the state of Illinois is losing money by maintaining the coal industry.

"It's wonderful to hear that the Illinois Environmental Council is finally ready to take on the endless welfare to multinational and out-of-state coal corporations," said Sam Stearns, a long-time southern Illinois advocate and former coal miner. "It's time for Illinois to put our hard-pressed tax dollars toward clean energy manufacturing, energy efficiency and other jobs projects for the future."
Unbelievable as it may seem, Illinois doesn't even have a coal severance tax like other coal-producing states and maintains an antiquated coal sales tax policy.
In Reynolds' latest oped, which ran in the Illinois Times, he noted, "the OCD directs millions of taxpayer subsidies annually toward the coal industry while working to convince economic development bodies and elected officials that coal is a clean, cheap power source that creates plenty of jobs. That's completely untrue, of course." Reynolds added:
Although the Department of Commerce and Economic Opportunity promotes green jobs in the new energy economy, the Office of Coal Development keeps downstate officials disproportionately focused on nostalgia for old coal jobs. The empty promise of reviving coal led to disappointment in Mt. Vernon, Mattoon and Taylorville. The state wasted tens of millions in direct payments and offered tax breaks to subsidize "clean coal" plants proposed in those communities that never materialized.
Despite criticism from his constituents, Frerichs remained a die-hard supporter of the Taylorville and other "clean coal" boondoggles. Dating back to the now disgraced Gov. Rod Blagojevich administration, Frerichs has always championed subsidies for failed "clean coal" projects. In 2007, he declared:
"Governor Blagojevich and I understand that we must continue to invest in clean coal technologies. These grants allow the coal industry to focus on higher environmental and safety standards, while creating more jobs throughout the region and across the state."
Currently in the midst of an unprecedented and nearly historic coal mining rush and coal export campaign, the Illinois Environmental Council has struggled to find its voice on behalf of besieged coal mining communities and ravaged environmental landmarks, including the Shawnee National Forest.
Earlier this fall, Saline County residents called out the increasing toll of strip mining in their communities. Quoted in the Harrisburg
Daily Register
, Cottage Grove town trustee Judy Kellen noted:
"We have lost population, we have lost homes and we have lost roads.

"When the mining company is gone who is going to pick up the tab for loss of revenue from homes and roads in order to continue to maintain the roads we still have?

"We were told when we lose old 13 and it is ripped out that the state would replace it. Our state is broke.

"We have lost a view of where we could see for miles. We have lost history. We had a cemetery in a beautiful location that now has been turned into something akin to an abyss. We have to endure dust, noise levels to the pitch you wanted to scream because you couldn't get any rest or sleep, earth tremors, home damages, complete isolation of any type of view to the north, health issues, a sadness in your heart that puts a dread on your face everyday and an unrest in the spirit that we knew nothing of."
With today's bold announcement by the Illinois Environmental Council, however, statewide residents look forward to a more assertive and effective campaign by environmental groups to end state support for such reckless mining devastation.