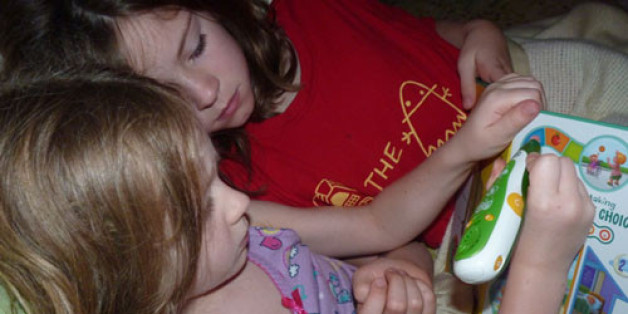 The problem with most of the back-to-school guides you've been bombarded with over the last few weeks is that once school actually starts, the guides become about as useful as a day-old Band-Aid.
Not this one.
This back-to-school guide is more about how you can win the season during the first couple months after school starts than the last two weeks before the new year begins. So keep these ideas handy and your kid will soon realize they've got the greatest parent in the world.
Well, #2 behind me of course. But silver medals are nice too.
The Spontaneous "Sick" Day
Don't be afraid to fudge the definition of "sick" and have a rad impromptu midweek adventure with your kid. Yeah, you read that correctly: I'm suggesting you pull your child out of school at least once, thus screwing up their shot at perfect attendance. Whether you plan to make opening day of baseball your annual "Monday at home with dad" tradition or want to head into the city for a less crowded day at the zoo, take a couple of phony sick days from work and from school, and give your kiddo childhood memories worth remembering.
The Sneaked Treat
Sneak something super special to eat (brownies are yummy!) or to snuggle (maybe her favorite little stuffed animal) or to show off on the playground (their wicked new LEGO minifig, possibly?) into your kid's lunch bag one day and they'll be the envy of their cafeteria table. Note: This idea is probably very frowned upon by your child's school, so don't make a habit of it... and keep in mind that it's often easier to ask forgiveness than permission.
The Homework Vacation
From 1st grade on, kids are bombarded with homework -- as if 8+ hours strapped to their desk in school every day wasn't enough! So every once in a while, when the workload has been beating them down, give your kid a vacation from their homework and do it for them while they Rainbow Loom to their heart's content or further explore Animal Crossing on their 3DS.
The Surprise Volunteer
Volunteer at school and surprise your little one at the book fair or behind the lunch counter. Best to do this before the sight of you at school will be a major embarrassment. Or maybe not... ;)
The "Frances" Lunch
You know the Frances books by Russell Hoban? In Bread and Jam for Frances, she ends up with a school lunch that includes, among many other things: a saltshaker, a white doily, and a little vase with a flower. You so have to do this for your kid once, and send the great book in for story time that day too!