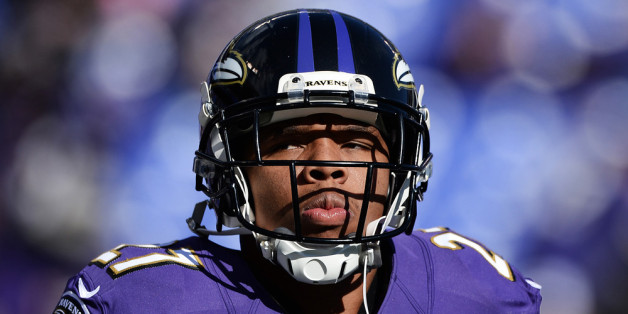 The Dude calls upon the NFL to "Show Me the Money" and donate $100 million during this historic opportunity to stop domestic violence and help the victims. This aggression will not stand.
When TMZ released the video today of Baltimore Ravens star Ray Rice punching and knocking out his then-fiancée, Jaynay Palmer, in an Atlantic City casino elevator, we were all shocked, appalled and disgusted. The Ravens and the NFL Commissioner Roger Goodell previously claimed they had only seen the video of Ray Rice dragging his fiancée's limp body from the elevator. Not the brutal knockout punch.

Previous to today's knockout tape, based on the first tape of Rice dragging his fiancée's limp body from the elevator, Rice was given a two-game suspension by the NFL and the Atlantic City County prosecutors gave him a slap on the wrist for the violent assault on a woman. That's all? Under rising pressure from the media and the public, Goodell admitted "I didn't get it right" and months later made some NFL future policy with a few more teeth in it -- first-time violent offenders would be suspended for six games and second-time offenders will get at least a year suspension.

But today within hours of the inside the elevator violent punch released by TMZ, the Ravens were forced to backpeddle and terminated Rice's contract and the NFL said he was suspended indefinitely.

It is abundantly clear that the NFL saw the knockout tape before -- or, at best, made little to no effort to obtain it even though the Atlantic City PD had it, as casinos have cameras everywhere including inside elevators. Keep in mind NFL Security has some of the best investigators in the US -- many of the top former FBI agents work for them. If you don't ask you won't receive.

Whether there was a cover-up or not is not the key issue. Let me put it this way: I am a father with two wonderful daughters -- just like Roger Goodell, who also has two daughters. So Roger, if that was one of your daughters, would a two-game suspension have been the appropriate action to take if you had seen a muscular NFL star knock out your daughter? Really, Roger? By the way, 40 percent of NFL viewers are women.

The key issue is that Roger Goodell and the NFL will only do the right and decent thing if they are exposed by the media and pressured by the public. That also goes for the health and safety of NFL players which the NFL has been morally negligent in addressing unless pressured.

From National Coalition Against Domestic Violence:

One in every four women in America experience domestic violence in their lifetime

An estimated 1.3 million women are victims of physical assault by an intimate partner.

85% of domestic violence victims are women.

Historically, females have been most often victimized by someone they knew.

Females 20-24 years of age are at the greatest risk of nonfatal intimate partner violence.

Most cases of domestic violence are never reported to police.

(More staggering stats here.)

So I believe that Roger Goodell and his bosses, the NFL owners, are basically good people who are overwhelmed with their business as usual.

It is time for them to use their power, influence and money to do the right thing, and provide the moral leadership that is needed.

1) Let's start with a $100 million donation to stopping domestic violence. By the way, the NFL made a $765 million settlement in the player concussion suit.
2) Work with present and former NFL players to create media and social media campaigns to educate about domestic violence and provide role models: "Real men don't beat women!"

If Roger Goodell doesn't take action on this, he should be fired or step down for being morally bankrupt.

Let's all take this historic opportunity to educate and make the changes that are a long time coming for our daughters, our sisters, our moms and most of all -- our own humanity.