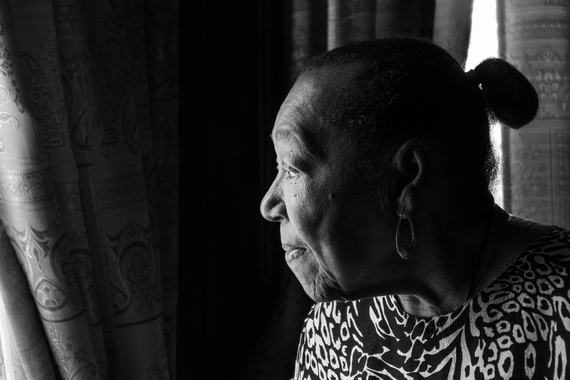 Lillie Williams has owned her house in North Lawndale for more than 40 years, but a reverse mortgage she took out has placed her ownership in jeopardy. Jon Lowenstein/NOOR
At a very basic level, those of us who do investigative journalism want our work to make an impact.
Many times this does not happen for all kinds of reasons.
Which made Wednesday's unanimous vote by the Illinois Senate passing a reverse mortgage bill authored by State Sen. Jacqueline Collins (D-16) particularly meaningful.
For those who are not familiar, reverse mortgages are loans that allow homeowners 62 years or older to convert some of their home's equity into cash. Although the mortgage is not due until the homeowner dies or the house is no longer used as a primary residence, mortgage holders must pay insurance premiums.
Collins filed the bill in February after being presented with a proposal by non-profit group Housing Action Illinois. The measure seeks to stop the exploitation of seniors by inserting a mandatory three-day cooling off period, requiring that potential borrowers be informed about the risks of reverse mortgages and banning people who facilitate this type of mortgage from accepting any of the proceeds in exchange for services.
Collins cited the activities of Chicago businessman Mark Diamond in a press release distributed after the bill's passage.
I worked in January with Deborah Shelton and others at The Chicago Reporter on a story about Diamond after talking with the Rev. Robin Hood, a community activist and founder of the Illinois Anti-Foreclosure Coalition.
Hood explained this his aunt, an 88-year-old woman living on a fixed income in a North Lawndale home she and her sister Ethel Winters had purchased in the early 70s, had been victimized by Diamond and his associates.
In addition to being the central gathering place for generations of the family, the home was also a critical part of its financial legacy.
That legacy had come under siege after a black woman named Cynthia, an associate of Diamond's, met Williams and talked with her about doing some needed repairs, Hood said.
I later met Williams, who told me Diamond said she wouldn't have to pay anything for them.
But he did not explain the terms of of the mortgage and pocketed nearly all the proceeds after Williams signed the papers, she said.
Diamond did not answer repeated requests for comment; Dennis Both, his lawyer, referred me to court documents.
After hearing Williams' story, I looked into circuit and federal court records to see if he had been sued before for similar actions.
He had.
Dozens of times stretching back nearly 30 years.
A number of the cases, including a 2009 action brought by the office of Attorney General Lisa Madigan, alleged that Diamond specifically targeted elderly black homeowners on the city's South and West Sides.
Madigan's case was one of a series of actions she had taken over the course of a dozen years to thwart Diamond.
Learning this information shifted the focus of our story from exposing what Diamond was alleged to have done to asking questions about the effectiveness of government oversight and civil litigation.
At the end of the story we posted annotated documents from some of the federal cases against Diamond and a document with live links to about 50 cases filed in circuit court against Diamond, his associates and the businesses he owns.
In March the FBI raided Diamond's office.
In mid-April Judge David Atkins granted a temporary indictment against Diamond in an injunction Madigan's office filed last October.
I don't want to overstate either what has happened yet or the role our piece played.
Although the bill sailed through the Senate, it still must go through the House and be signed by Gov. Bruce Rauner to become law. Assistant Majority Leader Arthur Turner (D-9), who signed on as chief sponsor in the House, said in a statement that he is hopeful that the legislation will receive the same unanimous support there that it did in the Senate.
The law was the product of the framework developed by Housing Action Illinois and advocated for by community organizations and activists like Hood and his coalition.
Collins has been active on this issue for years.
Close to 50 people attended a hearing by State Sen. Patricia Van Pelt, sharing their experiences with reverse mortgages in general, and Mark Diamond in particular.
Leslie Thomas and Roberta Feldman assembled a powerful exhibit on housing insecurity at Art Works that featured short films by Maren Wickwire and Jon's photography of people like Ms. Williams.
Although stopped by Judge Atkins until Monday, Diamond conceivably could continue to attempt to practice his unsavory trade.
And much of this might not have happened had Williams not had the courage to share her story.
The story, and the questions it raised, has been part of the process, too.
For Ms. Williams' trust, the opportunity to bring this issue to the public's attention, and the response the work has sparked, I am grateful.