New Year's is one of the best holidays for music because it's a global celebration. This year will be no different. While NYE has always been a big night for electro-dance music and festivals, 2011 may be the biggest yet as house music and the subculture built around it are becoming increasingly popular. Two of the biggest events in the world are going on in the US: Together As One in southern California and Lights All Night, a two-day event in Dallas, TX. Both bring some of the best DJs, producers, and electro artists together for massive multi-stage parties. My last recommendation takes place in Australia, a country that is fast becoming one of the best sources for new music and great festivals in the world. Field Day incorporates not only dance music and DJs, but a few hip hop and indie rock crossover acts as well. If you're in LA, down south, or Australia, these are the events I would check out:
WHO: Tiesto, Girl Talk
WHAT: Lights All Night
WHERE: Dallas Convention Center, Dallas, TX
WHEN: December 30th & 31st, 2011
WHY: Austin usually gets the credit for being the Texas music city, so it's cool to see such a great event taking place in Dallas. In short, Lights All Night has gathered some of the best DJs and artists from the electro scene, including world famous house DJ Tiesto, mash-up king Girl Talk and other scene favorites such as MSTRKRFT, Laidback Luke, and Felix Cartel. Two nights, three stages - should blow the doors off the Dallas Convention Center.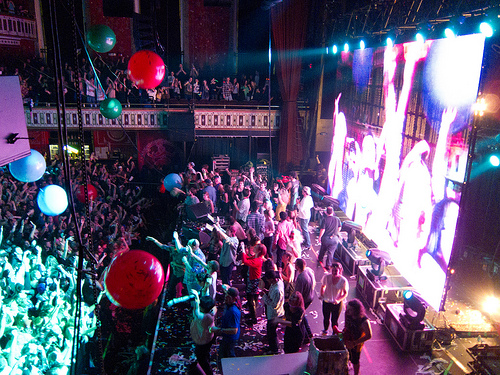 Photo: GirlTalk, Credit: Chris Schrier
WHO: Duck Sauce, Chromeo
WHAT: Together As One
WHERE: Oak Canyon Park, Orange Country, CA.
WHEN: December 31st, 2011
WHY: Together As One has been going on since 2000 and has the reputation of being one of the largest raves in the country. This year has a line-up stacked with heavy bass, heavy dance artists including DJ supergroup Duck Sauce (A-trak and Armand Van Heldan), dance duo Chromeo, and one of the most notorious live DJ groups in the world, The Bloody Beetroots. Diplo will also be performing after taking the stage on Night 1 of Lights All Night in Dallas. Should be a great night with one of T.A.O.'s best lineups to date.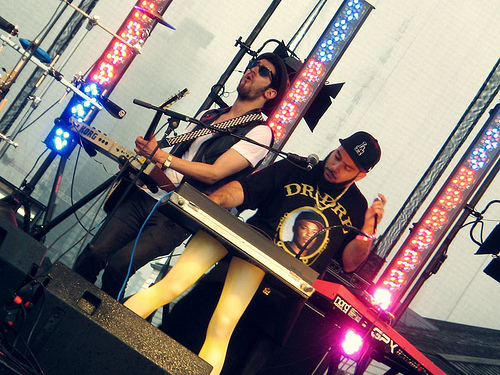 Photo: Chromeo, Credit: Miles Tsang
WHO: Justice, Spank Rock, Moby
WHAT: Field Day 2012
WHERE: Domain Park, Sydney, Australia
WHEN: January 1st, 2012
WHY: 2012 will mark the sixth annual Field Day in Sydney. An event created for no other reason than to have fun welcoming the New Year. It takes place in The Domain park in the heart of the city, right next to the Botanical Gardens - not a bad place to spend the first of the year. Known for its fun-loving crowd and positive atmosphere, Australia throws an amazing festival while the rest of the world is getting over the year's first hangover. Many of the artists performing this year, including Spank Rock and Justice, have performed here before, proving that the festival is as much fun for the artists as it is for the fans.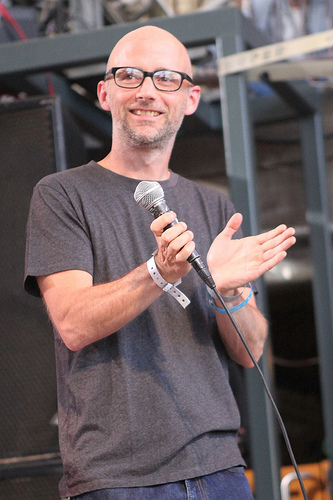 Photo: Moby, Credit: David Price