It seems like every year the SXSW film, digital, and music conference in Austin, TX gets bigger and bigger. 2012 is possibly the biggest year yet, especially when it comes to the final week -- the music week-- of the conference. Hundreds of bands descend upon Austin to play multiple shows in venues of all sizes. It's truly a must-attend event for the industry and any up-and-coming artist. With so many important music biz folks and tastemakers around, it's no longer just for underground acts. Some of the biggest names in music now put on shows and make guest appearances at SXSW; this year acts ranging from Bruce Springsteen to A-Trak will be playing sets. With so much excitement around the parties and showcases, many producers are opting to broadcast and stream their shows, so even if you can't be in Austin, you can check out the performances. Below are my recommendations for some of the best shows going on next week.
WHO: Of Monsters And Men
WHAT: Time Out North America party
WHERE: Stubb's
WHEN: Friday, 3/16/2012, 9pm
WHY: Hands down one of the best new bands of 2012. That's admittedly not saying much as we're only 10 weeks into the year, but my guess is these guys will remain at the top of the list come November and December. Reminiscent of Arcade Fire and Mumford &Sons, this six piece band from Iceland has been tearing up both blogs and radio lately, with a lot of attention on their single "Little Talks." So far they are playing six shows in three days next week, including the Filter Magazine, Paste Magazine, and Brooklyn Vegan parties. The most notable is their official showcase and final show of the week at the famous Austin venue, Stubb's, on Friday night. These guys (and girl) fill the stage and always put on a great show. Definitely worth catching at least one of their performances next week.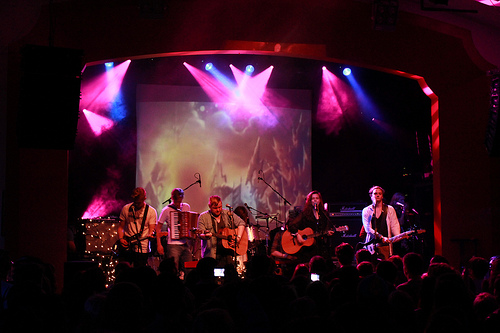 Photo Credit: Mohamed El Amin
WHO: Steve Aoki
WHAT: mtvU Woodie Awards
WHERE: mtvU
WHEN: Broadcast Sunday, 3/18, 8pm
WHY: Steve Aoki could very possibly be the first electronic dance music (EDM) mogul. A DJ and producer himself, Aoki also has a roster of talented electro artists on his own Dim Mak Records based in Los Angeles. His album Wonderland, released earlier this year, featured artists ranging from Lil Jon to Travis Barker to Rivers Cuomo to Kid Cudi. He's currently MTV's PUSH Artist of the week and will be taking the stage at the mtvU Woodies next week. With a passionate and avid fanbase, Aoki has an uncanny understanding of the music, and the lifestyle surrounding it, better than most of his contemporaries and is able to turn every show into a massive party. Be sure to check out his Woodies performance next week.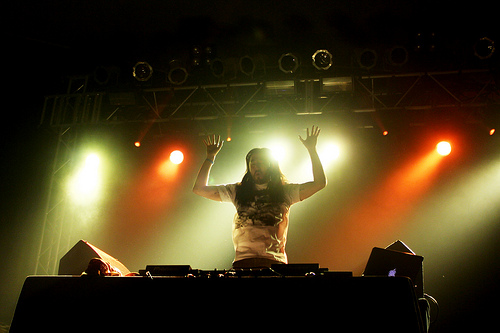 Photo Credit: Eli Watson
WHO: Santigold
WHAT: Fader Party
WHERE: The Fader Fort
WHEN: 3/14-3/17, 1pm-8pm daily
WHY: The Fader Fort is one of the most popular parties at the SXSW festival for many reasons: it always features great artists, it's well run, and they know how to throw a kick ass party. This year Fader has partnered with Converse and will be streaming live. One of the most exciting performances at the Fader Fort will be that of Santigold (formerly Santogold), a singer/producer whose return has been awaited since she released her first album in 2008. If Beyonce and MIA had a baby, it might sound something like Santigold. Like most artists, she's playing multiple shows at SXSW, including the Spin Magazine party and the Woodies, but if you're in Austin, I'd definitely recommend checking out the Fader Fort.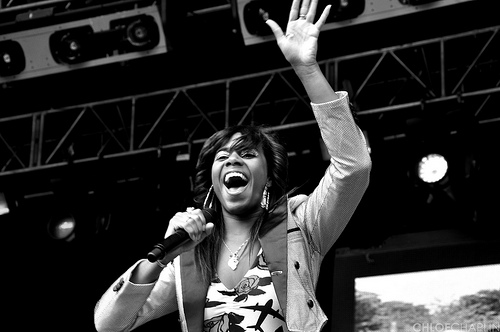 Photo Credit: Chloe Chaplin