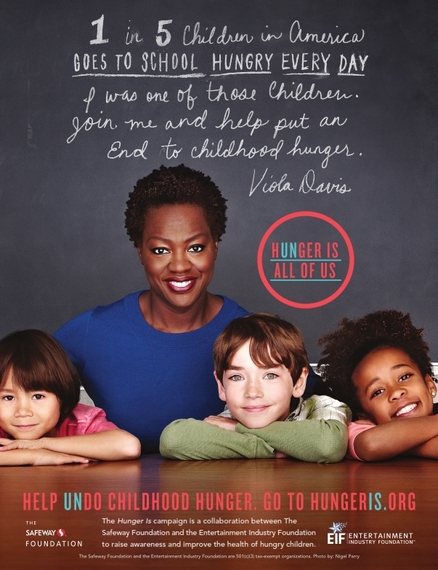 Best known for her Oscar nominated role Aibileen Clark, in The Help, two-time Oscar-nominee Viola Davis, is no stranger to success. But it wasn't always that way, as she discussed with me in our phone interview, there was a time when she went to bed hungry, when she used to steal from stores and go into dumpsters looking for food in order to survive as a child and couldn't concentrate on her school work because of the hunger pangs. Somehow, Davis overcame those obstacles, pulled her way through Julliard and has become one of the most sought-after actors in the business. Today, Davis has set her sights on a new campaign working with The Safeway Foundation and the Entertainment Industry Foundation in their "Hunger Is"campaign to help conquer hunger in America.
I had the opportunity to talk to Davis about this, how she juggles motherhood, the new demands of fame, overcoming ageism and hair-ism in Hollywood and how her life has changed dramatically since The Help.
I'm really excited and touched about this particular campaign, Hunger Is, because I too was one of those kids that went to bed hungry. What inspired you to work with the Safeway Foundation and Entertainment Industry Foundation on the Hunger Is campaign?

What inspired me is exactly what excited you; my personal connection with going to bed hungry, and the fact that I thought it was my own dirty little secret. For me, it was almost cathartic that I just happened to stumble upon this relationship with Safeway and with Entertainment Industry Foundation, and that they were starting this campaign to eradicate hunger. I felt like it was a godsend. I just always feel motivated by that little girl who was always hungry and grew up poor. I feel like she's still very much a part of my life.
How exactly are you supporting the campaign? How are you using your name and your presence and your energy to support it?

I am offering myself as a vessel, and completely sacrificing any type of time I have, to go out there and to raise awareness on the 17 million kids who go to bed hungry every night. I've been doing interviews, and giving speeches across the country. I'm about to do a huge campaign; I'll be going many cities and televised shows just to raise awareness.
I'm also doing as much as I can to help a charter school in Central Falls, Rhode Island, which is the town I grew up in. A friend of mine, Angelo Garcia, is the director of the Segue Institute for Learning, and he has this whole dream of bringing up these really promising kids in Central Falls. It is a very challenged community, financially, but he says, "You know, I have obstacles in getting to them because they're hungry. A lot of them are coming to school hungry. They're hungry. They have no food. Most of them are living 10, 12 in a tiny apartment, if they even have a home," so he plans to start a backpack program in Central Falls, which I'm really trying to help get off the ground too.
Of course, there's hunger with kids all over the world. Why is it important that you're working with an organization that really helps America in particular?

Because it's America. It's not a third-world country; it's a country that has a very specific ethos, which is that everybody should have a shot at the American Dream; that everybody should have a chance at that type of life, liberty, and the pursuit of happiness. So, the whole idea that there are kids that are literally hungry and malnourished, doesn't sit with who we are, or with who we say we are.
A lot of children don't have a voice, and they live with a lot of shame, like I did. I would go into huge dumpsters looking for food. I would steal food every day from the corner store, and that caused me a lot of anxiety. I would fall asleep every morning at school, and I loved school, I had huge potential, but I was always sleepy because I was always hungry. So we can't be what we say we are if there are children whose basic needs aren't being met. I'm not a person who's into secrets anyway. I say let's just pick the rug up, sweep the dirty little secret out, tackle it, and let's eradicate it forever. We have enough problems without worrying about the basics like food and water.
Your life has probably changed dramatically since the film The Help, which of course you were brilliant in. How has your life changed since then?

My life is completely different, in every single way. Now I'm a mother, I'm a wife, and I have a career. I probably get, maybe a couple of dozen requests every single month, at least, for different charities such as, women's issues, and poverty issues, or people who want me to read scripts. Suddenly, I'm in a position of notoriety, but because child hunger has such a sense of deprivation and is such a huge need in so many areas in the country, I've become the vessel for it. Sometimes that can be overwhelming for me. To tell you the truth, it can be isolating, but I choose to see the positive side of it. I'm able to live my dream. I don't have to imagine it now; it's possible for me because of the success that I've achieved. I can be the actor I want to be in a lot of ways; there's still some barriers out there for African American women who are 48, but really, I don't have a lot of complaints. I have a good life. Now I'm in a position where I can really, really, really bless people.
When you're trying to choose the right project and you're preparing for a role where do you begin? How do you pull off those amazing performances like we've seen in the past, for example in The Help?

I rely on my training. I went to Julliard, I have a degree in theater, so I rely on my training in terms of, the script is the Bible, per se. If it's a great script, it's a great Bible; if it's a not-so-great script, then, you've got to do some add-ons. The script tells you exactly who you are, and it's a matter of reading it, and looking at all the given circumstances. If the character says I'm overweight, I'm 40 and I have blonde hair, then guess what? You're overweight, you're 40, with blonde hair; you can't change it. So, that lets you know where you need to go as an actor. After that, it's a matter of doing what's worked. It could be an accent, a hair change, or a change in walking or speaking, but it changes with each project. Sometimes, if you don't have time, which, I don't have a lot of lately because I'm the mother of a three-year-old, you have to just wing it and go for it.
When I was letting my readers know that I was going to be talking to you, one of them had an interesting question: your hair, which was a big issue especially for those in the African American community. You got a lot of publicity at the Oscars not only because of how beautiful you looked and of course, your performance but because you decided to wear your natural hair. Can we talk a little about that?

Yes, it is an invisible barrier out there. Once again, it's another dirty little secret. When I went to auditions wearing my natural hair in its natural state, they saw me in very specific roles. Those people don't see you as attractive, and add that I'm also a dark-skinned woman, they don't see you as someone upwardly mobile. So, I usually got crack mothers, mothers living on public assistance, and those types of roles. That's where I felt like I kind of settled in, but then I realized, this is the weird dichotomy. That even when I put my wig on I still remained as a type of stigma in being; the whole dark skin and hair thing. Therefore, what I decided to do is take all that back and redefine what it means to be dark-skinned, and what it means to have natural hair, and it doesn't mean any of the things that they have said in the past in this culture.
* For more information about the Hunger Is campaign, please visit: http://hungeris.org/