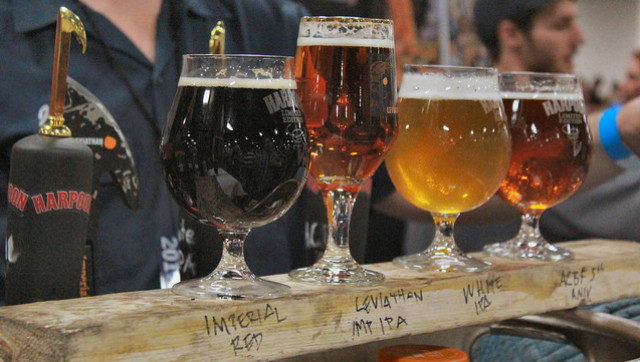 Beer is basically a national pastime in America. Most sporting events go together with beer like the Ninja Turtles and pizza. I'm not talking about that beer that dominates the store shelves from the three top brewers in the world; I'm talking about the beer that is made by people who actually care about the brew process and taste.
When I was little, I snuck a taste of my Dad's beer and found it to taste absolutely horrible. How could my Dad drink this stuff? It was a Miller Lite and it tasted like metal. As I got older, I had to acquire the taste of the generic beers as college went on and money was tight. When you could get a 30 pack of gutter beer for 12 bucks, why get anything else? Well, that was before I took a trip to Lake Tahoe with my brother and he treated me to a bunch of different microbrewed beers. If I would have tried these beers when I was little, I'd be a full blown alcoholic by the time I got my first DUI on my tricycle. These specialty brewed beers were how I pictured beers to taste when watching my dad or Homer Simpson drink them.
Now that I got the taste of microbrews from a different state, what do we have to offer here in Detroit in terms of microbrews?
Dragonmead Brewery

With constant updated beer menus, a medieval atmosphere, and board games stockpiled to the ceiling, this brewery is fantastic. When I go to a local brewery, I expect there to be maybe a dozen specialty beers on tap if I'm lucky. This place has so many it feels like you're looking at presents under a Christmas tree. Which one do you order first?! This brewery is full of a clever bunch in getting a patron thirsty. The moment you plant your butt in a chair, a friendly waiter gives you a basket of salty pretzels with two kinds of mustard to induce that want for liquid refreshments.
Atwater Block Brewery

I came upon this establishment when I was barhopping with friends during the Final Four in '09. We walked in and it was a very high end looking inside. A long bar in the back went from right to left with clear windows showing the shiny silver brewery. I looked at the specials on a chalk board with clever little drawings, titles, and alcohol percentages. Some percentages were a lot higher than I was used to. I chose the Atwater Vanilla Java, took a sip of this dark porter, and my eyes preceded to roll backwards and stare at my brain firing. They have quite the collection of tasty beers and even got a mention in my book.
The Detroit Beer Company

I've been here a few times and always enjoyed myself on their selections of beers and wonderful atmosphere. It caught me off guard that this place only opened in 2003, where as I thought they've been around for much longer. It's location on Broadway in Detroit is right near all the hotspots like Comerica Park and Ford Field. It's a great place to hang out before games, after games, or whenever you're near.
Kuhnhenn Brewing Co.

When faced with a hardware store that was down the street and threatening to put them out of business, Kuhnhenn turned itself in to a brewing company. What a decision that was. It saved them and gave locals some great microbrews. They offer seasonal beers and even root beer. I myself am a vocal fan of root beer, and this place has some legit beer of the root. When it comes to beer with alcohol, I really enjoy their Imperial Creme Brulee Java Stout.
Bastone Brewery

This place has the beers and a fantastic location. The effect of the atmosphere is almost immediate when you walk through the front door. All the booths looks like they were made by experienced old-school carpenters. It has a glow about it that's similar to putting a glass of beer up to the sun and looking at it through the glass. When you walk in there, try the NECTAR des DIEUX TRIPLE, but don't look at the alcohol content of 9 percent. The wonderful taste will trick you.