Maybe it's just penance for decades of floor wax commercials, but Madison Avenue is starting to turn its advertising power toward a slightly nobler cause: saving the world.
I've seen all sorts of evidence lately that brands and agencies are increasing their involvement with social causes, whether it's Coca-Cola's green billboard; Alex Bogusky's social venture, COMMON; or even Yahoo!'s annual contest, Create for a Cause, which rewards agencies for their pro bono work.
I don't have the data to say that it's a true trend, but it feels real -- and if it is, I'm glad to see it.
Should you embrace a social cause?
Brands -- and the agencies that support them -- may be under more pressure from consumers to do good, almost exclusively because of social media. Simon Mainwaring, a former creative director at both Wieden + Kennedy and Ogilvy, whose book about businesses and social responsibility, "We First: How Brands and Consumers Use Social Media to Build a Better World", just made the New York Times best-seller list, says that with social media, consumers notice when brands do something bad and can do something about it.
Because consumers increasingly know what a company does when it's not selling products, it's not just the bad stuff that gets noticed. Embracing social causes can influence customers to be more loyal. "We're at a unique historical moment where doing good really is good for business, because there's an intersection between social change and social media," Mainwaring says.
Not everyone agrees. In a panel on brands and social causes at the Cannes Lions Festival, Michael Wolff, editorial director of Adweek said that doing good requires social disruption, and established marketers don't want that. "There will always be a difference between what's good for brands and what's good for the world," he said. But on the other hand, he added, if you're trying to make yourself known, disrupting helps you get noticed -- and also lets you do a little good in the world.
Social causes: thinking, meet doing

Agencies flock to social causes because they want to do something good, but also because they get to be creative. Ad agency people are attracted to great ideas, says Matt Eastwood, chief creative officer at DDB New York, but certain types of consumer products don't give them much latitude for creativity. In cause marketing, though, you have to get creative if you want to do something big.
"You have to find ways of delivering a big impact with no money, and that is just as much of a challenge to creative people as a red rag is to a bull," Eastwood says.
DDB New York stretched its creativity to win the 2010 Yahoo! Create for a Cause campaign, which gave a day's worth of media on the Yahoo! sign-in page to the agency that could develop the best nonprofit ad. Eastwood and his team, working from the idea that dogs and their owners look alike, created an ad for the Humane Society that used face-recognition technology to match people with pets. More than 170,000 people found their "doggie double" that day.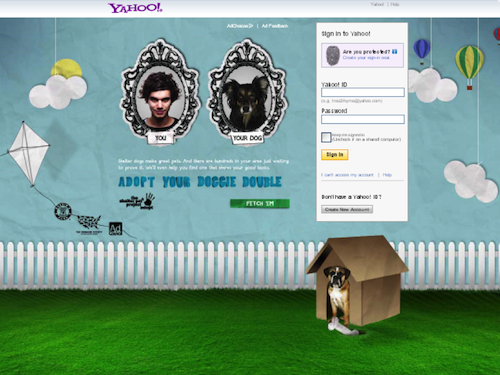 For other creatives, social causes give them a chance to be in charge. "In marketing you are what your clients do," says Bogusky, the former partner at Crispin Porter Bogusky. "A lot of marketing people are really frustrated by how slow [social change] has been, and some are leaving, and some are coming up with side projects and looking for ways to participate in the change."
The new Bogusky venture, COMMON, provides a way for the creative and entrepreneurial community to find an outlet for its energy and pent-up need to participate. Projects have ranged from collaborating on a bamboo bike to a building a $300 house. Beyond feel-good projects, COMMON means to build a socially conscious brand for a bunch of interconnected products -- to create a model for successful social entrepreneurs.
Bogusky, hasn't left advertising completely -- he just created a series of ads for Al Gore, his only advertising client these days. But he'd rather be more hands-on. "With this [initiative], you go straight from thinking to doing," he says.
Advertisers: giving something back
Social causes should welcome advertising people, especially agencies, to the party. The storytelling that agencies have mastered is critical for social causes, whether the message goes out through traditional or social media. Agencies also have the ability to step back from the cause and view it as a product, which makes it easier to sell.
Brands concerned that their agencies are spending too much time doing good can rest easy, Eastwood adds. He views his agency's pro bono work almost as a lab, where his people discover creative ideas and new technology that they can bring back to their clients.
It's easy to view the advertising's "new" focus on doing good as a departure or, worse, as something cynical. But agencies have been supporting social causes for a long time -- and those campaigns just get a lot more exposure now that they have social media to drive them. And for a creative person, doing good is a natural antidote to the relentless commercialism of advertising.
"We spend our days selling cars, selling paints, selling cotton, all sorts of things," Eastwood says, "and this is a really good opportunity to use all the skills that we have to give something back."
Can advertising save the world? I don't know. But if advertising could convince my friend to buy a Snuggie, it can probably make some powerful things happen. And it wouldn't hurt the world to have a good ad campaign or two on its side.
For more from Jeff, visit the Yahoo! Advertising Blog or follow @YahooAdBuzz.