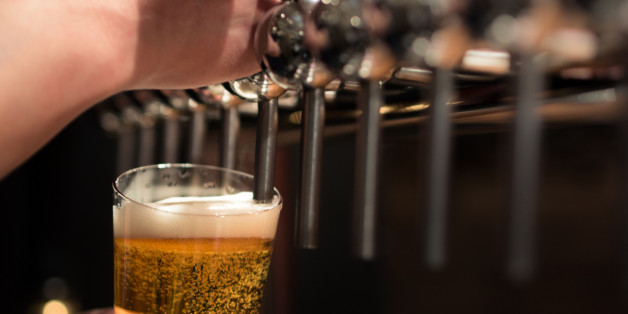 The following is a transcript. The conversation took place over Google Chat on 10/8/2014
Jeff: What's in your glass tonight?
Russell: I'm starting out with a local choice: Hopdinger from O'so Brewing Company in Plover, Wisconsin. I was a little worried that it was sitting for a while at this particular location, and the first aroma off the pour was heavy caramel. This might be an indication that the hops have faded or it's just a really malt-forward APA. Let's see... okay, there's a nice piney bitterness here in the flavor. This is just fine -- it's very well balanced. What are you drinking?
Jeff: I'm drinking Long Trail Brewing Co's Unfiltered Pumpkin Ale. It's nice. Less obvious with the traditional nutmeg and cinnamon flavors I'm used to experiencing with them. More balanced and actually kind of refreshing.
Russell: I understand that. A more restrained pumpkin ale can be pleasant. Some of the over-the-top pumpkin ales can leave you feeling like you drank grandma's spice rack.
Jeff: I recently went heavy on fall-themed beers on a $70 individual bottle spree. I found a great brew shop/tasting room out in Williamsburg, Brooklyn a few weeks back that had a massive selection in coolers.
Russell: Speaking of Brooklyn, their Lager was absolutely perfect with hot wings from Blondies where you took Adam and me when we visited you in 2012. There's always an ideal time and place for every beer. In a different setting with different people, a pitcher of Brooklyn Lager might be forgettable at best. That Brooklyn Lager was magical with good friends and good wings. It took us back to our college days and trips to Buffalo Wild Wings in Milwaukee. Do you remember when you introduced us to Grain Belt Premium?
Jeff: Premium was definitely a staple on the University of Minnesota campus, especially with my roommates at the time. A case of bottles was $12 and you could return the empties for a refund at the liquor store. That beer has long-standing history in the Twin Cities and really represented the old working class of the Mill City days. Sharing it with you guys felt like an accomplishment -- like I was opening doors for others. I loved the reactions of appreciation & affinity for it. At the time I was struggling with finding new friends in college and limited to a small group of loyal ones. Coming home was always just as refreshing as the beer itself.
Russell: I still consider it a five-star beer. It was fitting that a great friend introduced me to the "Friendly Beer." I think it's pretty romantic in a Midwestern way that August Schell Brewing stepped up and bailed Grain Belt out, keeping the legend alive and out of the clutches of "big beer."
Jeff: I think my first memory of craft beer together came shortly after we discovered Grain Belt - when we first attended the Great Taste of the Midwest in Madison.
Russell: That year's Great Taste is still my favorite as well. It felt like exploring a wild new frontier of tents and tables, all pouring the sweetest ambrosia known. It was the catalyst of you, me, Adam, and Luke to come together in later years to share new beers and catch up on life.
Jeff: I completely agree. I always considered you guys friends from working at the movie theater in high school and our trips to Buffalo Wild Wings, but that wasn't built around beer and something about sharing a hop-filled elixir absolutely solidifies a friendship. Since that day, I've affiliated discovering new beer directly with you three.
Russell: Well said. It's funny -- you've affiliated discovering new beer, I've affiliated discovering new beer places. You're the brave, outgoing one of the bunch, and I have so many great memories of both visits to your adopted hometowns. Whether in Minneapolis or Manhattan, you were always ready to offer a beer at your apartment as soon as I walked in!
Jeff: As I recall I wasn't feeling well and wasn't even drinking much then... but it was extremely important to me that you guys tried local selections and felt welcomed.
Russell: Yes. You took hosting us very seriously, and I simultaneously cherished the chance to spend a weekend with you and cringed at the thought that you were suffering with a smile. The great thing about exploring the world of craft beer with friends as we move through life is that there's always plenty of time to allow each other to catch up, slow down, or even stop when life dictates a need for a break. Beer will still be there when time permits, and as the world's oldest beverage, it's in no hurry. Much like a lifelong friendship, I suppose.
Jeff: Love that analogy. It's deep, but true and I think that a good, healthy romance with beer is something that men can openly share that allows them to be more open with each other on other subjects. It builds trust and makes us more willing to get into the emotional/personal stuff that women so easily discuss together..
Russell: I agree. Beer can relax a person to the point that they can be vulnerable with discussing issues. It's perfectly natural, but we all think we need this hard exterior that nothing can penetrate. As I left my 20s and embraced my 30s, I've learned to appreciate every day. And every beer.
Jeff: Yes, good beer is more important as we age. We appreciate the craftsmanship that goes into it far more. Do you think that beer differs from other alcohol in its ability to form bonds? I've been wondering of late. I'd argue it does.
Russell: Definitely. No one has ever bonded over a night of Jager bombs with friends, and if they did, they forgot about it by morning or left it on their front lawn. Beer is a social beverage. Look at the idea of a pub or tavern. Gathering places. They weren't formed by vodka or rum enthusiasts.
Jeff: I'd say shots are very social, but you're usually too busy pretending to enjoy it to pause and reflect on the shared moment.Sipping whiskey is as close as it comes for me with liquor, but still not the same as craft beer.
Russell: Shots are 5 seconds of very social. You've inadvertently made another point for beer. Sipping whiskey is a nice, contemplative tipple, but I think it's fair to say that for friends a little later in life. Certainly craft or artisan whiskey is gaining popularity, but it's not the friendship conduit for two friends to progress through their college years. I think craft beer is more approachable for younger/less developed palates. That's not a knock on craft beer either.
Jeff: I would agree. There's also more accessible (distribution/price) variety with beer over whiskey. To try many whiskeys requires an iron liver and a loaded wallet.
Russell: I'm glad you mentioned the variety available in each. I'm still getting into whiskey, so I probably sound like many new folks to the beer world when they say, "I don't really like dark ales, but I like dark beer". There is a whole world of whiskey out there. I just don't know it well. I did get the opportunity to tour Buffalo Trace Distillery with a former coworker while on a business trip to Kentucky, and let me tell you, it was as exciting a visit as any brewery. There is so much passion and pride involved.
Jeff: Yes, 100 percent. They are comparable on the passion front. I went to the Scottish Whiskey Experience in Edinburgh last year where they have the largest private collection of Scottish Whiskey in the world. It was mind blowing how big the room was. After I sampled a flight and a gentleman traveling from the states on business was seated next to me. We chatted a bit with the bartender and as we spoke I realized he had a Green Bay Packers hat on. Turns out he was originally from WI and a huge fan.Traveling alone myself, it was great to connect with someone.
Russell: What an experience! Would you have had the same conversation at a Scottish restaurant over a plate of curry or fish and chips? Or was it something about the alcohol that facilitated interaction with a stranger?
Jeff: No, no way. I went to a restaurant for dinner by myself after and barely got a conversation out of the server. It was a nice place too- but no one was openly leaning over to say hi to the guy eating by himself. The setting, the alcohol- it's a social permission slip.
Russell: On your note of traveling alone and connecting with someone... I've started to occasionally stop for a beer and lunch at a nearby restaurant/craft beer bar, and it's amazing how much more comfortable I get even halfway through my beer. It has to be a placebo effect, but it's there. I can tell stories, make jokes, banter about really comfortably. I think beer has been doing that for people for centuries. I sure as heck wouldn't get comfortable with a cheeseburger and an iced tea. There's camaraderie in drinking together in a room. People gravitate towards people with similar interests. That's why friendships supplemented by a shared love of something like craft beer are so strong -- you already know how to get along, and beer makes it easier! I haven't seen many fights (online or in-person) over craft beer. There's something special about it that begs for decorum. No one says "I can't drink craft beer. It makes me mean."
Jeff: It's just an easy conversation starter and there is an appreciation for the independent drinker who is willing to sit alone and contemplate their place in the world. It really does feel like an invitation to say hello.
Russell: True. Craft beer breaks down walls and makes friends out of everyone.