Watching the peculiar, sometimes horrifying, "maverick" soap opera that is this year's election season, with an economic meltdown as a backdrop, I realize just how tough it is right now for writers of political fiction. It's tough to match the kind of stunningly unpredictable quality of our current reality, to anticipate what can't be anticipated. When The Daily Show can run clips of news events without making a joke, because the clip is the joke, it's time to admit that we live in surreal times.
But sometimes a novel manages to be both absurdist and realistic, deeply felt and satirical while also being relevant to right now. Brian Francis Slattery's Liberation: Being the Adventures of the Slick Six After the Collapse of the United States of America is one of those novels, and a brilliant read. It conjures up a future following the failure of the U.S. dollar that celebrates and skewers America at the same time. In the aftermath of economic collapse, slavery has been revived as people give up their freedom in return for food and shelter. The group of international criminals called the Slick Six travels across the U.S. on a quest to save the day.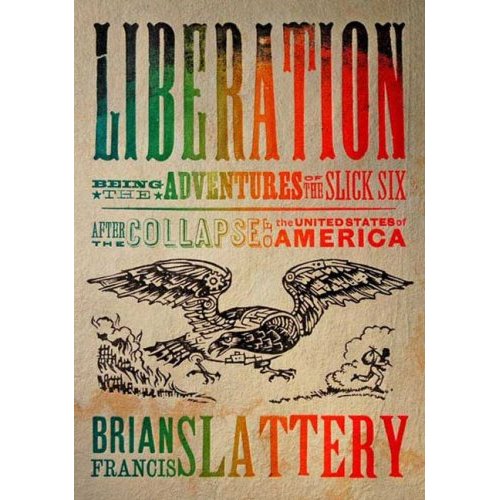 In addition to having a gift for language reminiscent of Thomas Pynchon, Slattery's vision is grounded in his day job experience with economic public-policy publications. This perspective is reflected throughout the novel, as when Slattery writes, "That was the thing about economies collapsing. The more you had, the more you lost...the savings accounts, the money put aside from decades of work, all gone in two days; the collapse was a tsunami, and all of us and the American dream had been on the beach, eyes closed, chairs angled at the sun, too close to the water to get away."
Slattery, who says he saw our current predicament coming -- "I'm nothing special in that regard" -- disagrees "almost completely with people who say that politics have no place in novels, and that novels can't try to answer questions, only ask them. But I totally see where they're coming from. Nobody likes to be lectured at, and it's very easy for an argument in a novel to feel like a polemic. I don't know if I succeeded in keeping my book on the argumentative side of that line, but I genuinely tried to do so."
He also believes there is a place for "savage" satire: "Writers like Bulgakov and Swift were responding to much more absurd (and frightening) situations than ours, and I think they have a lot to teach us again about how to deal with the times we live in."
If you want to read about one outrageously possible future should we mishandle our current crisis -- a legitimate attempt at a next-generation Great American Novel -- pick up a copy of Liberation now. (Check out this interview, too.)
New in Paperback: Falling Man
It was in bad taste for Rudy Giuliani to make 9-11 his personal mantra and shield while running for president. However, it did remind us -- in a leering, exaggerated way -- that for better or worse 9-11 still drives our policies, politics, and point of view.
What many of us haven't had, though, is closure on an emotional level, because of the politicizing of the event. The actions of George W. Bush and his ilk have obscured 9-11, which has receded into a storm of white noise and spin control.
Don DeLillo's amazing Falling Man (now out in paperback) helps restore a sense of the real tragedy. The author follows the lives of lawyer Keith, his wife Lianne, and their son, Justin, after the fall of the towers. As Keith walks out of the area around Ground Zero, "It was not a street anymore but a world, a time and space of falling ash and near night."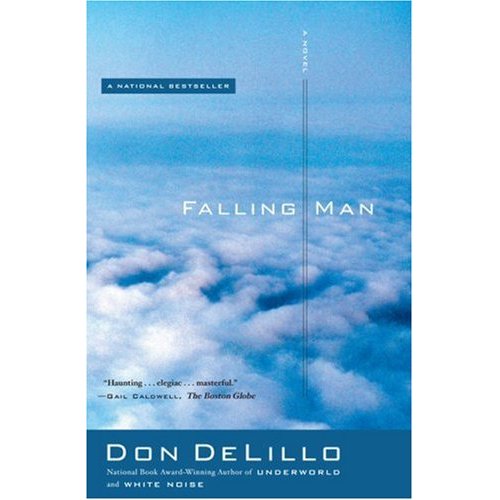 It is this new world, this emotional landscape of grief and dysfunction, that DeLillo maps with his stark poetry: "He was becoming the air he breathed....These were the days after and now the years, a thousand heaving dreams, the trapped man, the fixed limbs, the dream of paralysis, the gasping man, the dream of asphyxiation, the dream of helplessness."
In a daring and necessary move, DeLillo also tells the story of Hammad, one of the hijackers. By novel's end, it's clear that without Hammad's viewpoint the story of Keith and his wife would have been strangely incomplete.
A novel like this one is by nature political in the most personal way--and a vaccination against the ugly virus of false patriotism that tries to leverage catastrophe. DeLillo's fiction also helps bring a sense of catharsis and closure. It is truthful because specific, ignoring the kinds of generalities that turn people into caricatures and a political system into a paradise for demagogues.
Effortlessly moving back and forth in time, Falling Man ends where it begins, in the devastation of the attack on the twin towers. But by then everything is different.
Books for possible review can be sent to: Jeff VanderMeer, POB 4248, Tallahassee, FL 32315. (Email: vanderworld at hotmail.com)