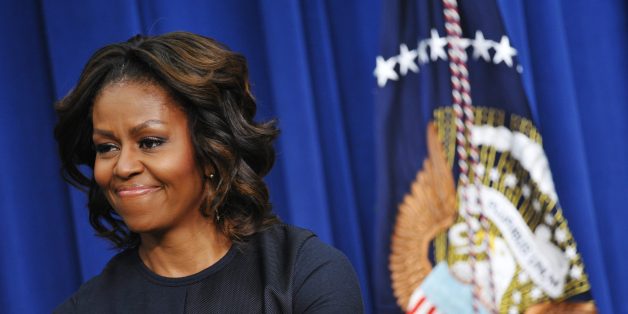 Kansas is good at inviting black eyes. A sign at our border might read: Punch Me! I'm from Kansas! Often we deserve ridicule, but not always.
The most recent national news punch, the dustup over Michelle Obama, originated in my hometown, Topeka. I was excited when I first learned that Michelle Obama was going to speak at the Topeka Public Schools 2014 graduation on the 60th anniversary of the Brown v. Board decision. But when my son, a junior at Topeka High School, came home, he was disgruntled.
"Kansas is caricatured as a red state because it is a red state," he said. He complained that various students were upset because, with the combined graduation of five high schools, tickets to the ceremony would be limited for the first time ever.
"History trumps tickets," I said. It was easy to assume that no matter the denials, the outcry at the First Lady's visit was, bottom-line, racially-motivated and racist.
After I read the stories in the Topeka daily newspaper about the student protest, however, I softened. In fact, the Topeka High senior girl who started the petition to scrap the district's plan was quoted in the paper as saying she was initially "absolutely thrilled" at the prospect of hearing the First Lady. But she was the oldest of eight siblings and she now had to choose whom to include or exclude.
I was one of many folks who minimized the idea that graduating high school was a big enough deal to worry about losing tickets for possible attendees. I didn't see the limitation on tickets per graduate as such a worry.
But it might be a big deal to the single mom who was quoted in the paper as saying she had spent hundreds of dollars sending out graduation announcements that might be null and void if the number of tickets were curtailed. Or, to the parent quoted as saying her daughter would be the first in her family to graduate high school.
Michelle Obama responded to the hubbub with grace. The spokesman for USD 501 was quoted in the daily paper as saying the White House itself made the offer to have the First Lady speak the day before the traditional graduation ceremonies. This will be at a special senior recognition ceremony held at the same cavernous Expocentre where the students will walk the stage to receive their diplomas the following day. Graduating seniors will receive six tickets each for the First Lady's event. The next-day traditional graduation ceremonies will be open to all and will feature the rituals of each school.
Topeka High School is a racially diverse, urban high school and is part of a racially diverse public school district. According to statistics on the Kansas State Department of Education web site, the school is 55.9 percent minority and 44.09 percent white. The percentage of students classified as "economically disadvantaged" stands at 67.44 percent. The district that includes Topeka High School, Topeka West High School, Highland Park High, and two alternative high schools is around 77 percent low income and 61 percent black and Hispanic. So perhaps the uproar about limiting the number of tickets should be taken at face value. High school graduation tickets mean a lot to many of the district's clientele.
Traditions are important at Topeka High School, built in the early '30s as one of the first million dollar high schools west of the Mississippi. The impressive brick three-story Gothic style structure has a library fashioned after the Great Hall at Hampton Court Palace in England. Because my children are fourteen and a half years apart, I can tell you that teacher turnover is low: many of the same teachers are there a decade and a half later. Teachers come, stay and build programs. Sure, you can just slide through. But if you want an excellent education, you can get it at Topeka High School. Here is a public school that works. But the "public" in public schools is messy, and in making these negotiations public, nuance was lost.
Shortly after the brouhaha made the national news, Jerome Halligan, editor of the satirical news site, The National Protrusion, weighed in, writing that if Michelle Obama had "to sacrifice a trip to exotic Topeka, Kansas... she'll have to sit at home and look at a painting of grass to mimic the experience."
But he also raised a valid point when he wrote: "Whenever someone says, 'this isn't about race,' it's about race. Like OJ, or Trayvon Martin, or that black kid who just got pulled over on the freeway."
I understand Halligan's territorial snobbery. We all have it. Although I grew up in Midland, Texas, and have resided in Topeka for 32 years, just ask me about the Deep South where I've almost never been. My negative opinion might just be as ill-informed as Halligan's about Topeka, where I doubt he's been. We can always mock people and places we know nothing about.
And I usually agree that when someone says it's not about race, it likely is. But not this time. Not in Topeka, the signature birthplace of Brown v. Board of Education. Not this time, with respect to the racially-diverse, urban Topeka public schools.
Don't be so fast in leaping to conclusions about Kansas. I'm the first to criticize our mossbacked legislature -- certain hard-working, progressive legislators excluded -- and our reckless governor. But the kinder, gentler, and more accurate explanation in this case is that graduation tickets mean a lot to many Topeka kids and their families.
On this one, the capital city of Kansas doesn't deserve a black eye. Not this time.