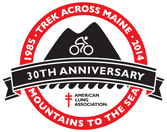 As the American Lung Association gears up for celebrating 30 years of what has become our organization's largest fundraiser, it's hard to not think back on how much we've accomplished to promote better lung health during the past three decades: we successfully lobbied to eliminate smoking on airplanes; played a key role in adopting the Clean Air Act amendment of 1990 which, at the time, was the first air pollution law our country passed in more than a decade; launched our Open Airways For Schools Program, which has now helped thousands of school age children manage their asthma; and unveiled MyLungCancerSupport.com to give patients and their families access to the most up-to-date information on lung cancer treatment and support available. Most recently, we've seen CVS make the decision to stop selling tobacco in their stores and the EPA announce cleaner gasoline and vehicle standards. Our work is ever evolving and there still remains much to be done as we strive to fulfill our mission.
It strikes me that, in many ways, our largest fundraising event which consists of cycling 180 miles over three days is a good metaphor for the work we do every day to save lives by improving lung health and preventing lung disease. Much like riding in the Trek Across Maine, our work at the Lung Association continues in good weather and bad, it requires a lot of patience and stamina as we contend with unexpected bumps along the way; it requires working in concert with others who share our values and vision; and it demands that we ask for help and support along the way because the task at hand is much bigger than any one person and finishing what we set out to do is just too important.
Our goal at the Trek across Maine is to raise as much money as we can for our cause and reach the finish line by the sea in Belfast. Our ultimate goal at the Lung Association is to reach the point when we live in a world with no lung disease and clean air for all to breathe. Yet while the journey itself can be challenging, it's absolutely exhilarating and supremely rewarding.
That's why I am inviting readers to join us this year as we celebrate the 30th anniversary of our Trek Across Maine. Whether you are someone who has been touched by lung disease and wants to support the leading organization fighting it or you're someone who just loves the experience of getting out on the open road for a long bike ride, we promise you won't be disappointed. You don't have to be an expert cyclist to participate in the Trek. This is an at-your-own-pace ride that is suitable for beginners and experts and the young as well as the old. The Trek Across Maine is a special event that has turned lung health advocates into cyclists and cyclists into lung health advocates. It's an event that attracts people not just from Maine and New England, but from all across the country and even from overseas. Among the 2,000 plus trekkers we'll host at our 30th anniversary ride will be a trekker traveling clear across the country from Washington State and across the globe from Switzerland.
For those who question whether the Trek Across Maine is truly a "not-to-miss" event, just ask people like Scott Cowger, one of our board members whose been riding with us since 1985. While we have many repeat riders, Scott is one of a select few who has been with us since year one and can't imagine missing a Trek. "The Trek Across Maine is a one-of-a-kind experience," says Cowger. "Not only is the cycling incredible and the scenery of rural Maine breathtaking, but the sense of camaraderie is unmatched. Still the biggest draw for me is the knowledge that I am directly contributing to improving our air quality, and finding better treatments and cures for lung disease, which is the third leading cause of death in the U.S. To see so many people coming together in support of this cause gives me hope that we will, one day, achieve our vision of a world free of lung disease. And this is a great opportunity for so many of us to get in shape each spring."
The Trek Across Maine is not a race but the fight against lung disease is. Every two and a half minutes, someone in the U.S. is told he or she has lung cancer. Every day, 433 people in the U.S. die from lung cancer. By becoming a participant, a volunteer or by donating to the Trek Across Maine you will help us intensify our efforts to fight lung diseases like lung cancer, asthma and chronic obstructive pulmonary disease. To learn more about the Trek Across Maine happening this Father's Day Weekend, June 13-15, or to contribute, visit TrekMaine30.org. I hope each of you reading this you will join us in some way.