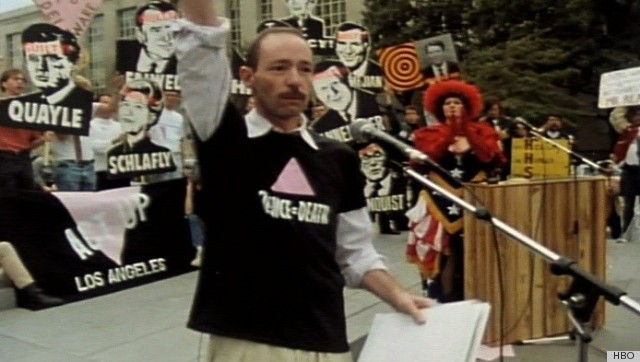 "I never once, not for a second, believed that it was wrong to be gay," says Vito Russo in the HBO documentary VITO, which premiered this week. How many of us can say the same? And why not?
Today just about everyone can look at the misguided souls of the Westboro Baptist Church with their "God Hates Fags" signs and dismiss them as the fringe of society, too much even for the KKK. But why did all of us -- and our parents, and teachers, and the medical profession, and just about everyone else in America -- accept for decades that God did hate us, that we were sick and deserved to be discriminated against because we were attracted to people of the same sex?
I was still in high school in the pivotal years following the 1969 Stonewall uprising when Vito Russo was already out on the streets of New York City demonstrating with the Gay Activists Alliance (GAA). But I can remember what it was like growing up in the U.S. when gay people were vilified, demonized, and thrown in jail. This isn't ancient history: Most gay men 50 and over who survived the AIDS crisis came of age against this backdrop.
The propaganda machine was operating at full capacity. It was a nonstop barrage of information we now know to have little or no factual basis -- or facts to the contrary, such as the fact that most child molesters are actually heterosexual. Yet what's most amazing about the anti-gay campaigns of 1950s and 1960s was how there was no central authority behind it. Today, multimillion-dollar corporate PR programs fail to achieve the impact that anti-gay messaging had on an entire populace in mid-20th-century America. And yet there was no deep-pocketed multinational corporation, no lobbying group with fancy D.C. offices. Instead, people like J. Edgar Hoover and Roy Cohn, people we know now were closeted themselves, dominated the headlines. And the atmosphere that kept them closeted was aided and abetted by many leaders of the Catholic Church (and we know how that has turned out) as well as organized crime, which controlled and made money from gay bars, both from selling drinks and blackmailing their customers.
The result: American media reported on homosexuals with great regularity -- that is, as long as they were on their way to the morgue or jail. In researching period background for my novel Running in Bed, I spent days examining newspaper coverage from the post-World-War-II era without finding a single story about a gay man who wasn't dead or under arrest (gay women were pretty much invisible, dead or alive).
In 1967, CBS -- then one of only three national TV networks -- boldly ran a major documentary called The Homosexuals, in which host Mike Wallace explained to viewers:
The average homosexual, if there be such, is promiscuous. He is not interested or capable of a lasting relationship like that of a heterosexual marriage. His sex life, his love life, consists of a series of one-chance encounters at the clubs and bars he inhabits. And even on the streets of the city, the pick-up, the one-night stand, these are characteristics of the homosexual relationship.
According to Edward Alwood in the 1996 Columbia University Press book Straight News, Wallace, who passed away earlier this year, later regretted ever participating in the show. "I should have known better," he's reported as saying. But the anti-homosexual propaganda was so pervasive that probably even Wallace and CBS News couldn't have been expected to find anything else. The medical thinking at the time was well-established: Homosexuality was a sickness, a position then supported by the American Psychiatric Association and every other major professional medical organization of the era.
Of course, it's no wonder that homosexuals were considered promiscuous and often caught having sex in public places. Gay marriage wasn't spoken about, because it was difficult enough for two men to just live together. Landlords could still refuse to rent apartments to any homosexual, single or partnered, even in New York City. (It wasn't until 1986 that the New York City Council passed the law prohibiting discrimination against gays in housing.)
So as far as just about everyone knew, there was no such thing as a happy, successful homosexual. This was before the Internet, so it wasn't easy for anyone to find information. But even those motivated to go to the library and research the subject wouldn't have found much encouragement. It was career suicide for just about anyone to publicly admit to being gay, so there were no role models of successful gay people, no out doctors, lawyers, teachers, or even actors.
Instead, the information vacuum was quickly filled with those who decided that they knew what was normal, and we weren't it. The 1970 book Everything You Always Wanted to Know About Sex But Were Afraid to Ask was on the New York Times bestseller list for more than a year. In it, Dr. David Reuben took readers through a Q-and-A of sexual deviance explaining how homosexuals were destined for unhappiness, describing the science to his readers: "They say they want sexual gratification and love but they eliminate, right from the start, the most obvious source of love and gratification -- woman." He did offer a solution, however: "If a homosexual who wants to renounce homosexuality finds a psychiatrist who knows how to cure homosexuality, he has every chance of becoming a happy, well-adjusted, heterosexual."
The first annual New York Pride March, marking the one-year anniversary of the Stonewall uprising, came just months after Dr. Reuben's book hit the bestseller list. Three years later, in 1973, the American Psychiatric Association relented and decided that homosexuality should no longer be categorized as a mental disorder.
Remember Jerry Seinfeld's famous "not that there's anything wrong with that"? That episode of the sitcom is just wrapping up its second decade of reruns. Yes, a lot of progress has been made in the past 20 years, but gay people are still taxed differently than straight Americans, receive different Social Security benefits, and have different rights when it comes to immigration standing. And that's just plain wrong. And until all of us start accepting that there is nothing wrong with us, and until we're ready to say that to our coworkers, families, employers, and political leaders, and most importantly to ourselves, we've got a long way to go.