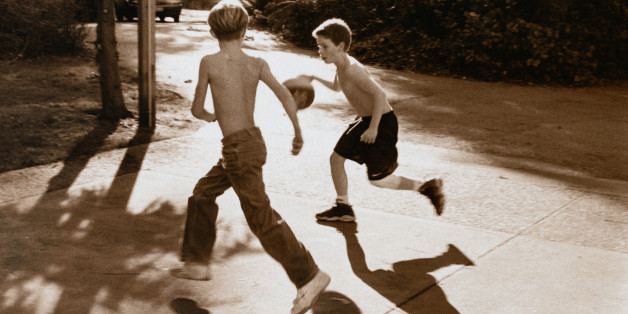 One lazy Sunday afternoon in March, more than a decade ago, light cascaded through our living room window and landed on a child-sized basketball hoop. It was illuminated in a way that held my attention -- like a scene from a suspense movie.
My family sat captivated by the fervor of lights and sounds emanating from the TV. An NBA announcer belted out, "Now introducing your Sacramento Kings!" The anticipation mounted as each of us waited to cheer our "favorite" player. Like most die-hard sports fans, we interact exuberantly with the television.
I remember how my attention settled on the televised basketball game, when out of the corner of my eye appeared a small movement. I looked over my shoulder just in time to witness our one-year-old twin boys at the basketball hoop. A little unsteady on their feet and the basket well out of reach, they didn't have the capacity to comprehend their limitations. I quietly tapped my husband and gestured to the boys. I whispered, "Look." Sure enough it was a display of proper basketball shooting form -- knees bent preceded by release of the ball.
Did our toddler make the basket? Of course not, and it didn't matter.
On the eve of March Madness my mind floods with memories. The impact of college and professional basketball on our sons began when they were toddlers. Today, thirteen years later, many things have changed though their passion for basketball remains. It will always be their first love.
Sports in the United States is a cultural phenomenon. As citizens we can be divided on many fronts, yet the bond that connects us is a shared passion for sports. Sports figures are held in high regard by our society. Because of this it is only natural that youth sports continue to gain in popularity. It is incumbent upon parents to recognize the role youth sports play in the successful development of children.
No question children benefit from the physical activity youth sports provide. Equally important are the intangibles, like teamwork, leadership and work-ethic. These intangibles are where I focus my attention in pursuit of raising conscientious athletes.
The reality of the matter is we are social beings, and if we want to succeed in life we need to learn to interact with others in a meaningful way. Youth sports provide this education through teamwork. The youth athlete learns that collective contribution is the key to success. Sharing, putting others before self -- these intangibles are hard to learn. Youth sports provide this learning through an experiential platform. It is being part of something bigger than you. Even further, many adults maintain connectivity through relationships developed as the result of being part of a youth sports team.
Youth sports teach leadership skills. I recall one youth football practice, when the faster runner of my twin athletes was on his last lap of warming up. Suddenly, he dropped back. Being first at everything is important to this firstborn twin. My husband and I watched with apprehension. This was a little out of character for our son. He proceeded to cut across the field to the last runner, a heavy-set young lineman who was crying and struggling to breath. Our son walked next to this young man shouting, "Come on, you can do it! Don't give up!" He took the "no man left behind" mantra to heart. It only took a few minutes for other players to follow suit. I was so proud of the leadership qualities my son revealed.
Behind every youth athlete is a parent who demands their child excel academically. School always comes first! Youth sports instill a strong work ethic. Children learn to be disciplined with their time in order to balance sports and academics. The youth sports programs I've been involved with have threshold requirements for grades. There are consequences for those who don't achieve the standard requirement. One of my twin athletes has a learning disability (he was born with it, no getting around it or hiding it). Sports provide an invaluably motivating force for my son to work harder academically.
Perseverance and mental strength are beneficial by-products of active engagement in youth sports. They are concepts that can't be learned from a textbook. Experiencing them through sports' rigorous training and conditioning is necessary for development and growth. It can be challenging as a parent to experience this along with your child. Clearly there is a fine line between when to be nurturing and when to be motivating -- and these concepts need not be mutually exclusive.
The most impactful lessons in youth sports come from parent(s) interactions. Both actions and words speak volumes about character. Life doesn't come with instructions. Mistakes will be made. Own them. Learn from them. And move forward. Youth sports teach all of this, and more.
This blog post is part of a series curated by the editors of HuffPost's The Tackle on the importance of youth sports. To see all the other posts in the series, click here.
Join the conversation on Twitter and tell us why you feel sports are important for youth with #TheTackle.