During our Race to the Ballot, a 322-mile run across North Carolina, wrapped in what amounts to 2,500 miles of voter registration and education events, we've visited every college campus that would have us, to get students mobilized against Amendment One, the state's upcoming primary ballot measure that would threaten all unmarried couples and their children in the process of trying to discriminate against gay and lesbian families specifically.
It didn't take much to get our students fired up. In 2012 the kids are all right.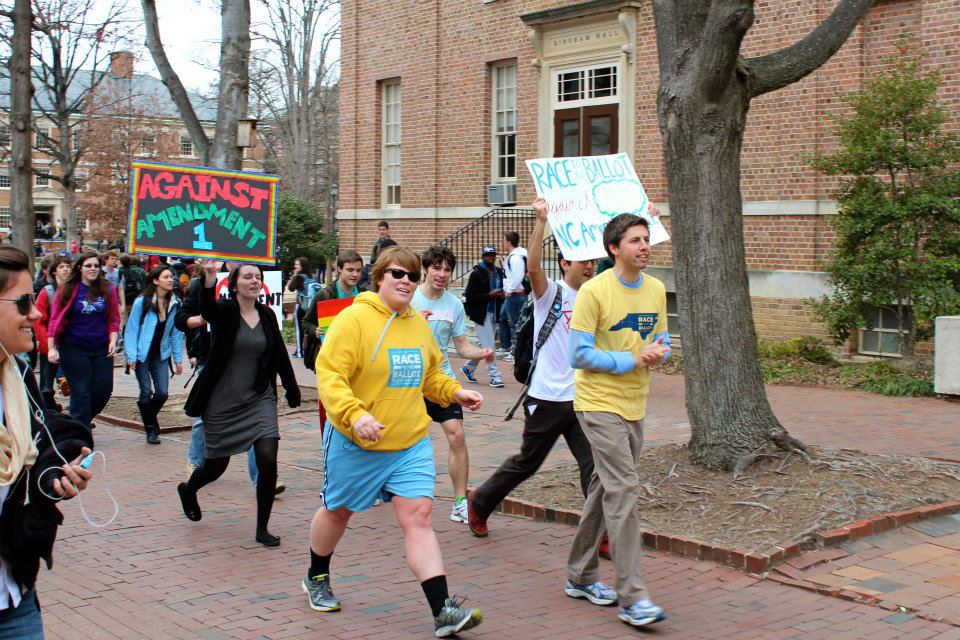 From day one, they've been taking charge, with students from Western Carolina University alongside those from Southwestern Community College in the small hamlet of Cullowhee kicking off the Race to the Ballot's five-week tour, using an alcohol referendum in their currently dry Jackson County to motivate students to get out the vote against Amendment One on May 8, 2012.
Students from the mountain metropolises of Asheville and Boone also took the lead in getting their peeps to the polls using past progressive victories in western counties that proudly went "blue" for Obama in 2008, with freshman students in the latter town forming their on political action committee just to defeat this discriminatory amendment.
From there we traveled to Baptist-leaning Gardner-Webb, where students fought hard to put their faith into action against Amendment One, for the first time garnering a voter registration stop to talk openly about the amendment's harms.
Down south in Charlotte and nearby Salisbury, students from UNC Charlotte, Johnson & Wales, and Catawba College formed impromptu anti-Amendment-One rallies, screenings, and panel discussions as we passed through our state's most populated city, bringing local politicians and community leaders out of the woodwork to speak out at events led by constituents half their age.
Moving up to the Triad region of the state, where there are more colleges and universities than you can shake a stick at, our women and local artists took the lead, with Salem College and UNC School of the Arts culling massive amounts of pledges to "vote against" amid organized community events that drew other local campuses and the larger community to learn more about Amendment One's harms; while there, UNC Greensboro and Guilford College both passed resolutions opposing Amendment One, and Elon University emerged with one of the biggest voter registration events surrounding Amendment One, using the campuses' much-beloved a cappella groups to literally sing the praises of voting against the amendment.
If you're a basketball fan, you know there are few things that UNC, Duke, and N.C. State agree about this time of year, and yet all three schools hosted anti-Amendment-One activities that generated a movement through North Carolina's Triangle area, passing the baton from one school to the next with shared goals to defeat this discriminatory measure. As UNC passed a resolution opposing Amendment One (hell, they even wrote a musical about it), Duke marched students over to Durham's nearby historically black university, North Carolina Central, for electrifying undergraduate and law school events in partnership with Durham Technical Community College -- all in the wake of the unanimous passage of the NCCU Eagles' own resolution against the amendment, the first from an HBCU and second only to resolution-starter, N.C. State.
While we're at it, arguably the best writing on Amendment One came this week from one N.C. State student's satirical barbs on the state of the Bible Belt.
From there we took the movement out east, where East Carolina University put together a truly unforgettable (Purple!) anti-Amendment event featuring diverse student groups and performances for a packed house of young voters ready, willing, and now able to vote against Amendment One on May 8, in the wake of the school's own resolution to defeat it.
Along the way we partnered with countless other colleges and universities, including our beloved Davidson, Bennett, Methodist, Wake Forest, and Winston-Salem State -- all spearheaded by impassioned leaders ready to take their campuses to the polls in May 2012, or, in some cases, bring the polls directly to their campuses.
This week, the Race heads to Wilmington, where students from UNC-Wilmington and Cape Fear Community College will bring even more attention to the anti-Amendment fight as we conclude phase one of this statewide run.
All of this happened because students in 2012 don't understand why Amendment One is even happening. And they are harshly aware they're the only people -- a first generation of Southern voters -- who can truly stop it.
So, while proponents of Amendment One say students will be a non-factor in defeating it (the rationale driven by their selected ballot date of May 8, 2012, when students are either in exams, graduating, or leaving their campus homes), having been to campuses all across the state, we now know better. North Carolina students are already gearing up to get to the polls during the one-stop absentee voting period -- April 19 to May 5.
Because this year, for our students in North Carolina's 120-plus institutions of higher learning, a particular presidential candidate isn't driving them to the polls; this amendment is. In fact, from all indications we've seen on our Race, opposing Amendment One is the new Barack Obama, and students themselves are fulfilling the promised goals of unwavering hope and much-needed change in the state they call home.
One can only hope other voters will follow their lead.
If you're a student, speak up and join the movement to defeat Amendment One: www.protectncfamilies.org/students-speak.