"March 30. Nothing but anger that day comes to my people's mind. Nothing but memories from that sad day when a group of Israeli soldiers tried to kick the local citizens out of the village."

Those words were written in 1998, on the 22nd anniversary of Land Day, an annual commemoration of land dispossession and the killings of six Palestinian citizens of Israel in 1976. They're from an essay by my then 15-year-old friend Aseel Asleh, which he titled "Peaceful Thoughts," and are included in a play I wrote about his death that is currently on tour, called There Is A Field. Aseel, a Palestinian citizen of Israel and a peace activist, was shot point blank in the neck by Israeli police as he was nonviolently demonstrating outside his village on October 2, 2000.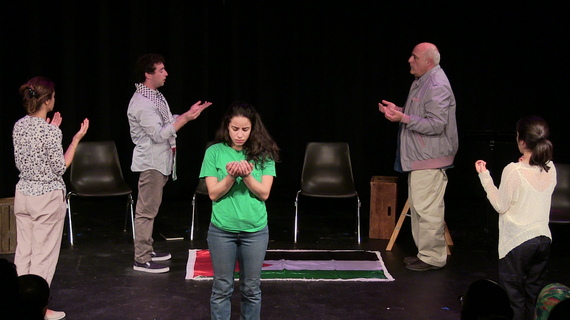 Aseels' funeral, as portrayed in the play "There Is A Field."
Aseel, who was one of 12 Palestinian citizens of Israel killed by Israeli forces that month, left behind reams of his writing with insights ranging from mortality to identity to conflict and oppression. Sections of many of his pieces are woven throughout the documentary-style play.

With last week marking the 40th anniversary of Land Day, it bears examining how little has changed. Aseel could just as easily have written those same lines today about the Palestinian village Umm al-Hiran. Umm al-Hiran is home to 1,000 Bedouins in the Negev desert, and is slated to become a Jewish town with a similar name--Hiran. Residents of Umm al-Hiran, who are citizens of the state of Israel, have been engaged in a protracted legal struggle to uphold their right to remain in their village. Israeli courts ruled against the villagers in May 2015, and the Israeli high court upheld the ruling in January 2016. The community in Umm al-Hiran currently faces imminent displacement from their village, which has been their home since they were resettled there by the Israeli government in 1956.

I conducted extensive interviews for There Is A Field with Aseel's family members, speaking to them about their journey through grief following his murder, and their ongoing struggle for justice. The interviews began shortly after Aseel was killed, and continued until after the Attorney General of Israel closed the cases of the October 2000 killings in 2007. No police officers were indicted for any of the deaths, including that of my young friend. "There is justice," Hassan Asleh, Aseel's father, told me wryly after the judgment. "And there is justice for Arabs."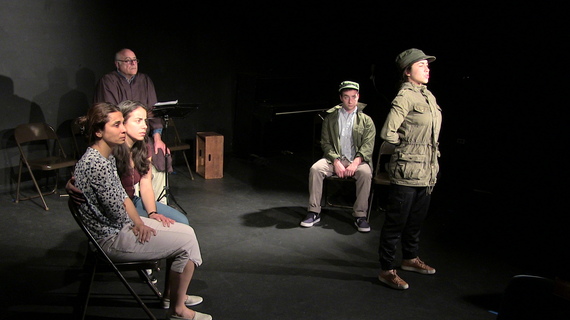 The court process ended with no indictments, as portrayed in "There Is A Field"
The Umm al-Hiran decision supports and underscores Asleh's statement. The Israeli courts were not designed in order to provide justice for Aseel's family, nor were they established in order to protect the right of Umm al-Hiran's residents. The Israeli legal system is designed to uphold and legitimize longstanding Israeli policy--policy which privileges Jewish citizens over Arab [Palestinian] ones. Adalah-The Legal Center for Arab Minority Rights in Israel describes Israeli policy as colonial and "rooted in an ideology of racial discrimination, segregation, and dispossession."

The residents of Umm al-Hiran have no recourse now but to take their struggle to the public and to the streets. The first of these demonstrations took place in early March, in Beersheva, and further actions are being planned. Political protest over land being stripped from Arab citizens of Israel is not new. In fact, the Land Day anniversary commemorates the first time Palestinian citizens of Israel engaged in a large-scale political protest. That 1976 demonstration came after Israel announced its plan to expropriate 1,500 dunams of land from villages in the Galilee, including Aseel's village of Arrabeh. Nor are land grabs from marginalized Arab communities limited to land tracts inside the internationally recognized borders of Israel; Israel recently announced its intention to expropriate a tract of land near the West Bank city of Jericho, despite international criticism.

In There Is A Field, Aseel's older sister Nardeen finds the notebook in which Aseel wrote "Peaceful Thoughts" and reads from it, invoking her dead brother's memory. "As Land Day has come like every other year, I should fulfill my duty as an Arab and bring [the martyrs'] memories to life," the memory of Aseel tells her. "We should never forget, but we should forgive."

But Nardeen is not convinced. "We can't start forgiving before we see the smallest step towards acknowledging the crimes that were done to the [Palestinian] nation in general, and your murder in specific," she retorts.

The crimes of dispossession of land, and of fatal suppression of Palestinian citizens who protest, have not only remained unacknowledged--they have continued. From the killing of Aseel Asleh and 11 other Palestinian citizens of Israel in October 2000 to the desperate plight of the community facing displacement from their homes and their land in Umm al-Hiran today, the memories of Land Day remain a reality 40 years later.
Jen Marlowe, Playwright/Producer of There Is A Field, is an award-winning author/filmmaker/playwright and a human rights/social justice activist. For more information about Jen's work, visit www.donkeysaddle.org. Twitter: @donkeysaddleorg