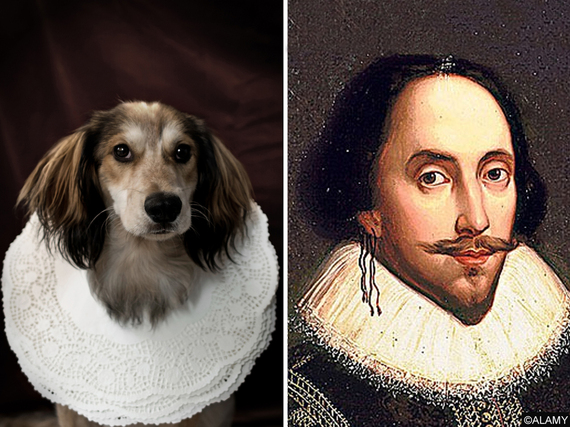 I'm an English major, member of the Dog Writers Association of America, and big fan of animal rescue, so my heart did cartwheels when I heard about "Poetic Dogs." The project by Italian photographer Dan Bannino features shelter dogs as authors ranging from William Shakespeare to Mark Twain to Ernest Hemingway, and raises money for the animal shelter near Turin, Italy, from which Bannino adopted his dog, Rothko.
"The goal is to feature as many wonderful rescued dogs as possible, to show that adoption is saving a life," Bannino said. "My new best friend and his love served as my motivation for starting this series ... all of them are my personal favorite writers, and after spending a little time around the kennel I sort of started to associate the dogs with them: the moves, the eyes, the way they were and the way they interacted had a very important role in choosing who was who."
For example, Bannino associates Ernest Hemingway with toughness, so when he got to know a proud, tough dog named Leone, it seemed a perfect match.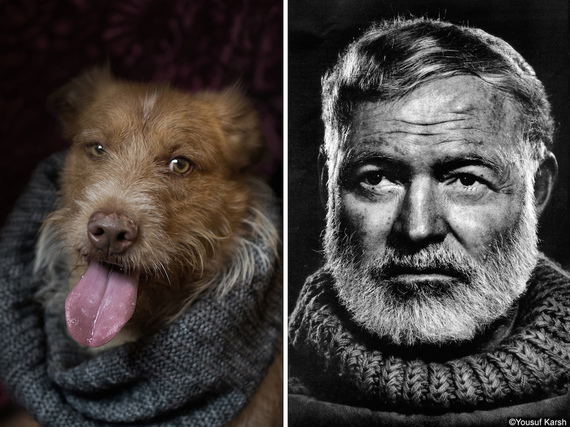 "The way to learn whether a person is trustworthy is to trust him." - Ernest Hemingway
Gustavo, a dog who was tied to a tree and left without food or water for several days, was skinny and silent, so he reminded Bannino of William S. Burroughs.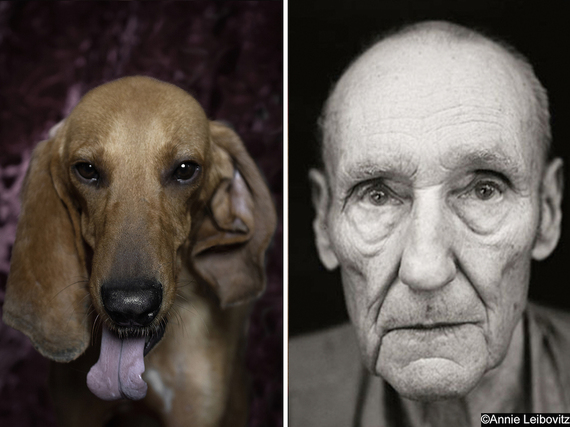 "Silence is only frightening to people who are compulsively verbalizing." - William S. Burroughs
Sometimes Bannino was inspired by a dog's physical attributes. Cap, a dog found wandering by a river, has a nose that reminded Bannino of Dante Alighieri's profile.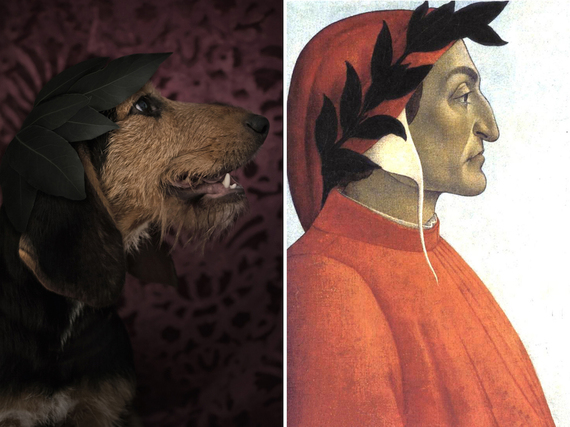 "Beauty awakens the soul to act." - Dante Alighieri
Bannino spent months photographing the 19 stars of "Poetic Dogs" (13 of them have already been adopted!). To reduce their stress, he didn't use a flash, and spent hours with each dog before shooting.
"I wanted to make sure that they were having fun," he said. "I wanted them to associate the camera with a great and playful activity."
He not only had to recreate costumes and scenes, but wait for his models to have the right expressions. His timing was impeccable, as shown by the photo of 14-year-old Wall Street as Charles Bukowski.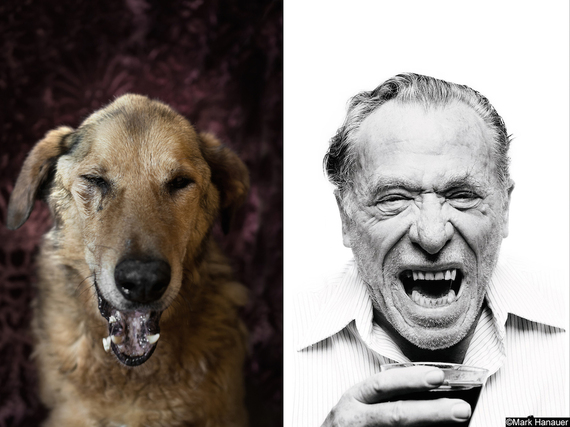 "Dogs and angels are not very far apart." - Charles Bukowski
"I've realized how dogs are similar to writers: speaking through their expressions, sounds and movements, they're telling you everything while saying nothing, just like an author would do with his words in a fine poem," Bannino said.
For instance, Nespola's "funny yet elegant ways" communicated a similarity to humorist Mark Twain.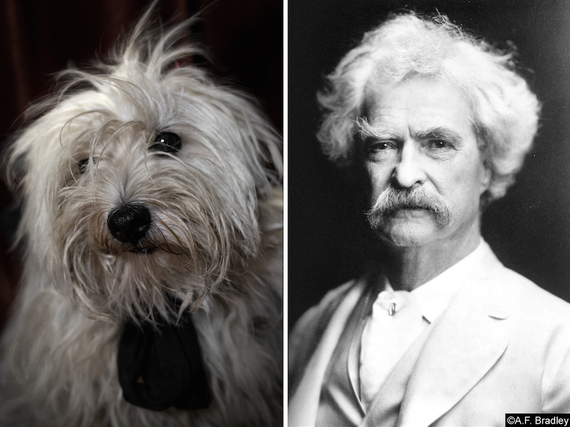 "If you pick up a starving dog and make him prosperous he will not bite you. This is the principal difference between a dog and man." - Mark Twain
And Sorriso's serious attitude and deep humanity reminded Bannino of British poet Edith Sitwell.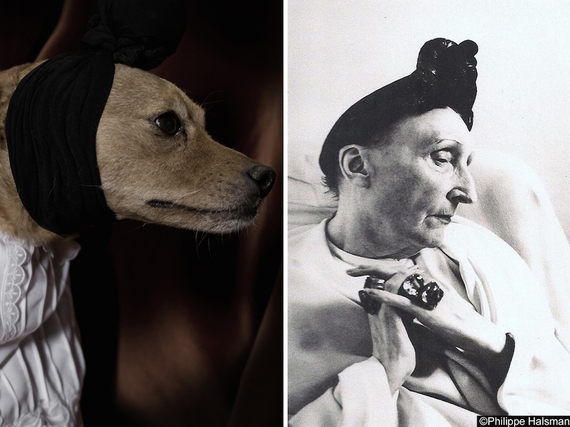 "The poet speaks to all men of that other life of theirs that they have smothered and forgotten." - Edith Sitwell
Bannino was touched that while most of the "Poetic Dogs" endured hunger, sickness and loneliness before being rescued, they are still "giving their blessings to every human being they see," he said.
"That's what I learned: to be patient and give everyone another chance. Compassion, empathy, being grateful - every day is a huge gift, and the smallest smile can change somebody's day, even life," Bannino said. "Just like Rothko and all his amazing friends did with me."
Here are more incredible photos from the "Poetic Dogs" series:
Molecula as Oscar Wilde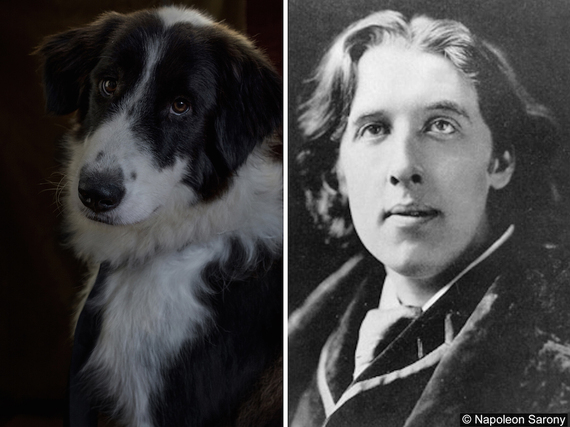 "Keep love in your heart. A life without it is like a sunless garden when the flowers are dead." - Oscar Wilde
Breed as Leo Tolstoy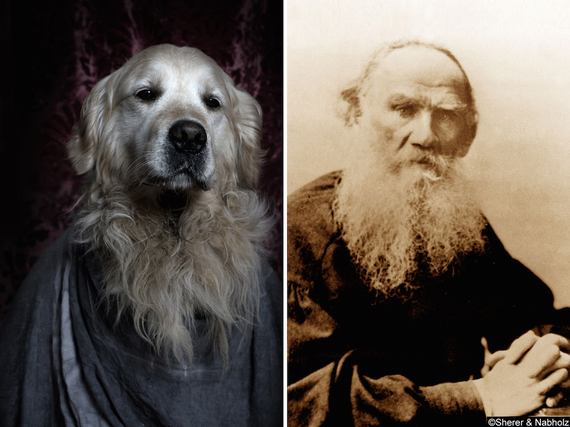 "If a man aspires towards a righteous life, his first act of abstinence is from injury to animals." - Leo Tolstoy
Clochard as James Baldwin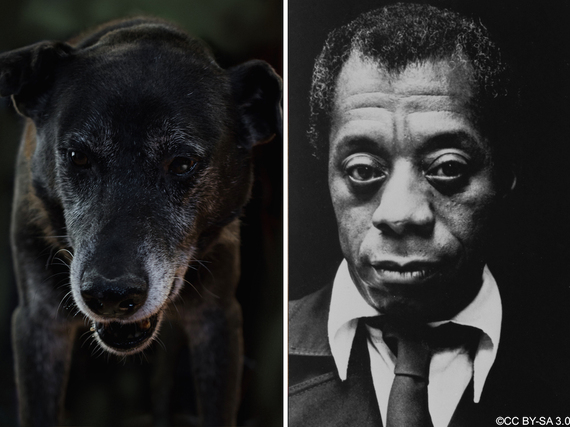 "Love takes off masks that we fear we cannot live without and know we cannot live within." - James Baldwin
Biscuit and Crumb as The Brothers Grimm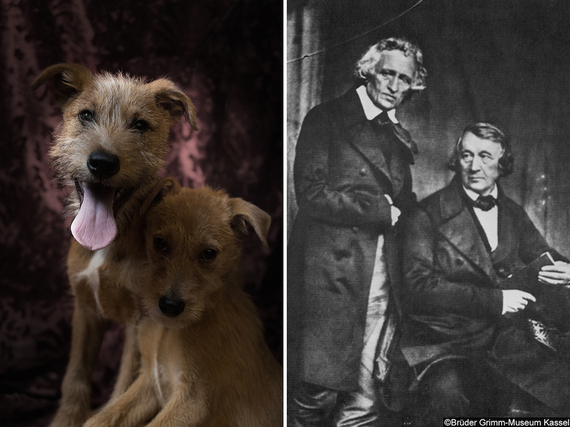 "The true poet, is like a man who's happy anywhere, in endless measure, if he's allowed to look at leaves and grass, to see the sun rise and set." - Jacob Grimm
Valentino as Charles Baudelaire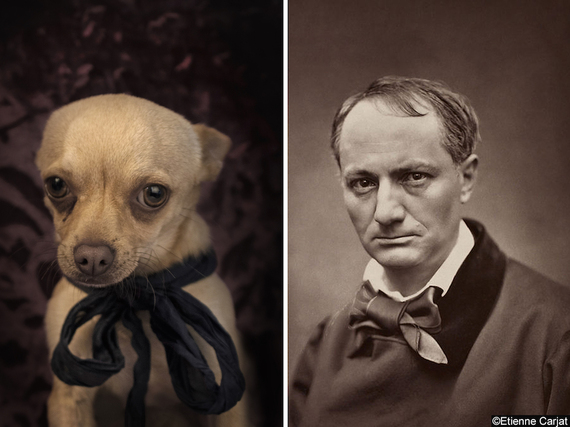 "You gave me your mud and I have turned it to gold." - Charles Baudelaire
Blue as Edgar Allen Poe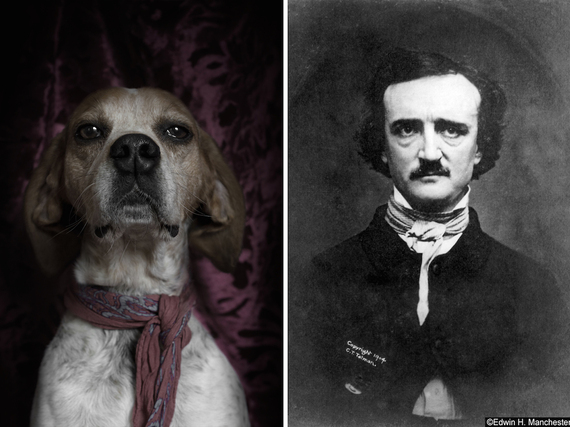 "They who dream by day are cognizant of many things which escape those who dream only by night." - Edgar Allen Poe
Cesara as Emily Dickinson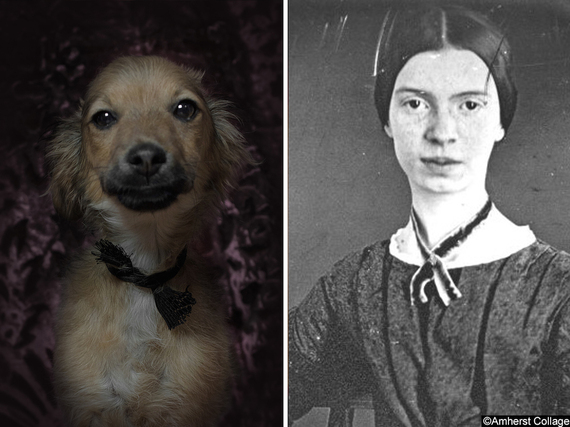 "Dogs are better than human beings because they know but do not tell." - Emily Dickinson
Shelley as James Joyce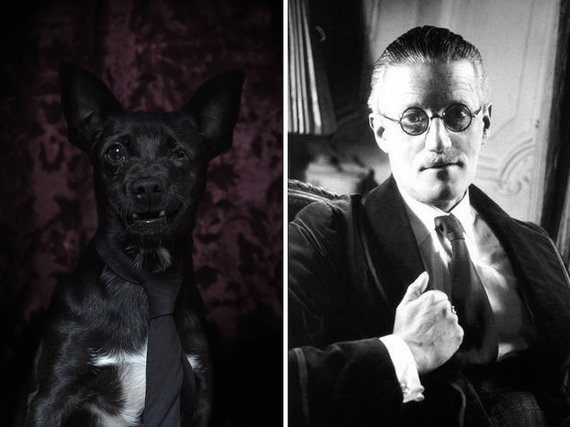 "I'll tickle his catastrophe." - James Joyce

Axl as Jean-Paul Sartre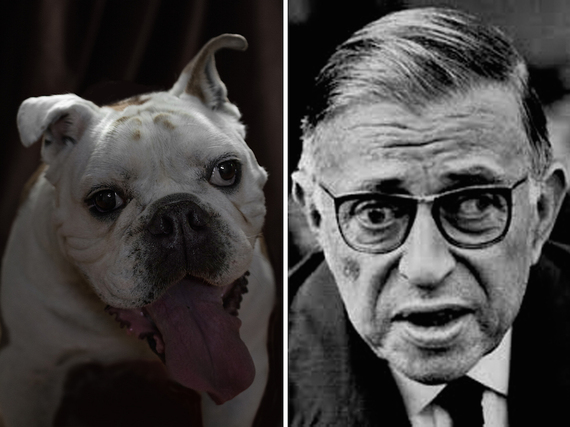 "Commitment is an act, not a word." - Jean-Paul Sartre
Girella as Joseph Conrad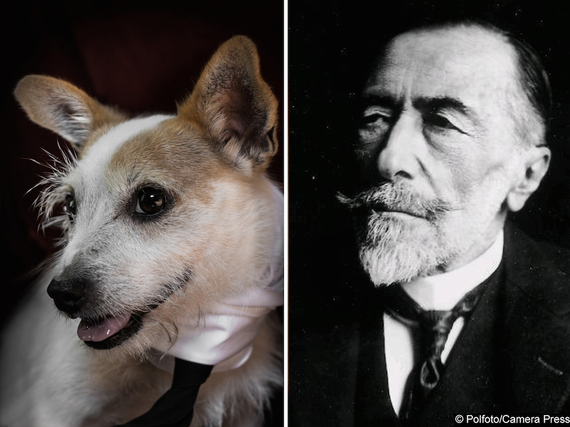 "Facing it, always facing it, that's the way to get through. Face it." - Joseph Conrad
Tanino as Miguel de Cervantes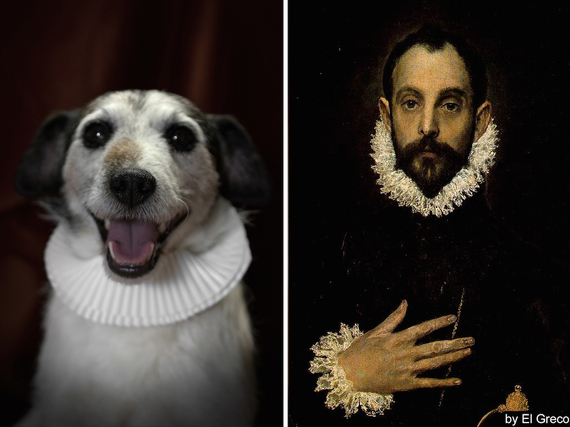 "Can we ever have too much of a good thing?" - Miguel de Cervantes
Rothko as William Shakespeare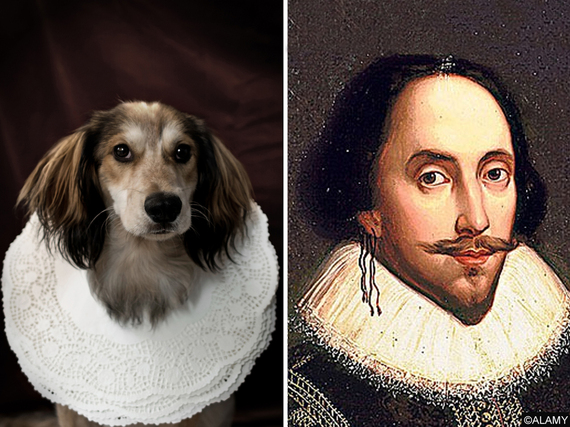 "One touch of nature makes the whole world kin." - William Shakespeare
For more information about Dan Bannino's "Poetic Dogs" project or to read stories about the featured dogs, visit https://www.facebook.com/danbanninophotography and http://instagram.com/danbannino.
Rothko as the beloved pet of Dan Bannino