In these early years of parenting, a good run along the picturesque Chicago lakefront has often brought me comfort. Its greatest beauty is often when on the cusp of the changing season. I take solace in the quiet, find peace in the tranquility of the lake, and seek answers to my angst amidst the beauty of the trees.
But my run this week found a deep greyness with each stride, heavy clouds and an approaching cold with little wind. A haunting stillness. Two of my favorite trees along the path stand together next to a bench -- leaves shaken off likely just days earlier. They are completely still, yet appear to have been violently shaken. I've studied these trees often on these runs and perhaps oddly, thought of my husband and me every time. One stands taller, masculine, with courageous purpose, the other, smaller but equally driven to stand tall and conquer. Usually, their beauty brings me a deep sense of unity, promise and hope. This week, my trees stood paralyzed.
Like every soul in America and throughout the world, I've cried a lot since the Sandy Hook Elementary School tragedy. We've cried, "Why? Why? Whys?" and "How can this happen... again?" For those children, those families and for us as a collective human race, we have all felt the sorrow, devastation and horror. Most parents I've spoken to or whose solemn Facebook posts I've read are still reeling in agony and confusion, clutching their children tighter in utter fear. How do we trudge onward with brave faces for their sake?
When I stare at my sleeping children or drop them off at school, there's a heavier, greater angst present. It's not the fear of their safety alone. This gutted knot rumbles with larger questions too: When my tears dry up, as history shows they will, what will I do then? What will I do for the 26 lives lost? What will I do to help prevent this from happening in my child's school or another one in our city or another one anywhere at all? What will I do to protect my children and prepare them for a world that is certainly not just rainbows and unicorns?
If I look at my own track record after tragic events in this country, I know the answer.
Absolutely, horrifically, nothing.
Time slips, and we morbidly move on. Do we forget? No. But something of great worth fades in the shadow of our every day. I know I'm not alone stuck in this depressing cycle. Still, we wonder if this time will be different. Can it? Can we grab our lives before they grab us?
Crushingly, I haven't a grandiose plan of attack for this one. But I do know one thing: We are creatures of habit, human beings. As our holiday buzz wears off, we usually look to our traditional habit of New Year resolutions. Have more fun with family and friends... embrace fitness... get out of debt, etc. You know the ones. All are super-positive, healthy and should be life-long staples of our lives -- not the short-lived, broken promises we turn them into come mid-February.
This year, I pledge to bump each and every one of them. Eventually, the weight will fall, the money will come, time with loved ones will be there. There's a much greater force that needs nurturing at this critical pass.
I must love my neighbor as myself. Like, really love. Deeply. Kindly. Unabashedly.
Yes, it seems like a natural thing we should just DO -- whether you beat the Bible or a bass drum. But we don't, most of us. It is in the days and weeks that follow tragedy that the majority of us look up from our hustle and bustle, look at strangers' faces and feel the bond of humanity. But come January, we're entrenched in our to-do lists, back in our bubbles, our self-important day to day, and our connection is gone. Our minutiae wins once again, and apathy becomes our greatest contagion.
My favorite social share this week was courtesy of Mister Rogers: "Look for the helpers" in tragedy to find comfort and peace. These helpers are there now more than ever. But they are there, albeit in smaller numbers, ALWAYS. What can we learn from them? How can we savor and spread that passion infinitely?
The greatest legacy for the Sandy Hook 27 should be how we honor them every day of our own remaining days. Remember the basic values we learned and cherished as children? I guarantee those 20 first graders had their own PhDs in goodwill toward men. It's something we teach the young, but bit by bit gets lost in the potholes of our paths. I kept hearing and seeing parents cry out "we must do better for them." Yes, gun legislation. Yes, there's a mental health crisis that needs immediate attention. But we also have an individual responsibility that starts the moment we wake up and walk out the door into our shared world.
Just care for each other.
There is so much power and greatness in this simplicity. Extend a hand. Be kind. It's what we ask of our children. We are their superheroes that must lead by example. Capitalize on the widespread care that is happening around us now and make it stick. The ways in which we can show our support for one another are limitless (Let's share our ideas in the comments...How will you make compassion contagious? Who inspires you to do as such?).
I have deep faith that my lakefront trees will see another season. They will make it through the harsh Chicago winter, beaten, battered, but still standing. Spring will bring glorious change, and they'll look toward the horizon with hope again.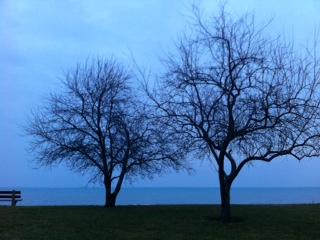 "Unless someone like you cares a whole awful lot, nothing is going to get better. It's not."--Dr. Seuss