Dear Sam,
It's almost Valentine's Day -- I'm sure you've heard. Your sister, self-proclaimed Princess of All Holidays, has been loudly and proudly counting down to the holiday since December 26. The girl loves a dress up, doily, cupcake, candy, song and dance -- any excuse for a goody bag extravaganza. She's 4 1/2... it's sort of her thing.
You though, son, have a slower roll, don't you? While your 21-month-old self wants to go-go-go, you most often check out the jump before you leap. I wonder if you'll always have this patience with your choices (let's hold on to it for those teen years, 'k?). Your wonderfully vivacious with a capital "V" sister, ever-present with a dance routine, chicken joke and booming laugh, mostly leaps without abandon -- often with the scratches and bumps to prove it. Still a bit uncertain of your growing self, you look and hurry toward me with arms up, needing an encouraging cuddle for a few thoughtful moments before most challenges. Thumb inserted in mouth, you peak over each edge to make sure the net is there to catch you. Can you do it? Today? This moment? This hour? Sure, you'll give it a go. And then with a giggling you're off with big sis, brief breaks every few minutes to see how the thumb feels about it.
It's in trains, tractors, skid steer loaders and excavators that you find your solace. Roadwork or Goodnight, Goodnight Construction Site bring promise of a long nap or nighttime solitude. What a brave new world you're showing me -- the planes, trains and automobiles place you live to explore with what must be a Sweet Boy Charm School Ph.D. in hand. You round out your allure with constant reminders of your new favorite word: "funny." Your giggles are reminder that, yes, 90 percent of our day is pee-your-diaper hysterical. A world where anything can be a hat and all types of mass transit equals hilarious. The crunching noise from the food processor. Snow. How many strawberries you can pick up at once and either throw on the floor (SAM!) or stuff in your mouth. It's a tough choice, but you find it all a laugh riot. Strawberry clean up aside, we do too.
Your curiosity is rapidly blossoming, and now with real verbal questioning. "What's dat?" you ask again and again. My heart fills. When the question reps peak at 57 times a day, I still want in. You teach me, I'll teach you and away we go each and every day. I do sort of feel like I'm getting the better end of this deal... I pray my love blinds you to this possible injustice.
This Valentine's Day, your Cupid's arrow has bulls-eyed me, my sweet Sammy. While sister is equally loved, adored and a profound blessing, you are both gorgeously, spectacularly different. I now recall a few friends, moms of sons, saying how madly they fell in love with their baby boys. Before I had you, I didn't understand how the bond would be any different from that of the precious one I share with your sister. I actually feared it wouldn't be the same and I even wondered how I'd connect with you. Maybe as a woman, I just knew it would come easy with a "mini me." Boy territory was a land I was sure I'd be lost in. But not only is it wonderfully different, it's one of the best adventures to ever grace my life. Skid steer loaders aside, we are not so different, you and me. I stand wronged and laughing at how funny and right those madly-in-love moms were about you fellas. You had me at "Choo Choo."
"Hey, Sam, get over here! Come on! Let's go!" There's her shout again. Loudly. Proudly. A big sister and best friend through and through. I remind her to say "please."
You look up at me, smile without trepidation this time, and say, "All aboard. Choo-Choo! Train! Train! All aboard!" and begin to wiggle out of my arms. Your conductor call tells us you are in the mood, ready for the world, and uneasiness will wait this time. I manage a quick kiss on the cheek, and you hit me with your favorite two-word combo. "Thank you!" and off you scramble with that lifelong, wonderfully yours best friend.
No, thank you my sweet, funny Valentine. All aboard indeed.
Love,
Mama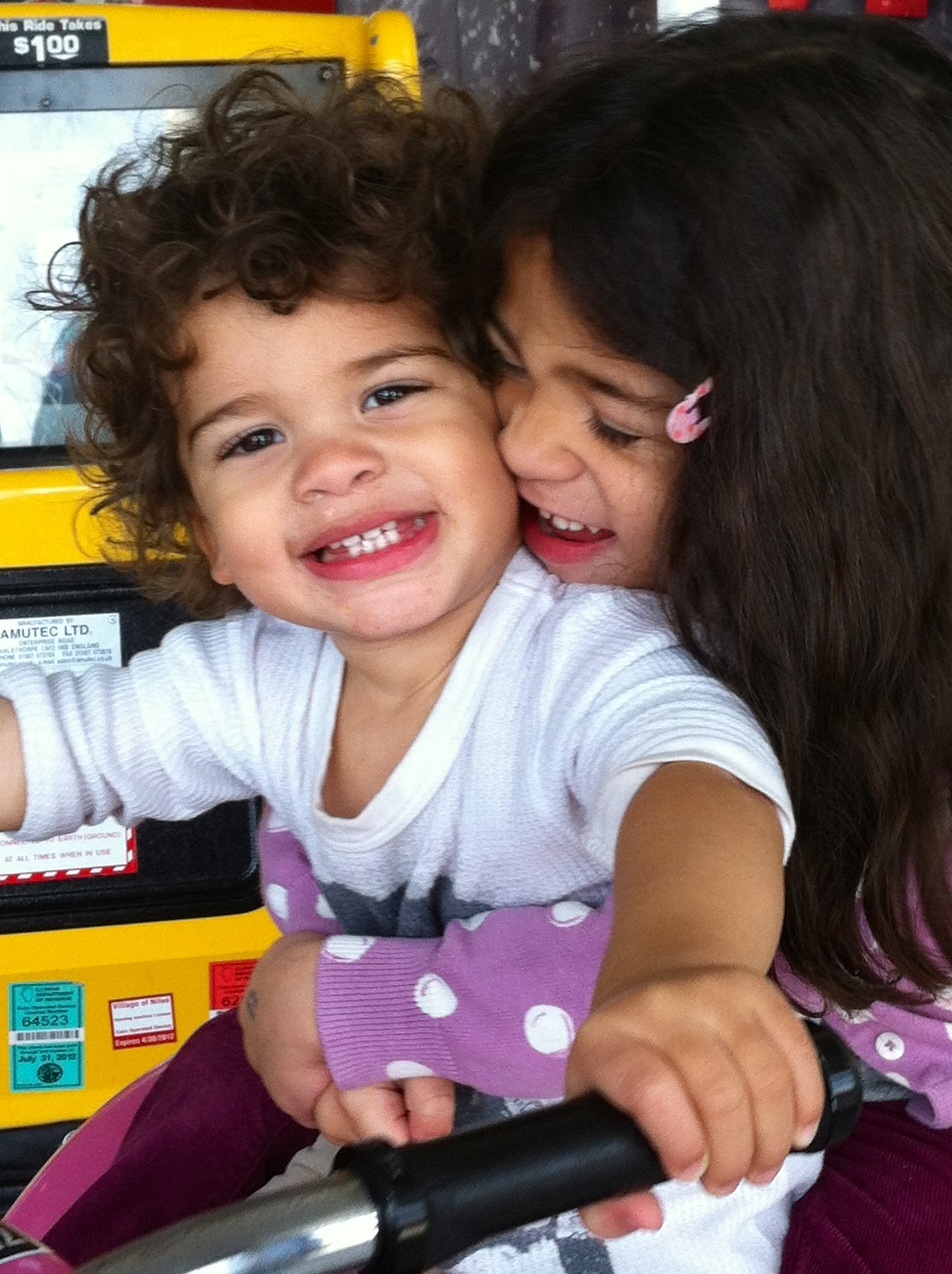 You with your sister/BFF