Historically, aging just isn't sexy. We love to throw glitzy fundraising galas for various segments of our community, but the elderly are often overlooked. And if you have had the misfortune of touring facilities for those in their sunset years, I'm sure you've been underwhelmed. Architect Matthias Hollwich plans to change that with BOOM, a new LGBT community concept that invites those over 40 (yes 40 is the new 60) to live their golden years in a beautiful, safe, vibrant fashion.
Hollwich's design ambition began early. At 16, he wanted to design cars, in the German tradition. That idea led to architecture, a pursuit he saw as more altruistic and long-lasting. Saying, "I saw the capriciousness of life," Hollwich points to the experience of having his grandmother live with his family as she aged as an influential time for understanding the needs of the aging population.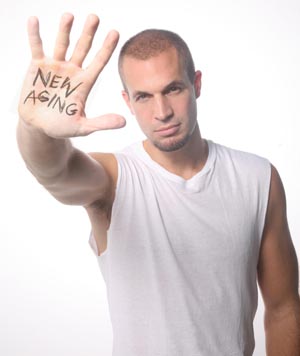 German-born Hollwich has lived in Hong Kong, Switzerland, and Amsterdam and currently resides in New York. His moves were driven by opportunities to work under masters like Rem Koolhaus, Peter Eisenman and Detlef Mertins. He says, "I experienced working with some of the best architects in the world; then I knew it was time to go on my own." He next pursued teaching at the University of Pennsylvania School of Design and founded HWKN in New York.
Through UPenn, Hollwich secured grant funding to study aging and architecture. He then initiated a partnership with the Bauhaus to envision Geropolis, a dignified and thriving futuristic city of "elderly," which he defines as comprising people 40 and up. BOOM is the result of his research and planning. Palm Springs will be the first location in a series of these planned LGBT communities, which offer amenities, social planning, health care and a safe, non-discriminatory place to retire.
The homes are designed with the unique configurations of the LGBT family in mind; there is no master bedroom, and each room has its own entrance. Hollwich explains, "Our residents have a variety of family structures and may be living as friends, as partners or with people of different ages. Rarely are they living with children, so our places are designed with both a common area and private space."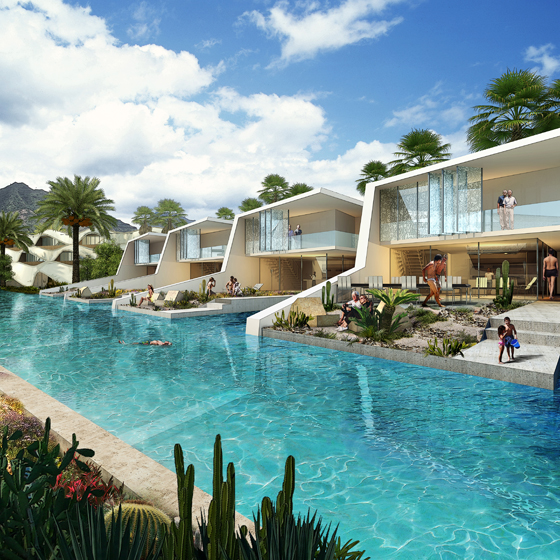 Design by Joel Sanders
While straight allies will be welcome in the BOOM communities, the marketing materials and advertising will be geared toward the LGBT community, which has been shown to lack options of facilities that are open-minded and embracing of sexual orientation. As explored in Gen Silent, a documentary film by Stu Maddux on the festival circuit, experts consider it an epidemic that older LGBT people are so afraid of discrimination by caregivers or bullying by other seniors that many simply go back into the closet.
Hollwich says, "There was both urgency and opportunity in our findings about the needs for this population." This population tends to associate with one another as a replacement for traditional family. They have also learned to look out for themselves and one another, in the absence of offspring, who traditionally fill that role. Furthermore, Hollwich describes the LGBT community as resilient toward challenge and willing to fight for their rights and needs.
While BOOM has been designed with the LGBT community's needs in mind, Hollwich adds that the fundamentals apply across the board. Examples include the on-site, non-discriminatory health care and mixed-age community, which are both innovative ways to help all residents live better lives. In addition to numerous housing price points and configurations and varied levels of healthcare, BOOM offers residents a fitness center, movie theater, spa, restaurants, bars and meeting space.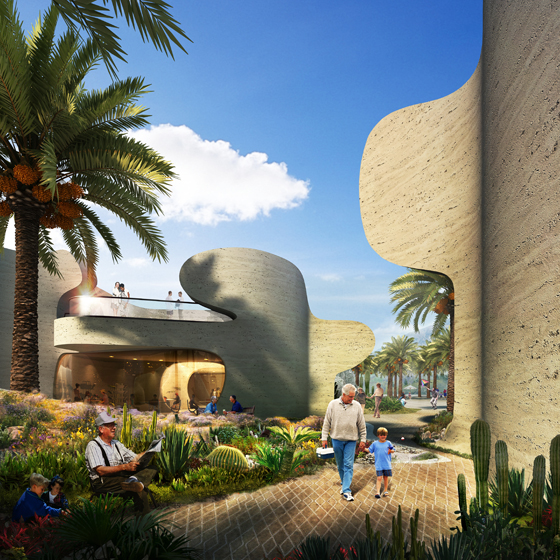 Design by J. Mayer H.
Hollwich met business partner Marc Kushner, co-founder of HWKN, a New-York-based architecture firm, as social media outlets Facebook, MySpace, and Flickr were on the rise. While they tried using these services to network and connect other architects, they consistently fell short. In late 2009, Kushner and Hollwich decided to start their own platform, Architizer.com. The site features innovative, leading architects, worldwide projects, news, jobs and competitions for the architecture industry.
Monthly traffic for Architizer.com has hit 473,000 unique visitors, while their Facebook page shows over 421,000 "likes." An app is also recently available for the iPad. Clearly they have found a sweet spot for the design and architecture industry. As the momentum has grown, Kushner has transitioned toward the daily operations for Architizer, while Hollwich focuses on BOOM.
The Palm Springs location is slated to open in 2014, and Hollwich is currently exploring similar facilities for New York and Florida.