Meet Alex Curtis, yoga expert from Core Power Yoga on Wilshire in LA, who collaborated with me to come up with this Yoga Xpress routine.
Yoga Xpress is for those of you who just don't have time to get to a class and want a less-than-20-minute routine for the road or at home. These yoga postures should all have a three repetition set per move with a tremendous emphasis placed on connecting your breath to the movement into each posture. Please watch THIS VIDEO to see a live demonstration of the program.
CHILD'S POSE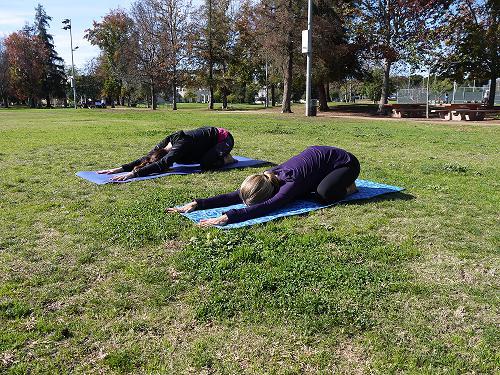 - sit back on your heels with knees spread wide
- fold forward with your arms stretched out in front of you, forehead to the floor
- crawl fingers forward and press hips back to lengthen spine. Take 3 breaths
COW/CAT
- on inhale drop belly and gaze up to the sky
- on exhale round your spine, tucking your chin to your chest
- flow through 3 times
DOWNDOG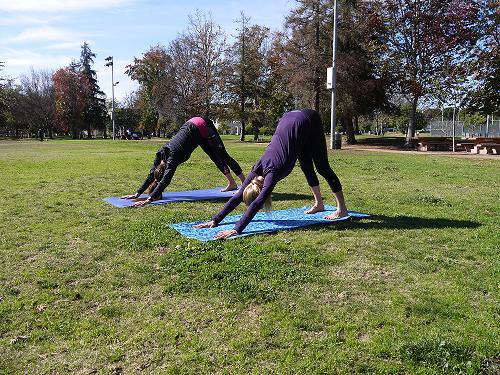 - on exhale tuck your toes and lift your hips high to the sky
- hands are planted flat shoulder width apart
- feet are hip width apart, heels reach down toward the mat
- take 3 breaths
HIGH PLANK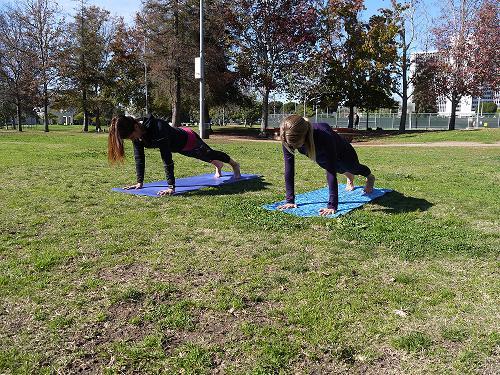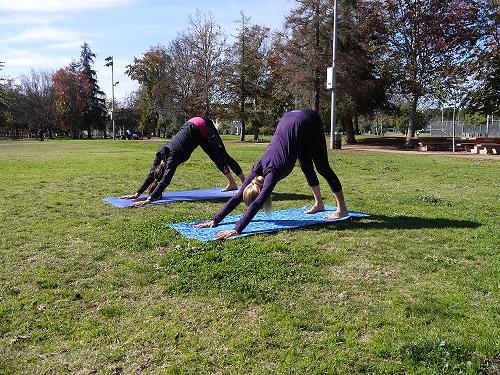 - shift weight forward on the inhale, top of a pushup
- push back to down dog on the exhale
- repeat 3 times
RAG DOLL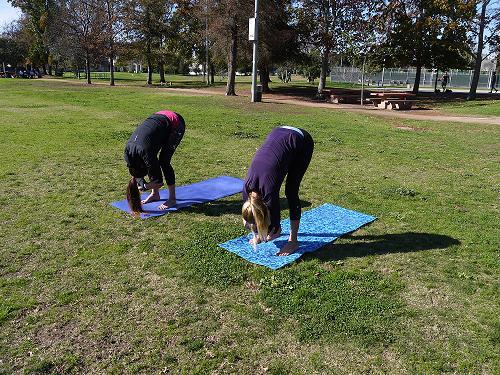 - from down dog, step feet up to your hands, feet hip width apart
- slight bend in your knees, head and arms hang heavy
- grab for opposite elbows
- take 3 breaths
SUN A: Flow through each pose with breath 3 times
- inhale your arms high to the sky, palms face each other
- draw your shoulders down toward the ground
- stand tall
FORWARD FOLD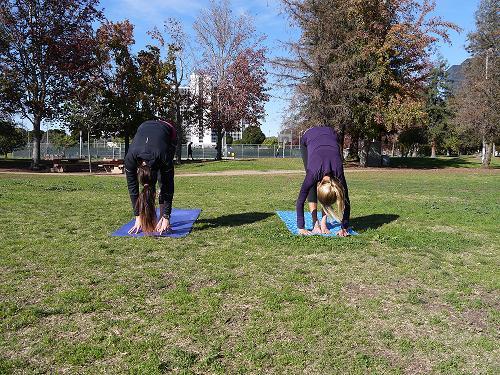 - exhale fold forward with a slight bend in your knees
HALF WAY LIFT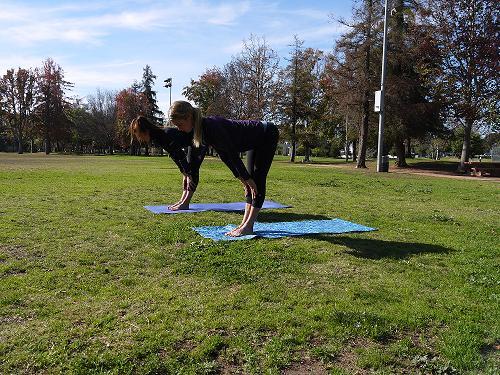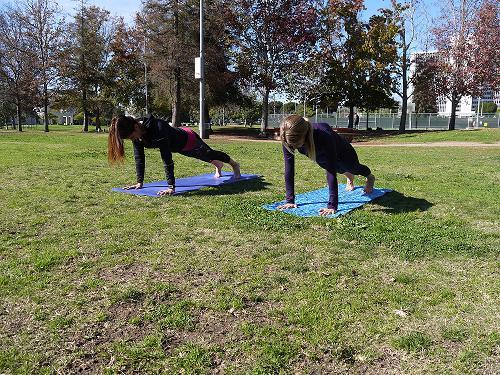 - inhale lift your hands to your shins
- flat back, shoulders in line with your hips
- gaze slightly forward, keep neck neutral
- exhale plant your palms down and step back to high plank
LOW PLANK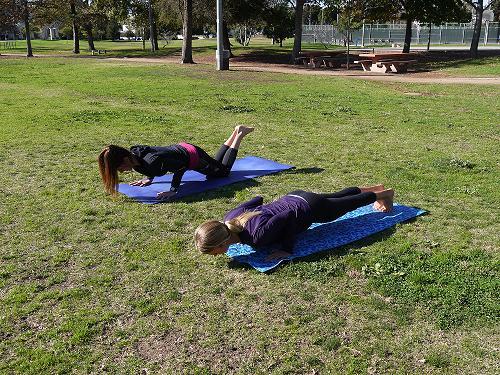 - exhale lowering down half way, elbows bent to a 90 degree angle
- elbows hug into your sides
- option to drop to the knees
UPWARD FACING DOG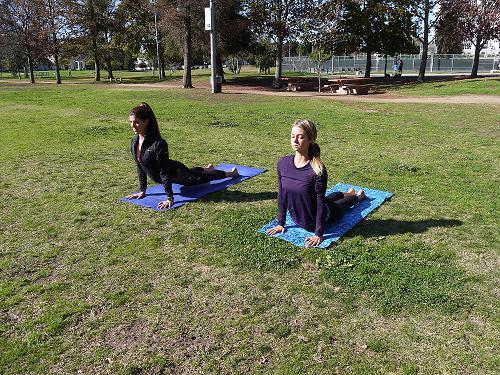 - inhale pressing the tops of your feet into the mat and with straight arms, press through your palms and lift your chest
- relax your shoulders down
- on an exhale push back to downward facing dog
DO SUN A THREE TIMES, BREATH TO MOVEMENT
Inhale halfway lift, exhale forward fold, inhale mountain pose, exhale back bend, inhale to stand, exhale forward fold, inhale halfway lift, exhale high to low plank, inhale upward facing dog, exhale downward facing dog.
SUN B: Flow through each pose with breath 3 times
- with your knees together, inhale and bend knees, placing your weight back into your heels, tail bone tucks under
- arms are high in line with your ears
- bring your hands to heart center, palms press together
PRAYER TWIST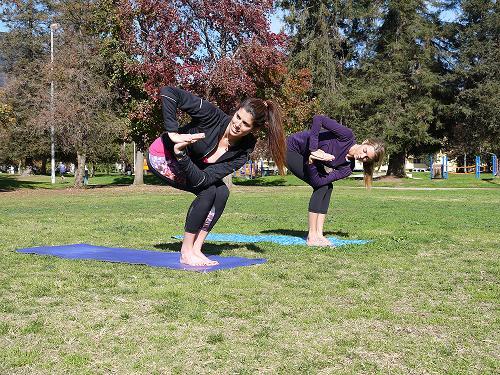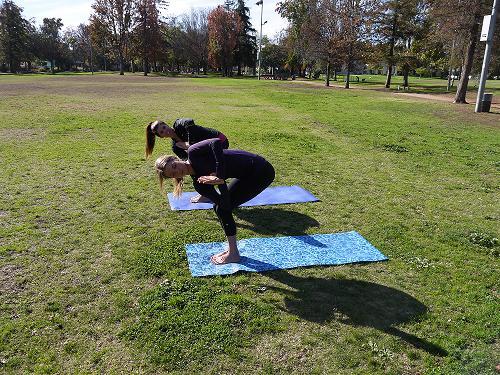 - exhale twist to the right, left elbow comes outside your right knee
- knees stay together and hips stay square to the front
- come back to chair and repeat on other side, prayer twist to the left
come back to chair, exhale forward fold, inhale halfway lift, exhale high to low plank, inhale updog, exhale downdog
LEG HIGH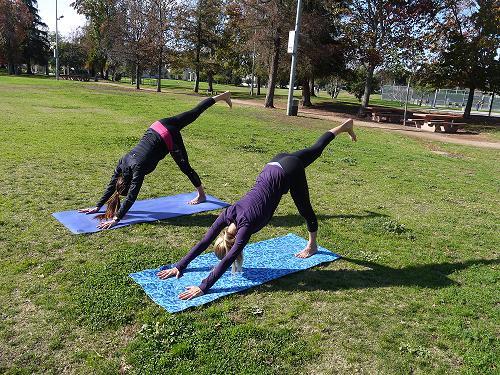 - inhale lift your right leg high, heel reaches back, toes point down to the floor
- exhale step right foot forward to low lunge, foot between hands
CRESCENT LUNGE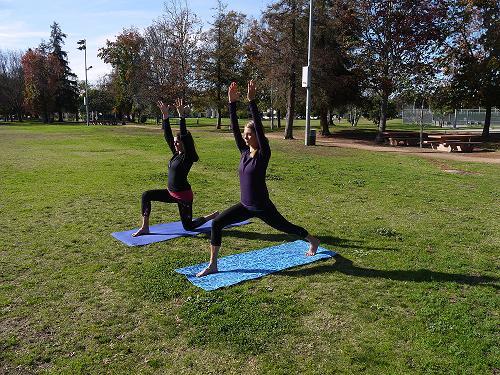 - on an inhale your back heel stays lifted as you sweep your hands up over head, palms face each other
- stack front knee over front ankle
- shoulders are stacked above your hips, drop your tailbone down
- back leg is engaged
TWISTED CRESCENT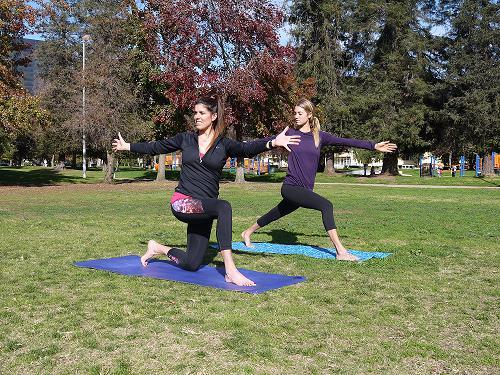 - exhale twist open to the right, right arm goes back as your left arm goes forward
- torso opens to the side wall
- keep your hips squared forward
- shift your gaze to your back hand
- inhale back to crescent lunge
WARRIOR 2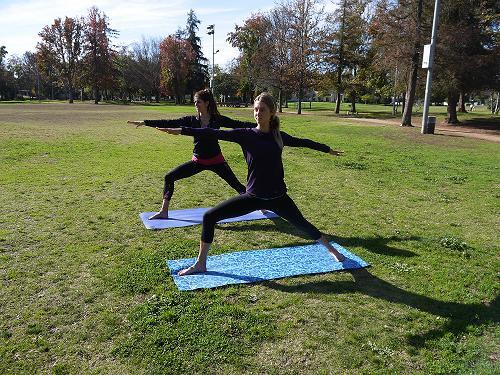 - exhale spin your back heel flat, open arms and hips to the side
- bend front knee to 90 degrees, tracking your knee over your ankle
- root down through your back heel
- stretch arms out, palms face down
REVERSE WARRIOR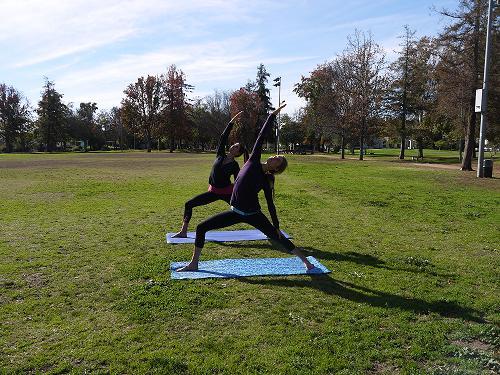 - inhale stay low in front leg and reach front arm back over head, placing the back hand behind your back or gently on your back leg
- shoulders and hips stay square to the side
EXTENDED SIDE ANGLE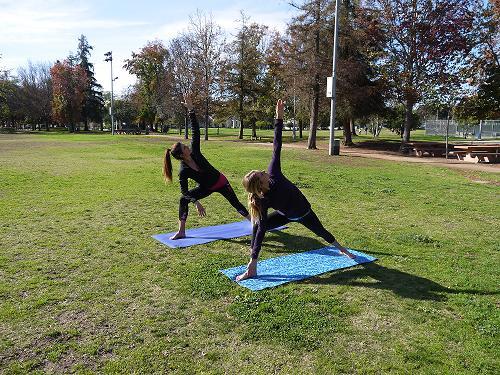 - exhale hinge forward at your hips, bringing your forearm to your front thigh or to the inside of the forward foot, back arm lifts high
- rotate chest open to the sky
- gaze up
- Inhale reverse warrior
- on the exhale, windmill your arms forward through your vinyasa (inhale high plank, exhale low plank, inhale up dog, exhale down dog)
Repeat on the left side.
DO SUN B THREE TIMES, BREATH TO MOVEMENT
Chair pose, chair twist right, chair pose, chair twist left, chair pose, forward fold, halfway lift, high plank, low plank, upward dog, downward dog, right leg lifted, low lunge, crescent, crescent twist, crescent, airplane, crescent, warrior 2, reverse warrior, extended side angle, reverse warrior, vinyasa (high plank, low plank, updog, downdog) Repeat for the other side and perform this sequence 3 times.
SAVASANA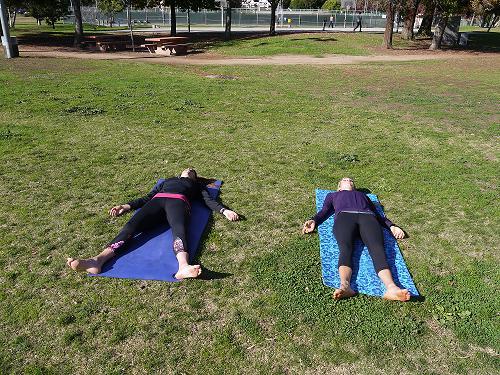 - lie flat on your back
- legs collapse to the side
- arms at sides with palms facing up
- close eyes, relax, and breathe
- allow yourself to truly escape your mind
*Photo credits: Jerry Lin