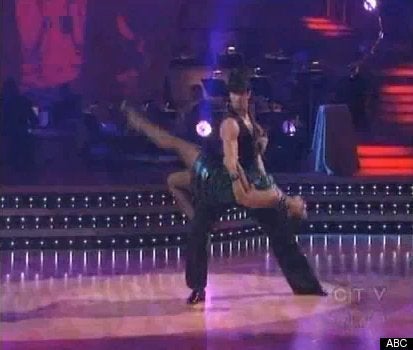 Singer Mya has just entered the final three on Dancing with the Stars, along with Kelly Osbourne and Donny Osmund and she's thrilled to be a part of this group.  Mya was being honored at US Weekly's Hot Hollywood party as one of the "Hot Steppers of the Year", along with Osbourne.  (Poor Donny!  He didn't make the list.)  I grabbed a few moments of her time before she hit the celebration, and got her thoughts on the competition, the costumes, and having beds brought into the studio so she never has to leave.  By the way, she highly recommend this competition as a way to lose weight, but warns that you'll be covered in bruises.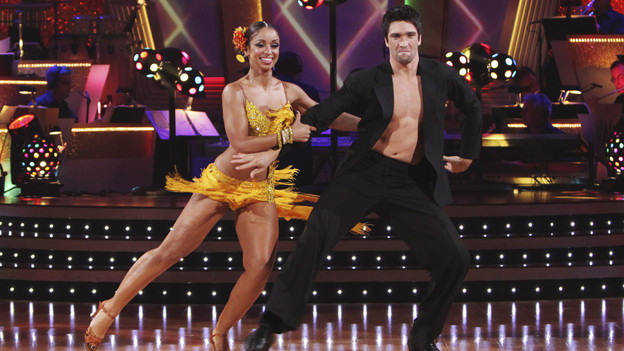 Mya with dancing partner, Dmitry Chaplin.
You've been a dancer for a long time, but this is a very different style of dancing.
Heck yeah, it is!  [laughs]
What most surprised you about partner dancing?
Well, I didn't know it was going to be so painful.  Every time a guy lifts you and grasps at you, you get slightly bruised.  There is a lot of intricate footwork with a lot of Latin dances and you're wearing hard shoes.  You're wearing heels and the guys are actually wearing heels too.  You get bruised pretty badly on your legs.  Your body looks amazing and you're body looks amazing in the competition and that's what I do love.
So it's good for weight loss and fitness?
It's good for weight loss and fitness but if you like to eat, you can feel free to do so in this competition [laughs] and still maintain a healthy figure, and I love that.  But you know what?  I've never danced with a guy before, but it's definitely allowing me to tap into a more feminine side of Mya.  I'm learning how to trust and let go, because he has to catch me.  [laughs]  I love the wardrobe department.  That's probably one of my favorite things.  That's actually what keeps me rehearsing hard, because...a theme for a new costume every week and jumping into a new character.  The way they put it together entails three days per week.  You have an initial fitting and a meeting, discussing your style of dance, what kind of color schemes you'd like to wear, you get to be a part of that process.  You have a secondary fitting where you have the template and blue print of the dress, and then you have a final fitting on Sundays.  The day before the show.  Where all of the stones are encrusted and you get to see things tailor made to your body.  And alterations take place too, if something's out of place.  But that is the most incredible process, next to the choreography that makes you come alive.  [laughs]  I really love that part.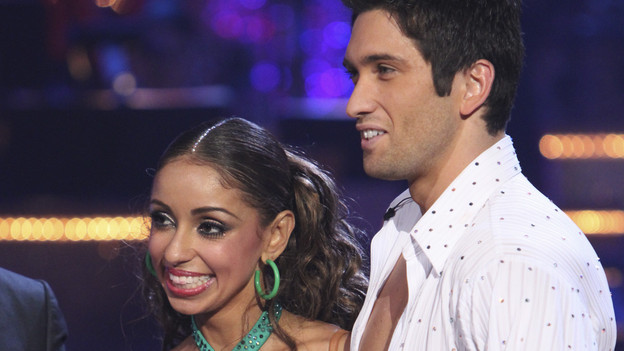 Is there a particular move that has been difficult for you?
Painful?  There have been too many.  But I can tell you there have been the most bruises, I counted twenty-seven bruises just on my legs only on the Argentine tango week...I have never seen so many bruises on my body before.  That was just because of the foot work.  But it was worth it.  It came out good.  [laughs]
Any plans for a new album?
Yes.  I have my own label now.  It's called "Planet Nine".  And I just released a mix tape, on September 29th.  It's called "Beauty and the Streets Volume 1" for all of my hip hop/R&B fans.  And then I have several albums on the way in 2010 that I've already recorded.  And I have some music on the way before Christmas as well.
Finally, what are you doing to step up your game for the final part of the Dancing with the Stars competition?
Geez.  Well, prayer.  [laughs]  This is the only night that I'm going out.  Tonight.  Complete sacrifice.  We've set up beds in the studio and I'm now having a food company deliver food to the studio so that I don't have to waste any hours going out to eat and being lazy.  Just dedicating every hour of my time to rehearsals, because we have four numbers, not just three or two or one this week.  It's going to be quite a test for all of us.  But I'm excited.
The Dancing with the Stars Performance Show airs Monday, November 23rd at 8/7c on ABC.