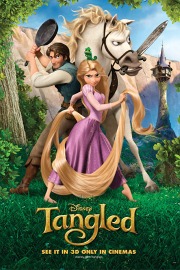 My poor, long-suffering buddy George 'El Guapo' Roush from Latino Review occasionally does video reviews with me. He puts up with a lot. I've drawn mustaches on him with eyeliner. I've teased him. And this time, I put him in a Rapunzel wig in honor of our 'Tangled' review. To be fair, he looks pretty good as a blond.
Check out our video review of Disney's 50th animated film. We talk hair, a musical episode of Chuck and whether or not this will make musical theater history.
You can follow my good buddy George on Twitter at @elguapo1. And you should. You'll thank me later. Tangled opens Wednesday, November 24th.