By Lisa Dazols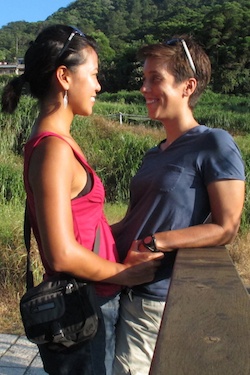 When my partner Jenni and I left San Francisco to travel around the world for one year with a mission to tell the stories of LGBTI people, we knew this would be the ultimate test of our relationship. Now engaged, we know that traveling together has only made us stronger.
But the truth is that we fought a ton right before leaving and during our initial months of traveling. It was a big adjustment to shift from our independent daily routines to spending 24/7 together. But since then, we've made some changes in our relationship. Here are the top 10 ways we've managed to avoid killing one another.
10. Define Roles
Our biggest conflicts came when we two control freaks tried to do too much with all hands in everything. We learned to leverage our strengths. As a social worker, I'm a natural networker. I become in charge of finding the Supergays for our project and connecting with people to host us abroad. As the big-picture planner, Jenni mapped out our travels so that we would be in each location at optimal weather. And as the tech whiz, she manages our videos, photography, and website. We now have a better appreciation for each other's unique skills, and we stick to the things that we're best at.
9. Share the Big Stuff
After we learned how not to budget when traveling, we realized that handling the finances was too big a job for any one person. Now I keep track of our spending each day on a spreadsheet while Jenni runs an in-depth monthly report. Our tallies still depress us, but by sharing the responsibility, we only have ourselves to blame.
8. Select a 'Cruise Captain of the Day'
Our friends and fellow world travelers suggested this idea, which we've used for several months. On even calendars days I put on the figurative hat of Cruise Captain, and on odd days its Jenni's turn. The Cruise Captain gets the power to plan the day's activities and have the final word on any decision. This structure helps us share responsibility and make definitive decisions. We also periodically rely on the scientifically proven rock-paper-scissors method to decision making.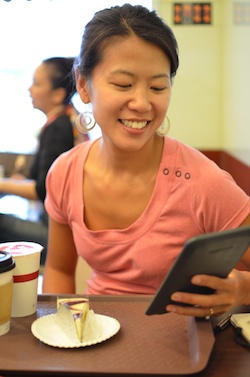 7. Journal
Jenni has become an avid fan of daily journaling. I swear that half of her entries begin, "Lisa drives me crazy because...." Journaling has helped her to sort through her thoughts, explore the sources of her feelings, and not blame me (at least right away) for everything.
6. Bring a Book to Meals
Most days, we sit down for three meals together. We enjoy each other's company and can hold conversations for hours. I'm the type of person who insists on turning off the TV while having a meal to focus on conversation. But after spending a full day together, it can be refreshing to check out for a bit with a book during meals. Most days, we read our books over breakfast and lunch and then have something more to talk about.
5. Invite New Friends to Join You
We really try not to be one of those unapproachable couples sitting down together, closed off to everyone else. In Taiwan we invited a couple of solo European travelers eating alone to join us. We spent the following four days sharing all our meals with them and going on a couple of day hikes together. We also love having friends from home come to visit us. Another lesbian couple from San Francisco joined us in East Africa, which provided us some much-needed solidarity in a region where homosexual acts are criminal.
By the way, how do we handle traveling together in Tanzania, a country where homosexual acts are illegal? Check out this video:
4. Know When to Give In
Australian Supergay and former High Court Judge Michael Kirby taught us this very valuable lesson regarding his relationship with his partner of 40 years: "I always give in. I always look at the big picture." Jenni and I try to remember that fighting to win an argument or keeping tabs doesn't lead to the healthiest relationship.
3. Treat Yourself on Special Occasions
We've been staying in the budget $25/night hostels, but for our birthdays and anniversary this year we used Jenni's Starwood points, which she's hoarded from her business travel days, to indulge in nicer lodgings. An occasionally luxury (and good bathroom for scrubbing) is the best way for us to keep up the romance.
2. Spend Some Time Apart
We actually spend far less time apart from one another than we originally expected. At home we're pretty independent. During a typical work week, we have our separate schedules and social appointments and don't see each other most days until bedtime. Abroad in the developing world, we often have to stick together for safety reasons. But we try to find some time for ourselves (usually going for solo runs or trips to the supermarket).
1. Practice Using the Word 'I'
Before meeting Jenni I was single for many years. Couples used to drive me crazy by using the word "we" so much. Having drinks recently with a single Australian traveler, I realized we had become that couple! Trying not to become overly enmeshed or co-dependent, I ask myself often, "What do I want, feel, need?" Once I can identify that and regain my own sense of identity, I usually slip right back into couplehood as a better partner.