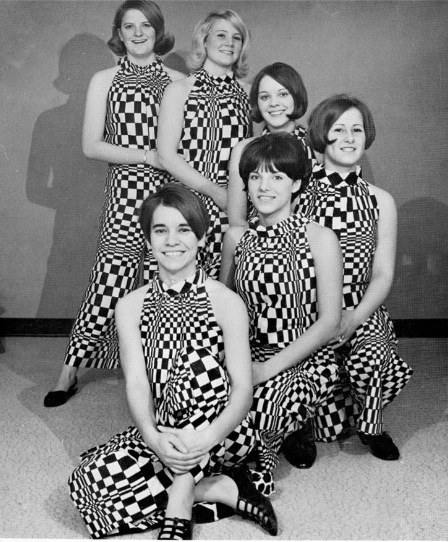 In the late 1960s six high school girls created a rock band simply because they felt like it. They didn't really have much experience -- they just knew that they loved music. One chose the drums because she had received a pair of old drumsticks from her neighbor; another girl chose the bass guitar, well, because that's what was left. They borrowed equipment from a couple garage bands and the 6 Pak was born.
With determination and youth on their side, the girls listened to their 45's over and over and learned to play the music by ear.
And guess what? They were good. Like really good.
Traveling up and down the West coast of Michigan, the 6 Pak played in a number of teenage dance clubs. While peers were participating in cheerleading, these girls were singing their hearts out to rock songs like "Mony Mony" and "Gimme Some Lovin.'" At one point, they even opened up for Louis Armstrong. (No joke.)
But as quickly as it started, it dissolved. The band broke up, moved on to different things... to college, new jobs, life changes...
Until 44 years later...
The drummer, Cindy, wanted to get the band back together. The bass guitarist, my mom, thought she was nuts. They hadn't picked up their instruments in over 40 years! Who would want to see a bunch of retired ladies, she questioned. (Turns out, many people were cheering for a comeback.)
So they borrowed some instruments, picked up a few new members and practiced like crazy. Playing to a packed charity event revved up their fans -- who wanted more. Since then, the 6 Pak has (re)learned 40+ songs by ear, although they joke that it takes much longer now than before. And like full circle, last month they performed at their 45-year high school reunion! Like before, everyone was on their feet, screaming for the girls just like they were teens again.
Turns out you're never too old to follow your dreams.
"It blows people away that we have the courage and determination to do this... to come out of our shells and basically say...'I'm still 18 on the inside'," says Rochelle, bass guitar.
Cindy adds that she is continually "amazed and humbled by the amount of support that we are getting."
"I'm just excited that we get to say words like 'groovy' again," laughs Mary, rhythm guitar.
So at retirement age, my mom and her friends are in a rock band, showing that you're never too old to follow your dreams. Are you also amazed at all the fun your wild baby boomer parents are having? What have you been putting off that you'd like to try again?
http://woodtv.com/2014/10/15/band-reunites-for-a-blast-from-the-past/
----------------------------------------
Jennie has two young daughters and writes about various topics on Twitter @jenniesuth. After she's done chasing her kids around, her dream is to write a book... someday... or just live vicariously through her Mom. (Kidding, kinda.)
Earlier on Huff/Post50:
PHOTO GALLERY
Phyllis Sues