In the early 1990s Life's Little Instruction Book by H. Jackson Brown, Jr. was a New York Times bestseller and a perfect graduation present. With its unassuming red plaid cover, the book consolidated more than 500 suggestions, observations and reminders that Brown shared with his son who was going off to college.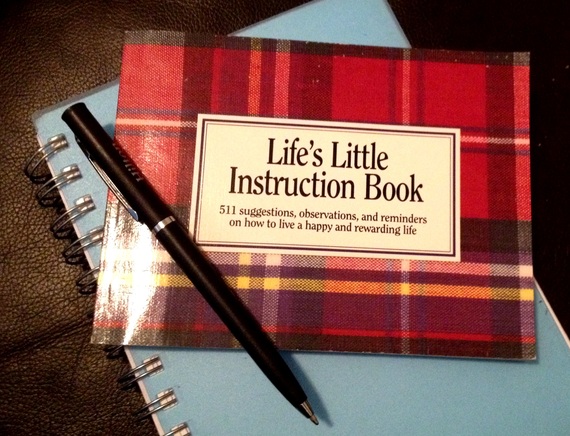 Dad's goal of the book? To impart his thoughts on "how to live a happy and rewarding life."
I received a copy of the book freshman year of high school. Over the past 20 years I've referenced it during college, transitioning to new jobs, and even through life changes. Flipping through the book now as a parent, some of his advice resonates more than ever.
Here are a few gems, summarized by category:
Choose your Attitude: Don't Let Someone Else Choose it For You
Become the most positive and enthusiastic person you know. (#188)
Be brave. Even if you're not, pretend to be. No one can tell the difference. (#68)
Live your life as an exclamation, not an explanation. (#332)
Continue to Learn
Commit yourself to constant improvement. (#210)
Every person you meet knows something you don't; learn from them. (#438)
Watch for big problems. They disguise big opportunities. (#481)
Celebrate Living
Don't postpone joy. (#41)
Seek out the good in people. (#237)
Laugh a lot. A good sense of humor cures almost all of life's ills. (#443)
Become a Good Person and Parent
Overtip breakfast waitresses. (#5)
Buy whatever kids are selling on card tables in their front yards. (#31)
Let your children hear you saying complimentary things about them to other adults. (#373)
Perhaps his final "instruction" is my favorite: Call your mother (#511). Which makes me wonder... what type of advice would I give to my own children? If you could personalize your own instruction book what would it say? What type of advice would you give?

Reference: Life's Little Instruction Book, H. Jackson Brown, Jr.; Photo: snapshot from my copy of the book

--------------------
Jennie lives in Austin, Texas, with her husband and their two young daughters. When she's not belting out "Let it Go" with her 3 year-old, Jennie writes about various industry and parenting topics on Twitter @jenniesuth.