I know what you're thinking... menu boards are for the extremely organized and people with ample time on their hands. The truth is, I'm NOT very organized and time is usually not on my side. I do my best, but organization can easily get away from this working mom.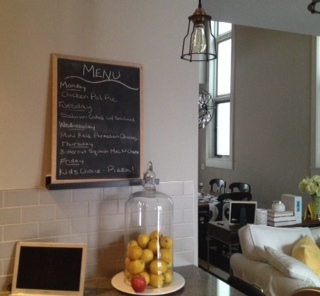 Growing up, my mom always kept a weekly menu in a journal in the kitchen, planning meals for the week on Sundays. I never really appreciated this until I had my own family and was at a complete loss for meal planning. She always told me to make lists and plan my menu, but as many things do, this went in one ear and out the other. Until one day, it finally clicked that she was onto something -- and it only took 36 years!
I started my menu board two years ago when I was frustrated at the end of the day and had no idea what to make for dinner. Here I was, the founder of an organic food company, and I was making eggs and toast or grilled cheese again (granted, they were pretty gourmet grilled cheeses!)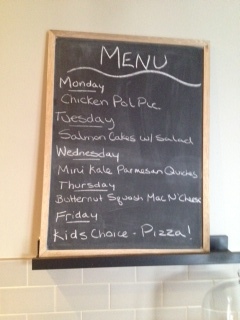 It's now one of my favorite additions to the kitchen, even adding a little bistro flair to the decor! The best part of the planned menu is getting the kids involved. They love to contribute and be a part of the decision-making process.
Every Sunday, I pull out one cookbook and have them go through it to choose things that sound good to them. They each get to pick one night, and we do a kids' choice bonus night (which usually ends up being pizza). They even like to help cook on their chosen nights, which allows us quality time together.
Having a well-stocked pantry and fridge/freezer also helps. I go through both, see what is available and pull together the rest of the week. I usually work with what I have (plus a few extras), try to be creative and come up with healthy and quick meals I know my kids will like, or at least try.
Once the board is up, I am accountable to it and the kids look forward to the meals they love.
I picked up my chalkboard and shelf at IKEA for $20 and it has quickly become a conversation piece among my guests!
Here are a few of my favorites.
I want to know! What are your tips for weekly menu planning?