Last summer I wrote about unplugging and down-time after an interesting, weekend experiment. It was inspired by Arianna Huffington's book Thrive, which I bought after her talk at BlogHer.
I'm revisiting the concept, the theory and the practice this week.
Monday I flew up to spend, much-needed, time with my daughter. It's only a 90 minute flight. I haven't seen her in six long months! How did so much time fly past? That's an obscene amount of time not to see my daughter. I love her to pieces and we always have so much fun together.
Yesterday's travel was a total cluster.
Up at 4:15, too little sleep, I raced to the airport.
Flew to LAX where I cooled my heels for two hours, while they located a flight attendant.
Jumped a train to the city, and fell asleep. Missed my stop and had to backtrack.
Although I'd tanked up on caffeine during the flight, it clearly wasn't enough. I exited the train and realized it wasn't a Starbucks sort of day. I headed for a glass of wine, while I waited for my daughter to get off work.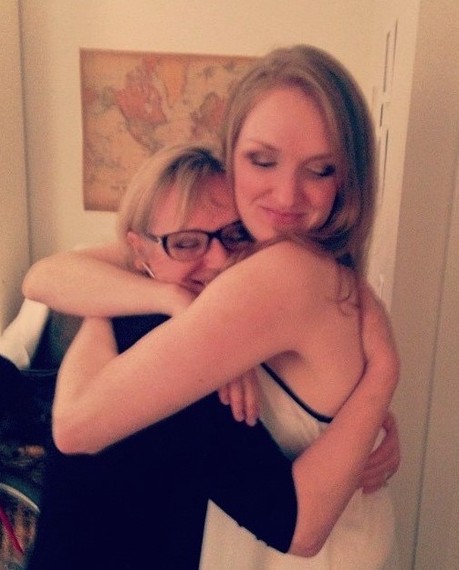 My daughter captioned this, " When you haven't seen your Mom in six months and there is nowhere else you would rather be".
Her words made me cry. A lot. That was another reminder to get my priorites back in line with my values.
Thursday, while she's working, I'm hopping a seaplane to squeeze in a quick visit with my brothers. I'll only be there 24 hours! Ridiculous, I have't seen them for over a year!
I realize I'm racing, flying, jumping and hopping way too much. Too busy, too fast!
This morning I had 82 new emails. Enough...in fact, too much.
This doesn't mean I don't love you. It just means I love me more and I'm taking a breather to rebalance.
I need to get back in touch with what my body and spirit needs. I need more slow living and downtime to chill.
Relax, recharge, breathe deeply and spend time with the ones you cherish.