Today, Thursday March 15, spoken word/hip hop theater artist Marc Bamuthi Joseph's red, black & GREEN: a blues opens at the Walker Art Center. red, black & GREEN: a blues was commissioned by the Walker as a performative/experiential iteration of Joseph's community work, specifically the Life Is Living festivals he curates around the country. Both the Life Is Living festivals and this new piece are designed to encourage conversations about environmental justice and social ecology. Bringing together big ideas, personal stories, music, visual art, dance, and spoken word, red, black & GREEN: a blues asks and offers insight into the valuable question: What sustains life in [a] community?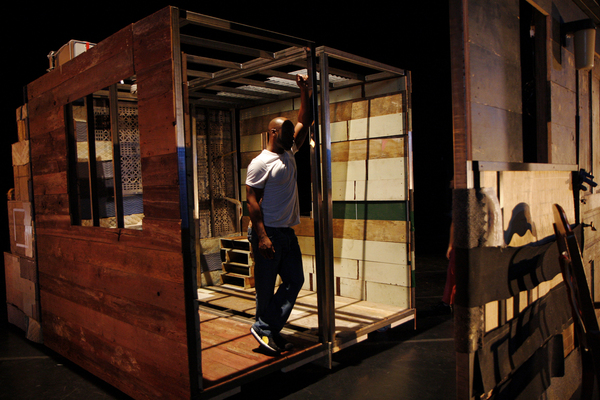 Courtesy of the Walker Art Center

Several years ago, I met Joseph in Hawaii. I was standing in a crowded club in Honolulu when the audience began parting behind me. A rich voice breathed into the microphone and a beautifully grounded, bald and bearded man snaked his way to the stage -- dancing and dropping words, expertly crafted poetry, on us all. He shared parts of his, then one-man show, Word Becomes Flesh, a powerfully rumbling piece of historical bio-narrative that weaves together the artist's experience of his son's birth, his fears of raising a black boy in the current culture, and an open exploration of nationally internalized racism. This was before Joseph graced the cover of Smithsonian magazine after being named one of America's Top Young Innovators in the Arts and Sciences (2007); before he was awarded an Alpert Award in Theater (2011); before he was the recipient of the United States Artists Rockefeller Fellowship, which annually recognizes 50 of the country's "greatest living artists"; before Word Becomes Flesh was re-mounted as part of the NEA "American Masterpieces" series (2010-13); and before, his most recent appointment as the Director of Performing Arts at Yerba Buena Center for the Arts in San Francisco.
In a recent conversation, Joseph and I spoke about his role as both an arts administrator and an acclaimed, performing artist. I asked him how he has been able to accomplish so much at such a young age (mid-30s).
"Productivity is about agility and practice," said Joseph. "I've retrained my focus to center around process, instead of around outcome, though," he laughed, "the outcomes have produced nice results."
red, black & GREEN: a blues COMMUNITY from MAPP International on Vimeo.
Joseph shared the aspects of his life that allow him to grow, develop, and do his work. He is quick to emphasize that his style of activism is based on making environments "where everyone shines". He also credits his non-tradition, progressive family for playing a key role in his ability to work as he does. "It's an exercise in ego subordination," he concedes. Everyone works for the good of the group -- which includes his fiancée, her daughter, his son, his son's mom and all of the extended family they each bring to the mix. This filters into all of his collaborations. Says Joseph, "I'm always looking toward points of inspiration within collaborator relationships."
Mentorship has played a vital role for Joseph. As the director of Youth Speaks, Joseph has dedicated his time to teaching youth ages 13-19 to write and express themselves. He also expressed gratitude for the guidance of many administrators he has worked with closely, like Philip Bither (Walker Art Center), and Marc Russell (Under the Radar/Public Theater). The willingness to share knowledge and experience seems a key element for Joseph -- as both a leader and an artist. He also highlighted his work with Chicago-based artist Theaster Gates, who has build the set / installation for red, black & GREEN: a blues. "Theaster brings a humility and care to the work. Folks comment on the presence of a palpable soft haze of tenderness that surrounds this piece -- that's all Theaster."
Which brings us full circle to his upcoming engagement at the Walker. The piece was inspired by Joseph's Life is Living festivals but it is born of the community it is raised in. For the Walker commission, Joseph and his collaborator Brett Cook-Dizney, visited many local Twin Cities' artists and community organizers, in order to learn firsthand about the history and current struggles that communities of color face in the region. Similar engagements have taken place in Oakland, Chicago, and Houston. Said Joseph, "There are literally 1,000 partners across four cities that we met who fed into red, black & GREEN: a blues. Those people form an invisible network that we don't quite see and yet are very present in the performance."
red, black & GREEN: a blues is at the Walker Art Center from Thursday March 15th -- Saturday March 17th in the William and Nadine McGuire Theater. This and other works will be touring over the year. Visit: http://www.mappinternational.org/artists/view/1/ for more information.