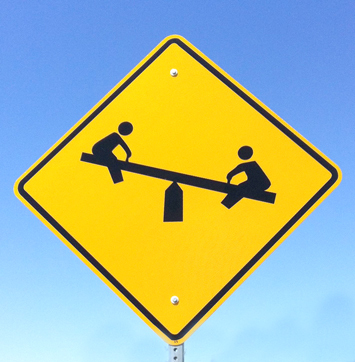 They say finding a new home is one of life's top stressors.
They're right.
My partner, Kate, and I were recently told we need to move (our landlady's selling the house we've been renting). And, the moment I heard the news, my mind started grappling with trying to find some semblance of solid ground. My immediate reaction was, "but I don't want to move!" And then all the reasons why came rushing into the courtroom of my mind -- building the case for why we should stay...
YOUR HONOR, KATE AND JENNIFER HAVE LIVED IN THAT HOUSE FOR OVER TWO YEARS -- HAVING ONLY RECENTLY TRAINED THEMSELVES TO TUNE-OUT THE NEIGHBORS' BARKING DOGS AT ALL HOURS OF THE DAY AND NIGHT. THEIR POWERS OF SONIC SOMNAMBULANCE TOOK YEARS TO HONE... SO, I ASK YOU, IS THEIR BEING TOLD THEY NEED TO MOVE FAIR?....

I THINK NOT!

SECONDLY -- KATE, WITH HER GIFTED GREEN THUMB AND HIPSTER-LEVEL APTITUDE FOR CRAFTINESS, BUILT AN ORGANIC VEGETABLE BED OUT OF DRIFTWOOD AND HOMEMADE SOIL. YES, YOUR HONOR, SHE. MADE. THE. SOIL. OUR FAMILY HAS PERSONALLY ROTTED TRUCKLOADS OF TABLE SCRAPS TO FEED THOSE BEDS OF BUDDING VEGGIES, AND WE NOW HAVE A LIFETIME'S SUPPLY OF RAINBOW CHARD AND BROCCOLI LEAVES (THE NEW KALE!) TO PROVE IT. OR SHOULD I SAY HAD A LIFETIME'S SUPPLY... UPON MOVING, THE POOR, DEFENSELESS PLANTS WILL BE RELEGATED TO PLAYING INNOCENT VICTIMS IN THAT BUTCHER-WITH-A-WEED-WHACKER -- THE "GARDNER'S" -- SICK AND TWISTED GAME OF DECIMATING ALL THAT IS ALIVE IN OUR BACKYARD. THE PLANTS WILL BE MURDERED, YOUR HONOR. DO YOU WANT THAT ON YOUR HANDS?!...

THIRDLY -- DO YOU KNOW WHAT A HASSLE IT IS TRYING TO FIND A NEW PLACE TO LIVE?!... POURING OBSESSIVELY THROUGH ADS ON CRAIGSLIST, FINDING THE TIME TO GO VISIT THEM (IF THEY ACTUALLY EXIST AND AREN'T SPAM SCAMS...), AND THEN CONSTANTLY BEING DISAPPOINTED BY HOW THE PLACES DON'T LOOK ANYTHING LIKE THEIR PICTURE IN THE ADS -- AND THAT THEY SMELL LIKE A NOXIOUS MIX OF CHLORINE AND TROPICAL AIR FRESHENER. IT'S LIKE INTERNET DATING. AND WE ALL KNOW INTERNET DATING SUCKS.

I REST MY CASE.
OK... So that voice dominated my headspace for more than a few days... I saw it ever-presently lurking in the dark recesses of my mind, poised to hijack my rational thoughts at any chance it got. And, watching all of this happening was the most frustrating part... Intellectually, I knew I was causing all the angst by not accepting the situation. I also knew the only way to put a halt to this maniacal mindset meant rigorously redirecting my focus. So, I gently -- but firmly -- called myself out...
You've been doing this mindfulness thing long enough to know that nothing is permanent... Nothing. Everything changes. Your denial and attempt to push away that fact is what's causing you so much turmoil.... But, no matter how much you wish it were different, not accepting the situation isn't going to change the reality of it... The house needs to be sold. It's not convenient. It's not what you want. But it's what's happening. At least you're not being pressured to move right away -- the landlady said you could take your time... Sure, you're going to miss the house. And, you don't want things to change. But change happens. Let go of your attachment. It's time to shift your attitude, accept your circumstances, and move on...

A serious dose of tough self-love goes a long way with me... And, as soon as I was able to shift into acceptance, my aversion started to melt away. Of course, that's when the sadness set in...
I spent the next few days mourning the loss of the house -- and my attachment to it... As my focus shifted away from reveling in righteous aversion, it created the space for me to savor the things I'd miss about not living there anymore, instead: waking up to the sound of singing birds every morning; watching the giant banana tree's limbering, green fronds waving to me outside the dining room window; trudging through the blanket of Jacaranda tree flowers in the front yard -- like purple-candy-colored snow.
And, yes...
Even the neighbor's damn dogs.
Knowing I only had so much time left to enjoy the house, I found myself feeling much more grateful for it. And then, something else deep within me shifted -- I actually started feeling excited about living somewhere else...
Maybe we could find a house with a space big enough to host classes and workshops... I'd love to not have to deal with lugging groceries up a flight of stairs every week after I go grocery shopping... It'd be so nice to be able to walk to more coffee shops during the day--to feel a little less isolated... Maybe we could even find a place that's cheaper and start saving some money...
This new way of looking at the situation alleviated the sense of loss -- replacing it with hope and possibility. But, after week after week of visiting potential new homes... We just weren't finding a good fit. And, we were starting to run ragged -- feeling exhausted, discouraged, and stressed. The situation didn't feel sustainable. Another shift needed to take place...
OK, Let's take a breath here. Slow this process down... We have plenty of time -- our landlady said we didn't have to rush to find a new place. Why are we pushing so hard to find one?... Let's stop all this running around and give ourselves the time and space to find the home that feels right.

It was around this point when, in an attempt to help us find a new home, our landlady mentioned how another house she owned (and had been renting out through AirBnB) might be an option for us... It was "tiny," but it had the same number of bedrooms and wasn't far from where we currently resided.
Kate and I discussed the option... The thought of downsizing appealed to us -- dedicating ourselves to more conscious minimalism as a family. And saving some money on monthly rent would be nice... The tiny house even had a small, finished garage that could be used as an office/class space...
We pretty much got attached to the idea right away -- and we resolved to move ahead. But then our landlady changed her mind and decided she didn't want to rent the tiny house longterm, after all.
So, here I found myself, once again...
Back in the throes of attachment -- and in a refusal to accept the reality of my situation.
GOD DAMMIT! WHY DID SHE OFFER TO RENT THE HOUSE TO US IF SHE WASN'T SERIOUS?! THIS WOULD'VE BEEN THE PERFECT OPPORTUNITY TO DOWNSIZE, SAVE MONEY EACH MONTH, AND HAVE A SEPARATE WORKSPACE TO EXPAND MY TEACHING... WHAT ARE THE ODDS OF US BEING ABLE TO FIND ANOTHER HOUSE WE CAN AFFORD, WITH A SEPARATE SPACE, IN A NEIGHBORHOOD THAT WE LIKE?!...

It was easier for me to move through the refusal-to-accept phase this time around -- probably because I'd literally JUST maneuvered through it... I was able to let go of my attachment to the tiny house fairly quickly. But, I chose to hold onto the clarity of now knowing exactly what we wanted.
Moving ahead, we slowed down the pace of our search, only visited homes that fit our vision of what we wanted -- and within less than a week -- we found another (slightly larger) tiny house -- with an even bigger separate workspace, in an even more convenient location. For less money than our previous monthly rent.
We put in our application immediately.
And then...
My old frenemy, Attachment, appeared once again.
This time, coming on even stronger than before...
OH MY GOD THIS HOUSE IS SOOOO CUTE! I WANT IT SO BADLY -- I KNOW EXACTLY HOW WE CAN DECORATE IT. THE FLOW IS AMAZING. IT HAS SO MUCH LIGHT! AND NO BARKING DOGS NEXT DOOR... AND THE SEPARATE WORKSPACE IS HUGE! I CAN FINALLY HAVE AN OFFICE! THE POSSIBILITIES ARE ENDLESS FOR ALL THE AMAZING THINGS WE COULD DO WITH THIS PLACE...
This indulgent daydreaming phase now dominating, my initial fantasies had the flavor of excitement. But, as the days went by -- and no word back from the potential new landlady about whether or not she was going to accept our application-excitement quickly slid into worry and anxiousness...
WHAT IF SHE DIDN'T LIKE US? I KNEW I SHOULD'VE SPENT MORE TIME TALKING WITH HER... WHAT IF WE DON'T MAKE ENOUGH MONEY? WHAT IF SHE DOESN'T WANT A TENANT WITH A KID-OR CATS?... SOMEONE MORE QUALIFIED APPLIED FOR THE HOUSE-AND SHE'S GOING TO GIVE IT TO THEM... IS ANYTHING EVER GOING TO WORK OUT THE WAY I WANT IT TO?!... I WANT THAT PLACE SO BADLY! I WANT TO FEEL SETTLED! I CAN'T STAND NOT KNOWING WHAT'S GOING TO HAPPEN!!...
Over the next week, I continued to catch myself going down these dead-end roads -- trying to soothe myself with lots of deep breaths, loving kindness, and Jack Kornfield's "Don't Know Mind" practice. I cried. I exercised. I redirected. Constantly. I noticed how much I craved junk food and bottomless glasses of wine...
Every hour of every day for the world's longest week, I battled with accepting the unknown. Sitting with uncertainty. My soul quaked. My insides trembled. I knew everything was going to be OK if we didn't get the house. But I couldn't completely let go and trust it'd all work out for the best. It was nothing but...
WHAT IF WHAT IF... WHAT IF?!
Then, finally, a week and one day after we submitted our application, Kate's cell rang.
"It's the woman about the house!..."
She sat down, took a deep breath and answered...
"Hello -- yes, this is Kate..."
I sat next to her, holding my breath -- my eyes reading every nano-centimeter of her face. The moment felt interminable.
Then her eyes widened -- the slight curl of her lips...

"Wonderful! We'd would love to take it, yes! Thank you so much..."
A deep breath.
Gratitude.
Relief.
In an instant, my mind relaxed like a cramped muscle finally letting go. All the anxiety of uncertainty vanished -- all the angst. Gone.
Excitement and joy pervade.
But, only for another day or two... And then it's back to noticing how Aversion and Attachment start playing tug-of-war with my attention, once again.
It all feels much more manageable now, though -- far less whiplashy.
Because noticing when I'm caught in the throes of Aversion and Attachment is half the solution to finding the balance between them...
A version of this blog post was originally published on TheMindfulnessDiaries.com.
Join The Mindfulness Diaries communities on Google+ and Facebook.
Follow Jennifer Howd on Twitter: www.twitter.com/jennHOWD