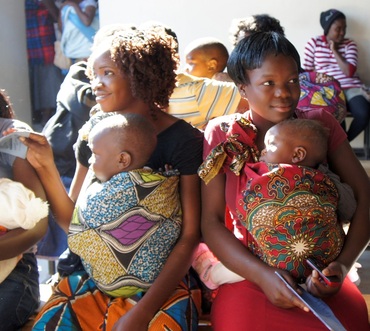 Whenever I look for up-to-date maternal health information I turn to these 25 tweeters. For me, these are the leading maternal health Twitter accounts on the Net. I also want to hear what you think. Please include any other tweeters you think do a fantastic job sharing information that is focused on keeping more mothers alive during and after childbirth.
1. @ARoadLessTravelled - Working with nomadic pastoralist communities in Ethiopia & Kenya to improve maternal & child health.
2. @CARE - CARE fights global poverty with an emphasis on empowering women and girls with education, and maternal health and microfinance resources!
3. @CarolePMNCH - Executive Director of The Partnership for Maternal, Newborn & Child Health (@PMNCH) / midwife and anthropologist by training
4. @CTurlington - Mom, Wife, Daughter, Yogi, Marathoner, Founder, Every Mother Counts, Author, Living Yoga: Creating A Life Practice, Model. I tweet about Global Maternal Health
5. @EdnaAdan - Founder & Administrator of Edna Maternity Hospital in Somaliland, E. Africa, training Midwives and Nurses; combatting Female Genital Mutilation.
6. @EveryMomCounts - Every Mother Counts is a campaign to end preventable deaths caused by pregnancy and childbirth around the world. @CTurlington @ETThornton
7. @GDarmsta - Senior Fellow @gatesfoundation, passionate about women & children's health. Opinions tweeted are my own.
8. @JillSheffield - I am a lifelong maternal health advocate who believes in the power of girls and women. Invest in women - it pays!
9. @Jhpiego - An affiliate of @JohnsHopkins, we are saving the lives of #women and #families worldwide.
10. @Koki_Agarwal - Director of Maternal and Child Health Intergrated Program (MCHIP)
11. @LHSTM_IDEAS - IDEAS aims to improve the evidence base for future maternal and newborn health programmes in Ethiopia, Nigeria & Uttar Pradesh, India. Funder: @gatesfoundation
12. @MariamClaeson - Maternal, Neonatal & Child Health, The Bill and Melinda Gates Foundation.
13. @MaternityWW- Saving lives in childbirth in sub-Saharan Africa by training midwives, improving access to healthcare and providing communities with maternal health education.
14. @Maternova - Pioneering e-commerce marketplace and ideaplace for innovations saving moms & newborns. We follow #innovation and champion solutions by providing direct access
15. @MCHIPNet - As @USAID's flagship maternal, newborn & child health program, MCHIP's mission is to reduce maternal, newborn & child mortality in 30+ priority countries.
16. @MHTF - The Maternal Health Task Force contributes to shaping collective efforts to improve maternal health worldwide.
17. @MYSMFM - Society for Maternal-Fetal Medicine: High-risk pregnancy experts improving pregnancy outcomes by sharing excellence in care, education, and research.
18. @PMNCH - Chaired by Graça Machel, PMNCH unites communities improving the health of women, children, newborns and adolescents
19. @SavingMothers - Committed to improving maternal health worldwide.
20. @STM_Canada - Save The Mothers trains professionals from developing countries to improve mothers' health. http://www.Facebook.com/SavetheMothers
21. @ToyinSaraki - Founder - The Wellbeing Foundation Africa, Advocate for Maternal Newborn and Child Health, Rights, Equity and Empowerment.
22. @UNFPA - The United Nations Population Fund: Delivering a world where every pregnancy is wanted, every childbirth safe, and every young person's potential is fulfilled.
23. @WellBeingAfrica - OFFICIAL twitter for Wellbeing Foundation. Updates on Maternal Newborn and Child Health, Rights, Peace, Women Empowerment & more. http://facebook.com/Wellbeingafrica
24. @WRAGlobal - We are an international coalition working to stop needless deaths in childbirth. Help us TAKE ACTION!
25. @WomenDeliver - Women Deliver is a nonprofit organization that aims to improve maternal health worldwide. Invest in women -- it pays!
You can follow this entire list at twitter.com/socialgoodmoms/lists/maternal-health-tweeters.
Photo Copyright Jennifer James