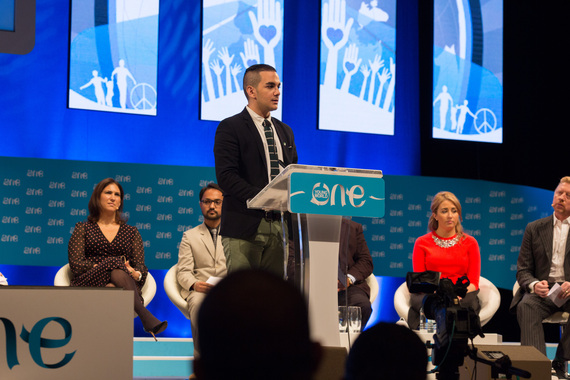 One Young World is the preeminent global forum for leaders aged 18-30. The not-for-profit organization hosts an annual Summit with 1,300 delegates from all 196 countries; drawn from businesses, universities, NGOs and other forward thinking organizations. The delegates are joined by One Young World Counselors -- global luminaries who support the network of young leaders in their ambitious projects for change. Kofi Annan, Professor Muhammad Yunus, Mary Robinson and Bill Clinton have attended previous One Young World Summits as Counselors. I have had the privilege of being a part of the One Young World community since 2012. I have attended two summits and intend to make it to this year's summit in Thailand.
I was invited by One Young World to give a panel at the World Bank Group/ International Monetary Fund 2015 Spring Meetings, titled "Tomorrow's Leaders Today". It was an honor to be at the World Bank and especially for a panel that focused on what it means to be a youth leader, youth being defined as ages 15 - 24 by the United Nations. As founding director of World Health Equity, a not-for-profit organization which has helped provide healthcare to 25,000 people in northern Sierra Leone, I credit a lot of our impact to the collective efforts of passionate, young adults. Joined by fellow One Young World Ambassador and climate change advocate, Parker Liautaud, I shared my perspectives on youth leadership, One Young World's role in cultivating leadership potential in its 6,000 global ambassadors, and the impact of my work with World Health Equity. Our panel discussion was met with engagement from adults and youth, men and women from Turkey to Cameroon and places near and far in between. It was encouraging seeing the level of support for youth led efforts stemming from so many accomplished and aspiring professionals. I hope future sessions that focus on youth leadership at the World Bank Group will only grow in popularity.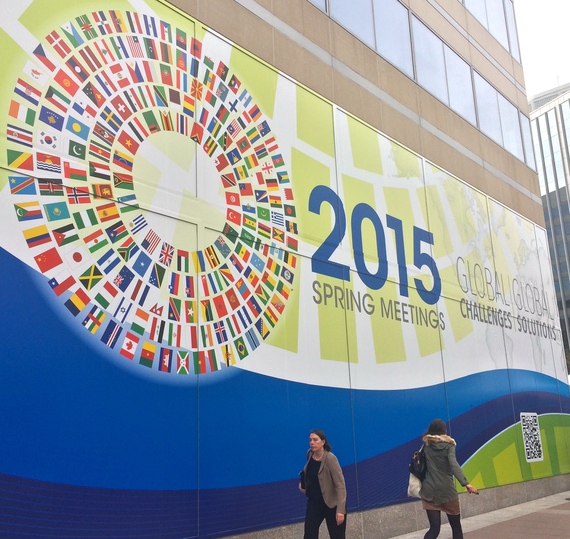 The World Bank Group/ International Monetary Fund Spring Meetings are a time for exchange of ideas and preparation for global development goals. For a girl like me hoping to improve access to health care for disadvantaged people, it was incredible to learn from the brilliant minds directing the course of world events and engage in the discussion myself. But this is not the case for most of today's youth. Global Attitude asserts that youth in Brazil are deprived of promotion even when they are qualified and deserving, frequently because of their perceived lack of experience. Across the Atlantic, in Sierra Leone, 50% of young people remain uneducated and youth unemployment rates are at a staggering 60%. Head on further east and countries like China and Vietnam with strong states but weak civic societies have mostly adult-run organizations with little room for youth leadership. Globally, young people are not readily allowed the opportunity to voice their opinions, contribute solutions or exercise leadership. These disparities seem somewhat unreasonable considering the millennial generation, at least half of whom classify as youth, will inherit the consequences of today's decisions.
I am not saying millennials should be obligated a seat at the table. I am challenging millennials who care deeply about a purpose to work hard and responsibly at it. And for international organizations, governments and stakeholders to recognize young people as assets for development while supporting their continued participation in civic engagement activities. Over a 5-year period, a unique charity like One Young World has positively affected 6 million lives through its 6000 inspired and empowered youth ambassadors. Consider then how many lives stand to be impacted if youth empowerment trended globally. Today's youth boast a hunger, fresh perspective and technological savvy capable of driving sustainable impact. We are also eager to fall flat on our faces in order to dust ourselves off and get back up again. Strike a balance between cost, inclusion and impact in youth civic engagement and our present leaders have little to lose in empowering tomorrow's leaders today.