If a new friend were to check out my Facebook page, she would quickly learn two major facts about me: One -- that I love my job at Sesame Workshop, evidenced by the many pictures of me grinning widely next to Muppets and other smiling colleagues. And two, that my husband and I are on an insanely accelerated quest to visit the 401 (and growing!) units of the National Parks system. You wouldn't have to look too far to see a large number of photos of us climbing sand dunes and mountains, kayaking through bodies of water, and standing beside monuments with prominent displays of the National Parks Service logo. If you don't believe me, I can show you my National Parks Passport -- we have 77 stamps in it already.
When I learned that Sesame Workshop was partnering with the National Park Service, the National Park Foundation, Grand Canyon National Park, and Gateway National Recreation Area to produce videos and activities free of charge to inspire exploration and inquiry in nature and parks, I couldn't have been more excited. My workday love hanging out with my weekend love? This initiative brings these amazing organizations together to enhance children interest in and knowledge of science and nature and ultimately increase children's wonder and amazement in the world around them.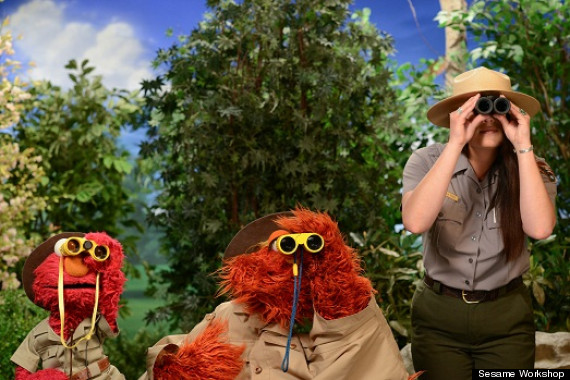 As a researcher at Sesame Workshop, I have seen firsthand the power of our Muppets and the influence they have on children's learning in general and science in particular. In a few studies we have conducted on nature and science learning from our episodes, we've seen that children as young as three can learn the meaning of sophisticated words such as "hypothesis" and "metamorphosis." This current project with the National Park Service and Foundation extends what can be learned solely from video by providing parents and educators with activities and discussion points that help children see and do for themselves some of the exciting things that their Muppet friends (Elmo and Murray) do with rangers from the national park.
I've also seen firsthand how exciting our national parks can be for young children as well as adults. The passion the many rangers we've encountered have about various plants, flowers, insects, animals, and about stewardship is amazing. We've seen visitors marvel at beautifully decorated birds, delight in clean water as they tube down rivers, find peace in the sounds of a forest and express surprise at happening upon a palm tree oasis after miles of desert rock. Ultimately what visitors to our nation's parks gain is a sense of wonder and awe about our amazing ecosystem. Children are especially delighted by completing junior ranger programs and being recognized for being a steward of our land.
We've gone "live" with our resources which are presented on a website that contains videos, printables, and activity suggestions for parents and educators to help children learn more about the world around them. The materials are themed on three categories: families, habitats and seasons. There are six videos -- three of them represent activities and ecology that occur around Gateway National Recreational Area, an urban park, located in New York City. The other three videos are based on activities and ecology from the Grand Canyon. Children will have the opportunity to reflect on how, despite the different geographic locations, each provides a great opportunity to learn about families, habitats and seasons.
Don't live near one of the "big" national parks or don't plan to get to one anyone soon? (Sounds familiar, I grew up on the 23rd floor of an apartment in the Bronx.) Not to worry. The videos and activities can resonate with children, families and educators no matter where one lives and what nature happens to be around one's neighborhood. The activities can be applied in a variety of contexts -- from one's own backyard to a neighborhood park to a quiet nature sanctuary to a large national park. They are even relevant to those who live on the 23rd floor of an apartment building. You never know, that person might one day become someone who doesn't leave the house without her National Park Annual Pass!
Please visit http://www.sesamestreet.org/parents/topicsandactivities/topics/nature to see "Sesame Explores National Parks."