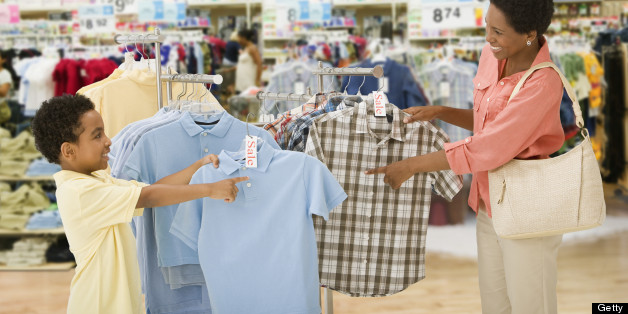 What's my number one goal for back to school this year? Not to waste money. Next weekend, you'll find me running through all the kids' clothes to see what still fits, what needs replacing, what needs repairing and whatnot. Honestly, I'd rather buy one cute thing for the kids -- something purely for the love of it -- than waste money on four new pairs of jeans they don't need. And I'm not alone. As families nationwide prepare to gear up for the school season, our new Working Mother-Chase Slate Back-to-School survey finds that most parents are looking for ways to save money this fall.
That's because 41 percent of working moms surveyed fully expect to spend more this year on back to school shopping, with 53% blaming the increase on the rising cost of school supplies. I was a bit surprised to find that 69 percent of the moms we talked to plan to do most of all of their back-to-school shopping in person. But then again, I know personally how shipping costs can add up; it's become a larger factor in my family shopping strategies as well this year.
That said, I still prefer to do as much of my family's back-to-school shopping online as possible. I am a fiend for online coupons and cash-back deals (my favorite site is ebates.com). No wonder, then, that our survey, conducted by Working Mother and Chase Slate, finds that that eight out of 10 moms plan to take advantage of sales and special offers to save money on back-to-school expenses.
Beyond the deals, however, I also love the ability to comparison shop online -- and honestly, to just think quietly about what the best choice might be. (There's nothing like trying to keep an eye on a bored 6-year-old and a distracted 9-year-old to knock you off your shopping game!)
But every mom has her own method to the madness. Some working moms surveyed say that take this shopping season -- considered the second biggest spending moment of the year behind the holidays -- as time for not only bonding with their kids, but for teaching about the value of a dollar. To that end, almost half the moms surveyed said they plan to reuse items from last year. Me, too!
Beyond prepping for back to school, our survey also found that as new school year takes shape, working moms plan to put flexibility to work for themselves and their families. More than one third plan change their work schedule to better fit their children's -- all the while maintaining the same total hours at work. And among those moms who do plan to change their work schedule? I love seeing that 85% feel mostly comfortable with making a change. Kudos to all the managers out there who support their hard-working parent employees!
For now, though, my personal focus is on shopping -- and then, hemming. I absolutely hate hemming, but we're all so short that I always end up having to do it. It makes me think of how my own working mom would do a school year's worth of shopping on Labor Day, bring us home to stand on the coffee table to pin up our pants, and then hem everything that night so that might brother and I were ready for the first day of school the following day. Thirty years later the cycle continues, but why? They make adjustable waists in kids pants now -- when will we get adjustable hems? That's an innovation every mom needs!
Happy shopping, wherever you choose to do it!