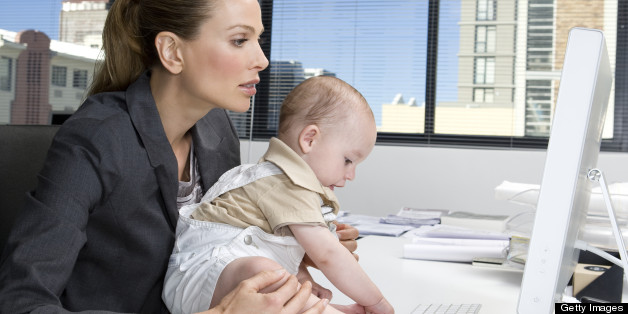 It's that time of year again -- time for handmade cards and way-too-early-in-the-morning kisses from the kids and a spa gift card from the husband. (I've been looking forward to my annual Mother's Day massage for more than a month now.) These are just the gifts I want as a mom.
What I want as a working mother this year, however, will take a little more effort.
Working moms were "discovered" yet again by the media this year -- and by some of the nation's most powerful working moms, like Sheryl Sandberg and Anne-Marie Slaughter. (Who made our list of the Most Powerful Moms? Check it here.) And Marissa Mayer was likely surprised by the blowback from working moms and dads nationwide when she unwittingly stepped into the work-family debate by banning working from home at Yahoo, where she is CEO (and a young working mom herself). Here is a list of what working moms really want:

Flex. As Working Mother Media President Carol Evans says nearly every day, "Flex is the answer to everything." Fighting stress, increasing productivity, lowering facilities costs, keeping business flowing during bad weather -- you name it, flex makes it happen. But like all of my wishes for working moms (and everyone else with a job) this year, flex is one of those benefits that is solely dependent on whom you work for -- and it shouldn't be. More companies need to get on board, because flex is fundamental -- and powerful.

Equal Pay. April 9 marked Women's Pay Day, which symbolizes how far into 2013 women must work to earn what men have already earned in 2012. Hey Congress, want to get us working moms something for Mother's Day this year? How about passing the Paycheck Fairness Act? Don't worry -- one size fits all.

Paid Family Leave/Paid Sick Days. This country's lack of mandated paid family leave and paid sick days is unconscionable -- and embarrassing. In a country that professes to love families, millions of new moms and dads still have no right to paid leave. By comparison, the Working Mother 100 Best Companies, which comprises 18 industries employing 2.5 million workers, offers on average seven weeks of fully-paid leave to new birth moms, three to new dads and five to new adoptive parents. (Sign our petition to demand Congress to mandate paid family leave here.)

Path to Leadership. Women hold only 14 percent of executive officer slots at the Fortune 500. While becoming a CEO isn't every working mom's goal, companies of all sizes need to identify their high-achieving women and move them up the ladder. At the National Association for Female Executives Top 50 Companies for Executive Women, we've found that two keys to women's advancement are sponsorship and holding managers accountable for the number of women they advance. Women make up half the workforce -- we should make up have its leadership as well.
While these Working Mother's Day "gifts" may take effort, I'm no longer willing to wait for them. I do not want to have to wish for these gifts for my daughter; I want them now. I never want my daughter to chuckle knowingly at this list of old boys' clubs as if to say, "Well, this is the way it's always been."
As my good friend always says, "If you don't ask, you don't get." Consider this the ask of millions and millions of working moms. We're ready now to get.
BEFORE YOU GO