How about a tour of Central Park with Candice Bergen? A day on the set with the world's leading action hero, Hugh Jackman? What about a private lunch and falconry lesson from Robert F. Kennedy Jr.? Or a cruise on David Rockefeller Jr.'s yacht with an oceanographer providing one-on-one commentary?
These are but a few of the items being offered in the Christie's Green Auction, "A Bid To Save The Earth," set for April 22 at Rockefeller Center in New York in honor of Earth Day. Christie's New York and a list of prominent celebrities, cultural and intellectual elite, along with several leading environmental charities, are behind this unusual, captivating event.
When you think about it, the entire auction business is green. After all, it's built around buying and selling valuable antiquities that are recycled, reused, and/or preserved. Many of the finest art, design and car auctions will only deal in pieces that are old and in good condition. Inherently green, beautiful, historic, it's all good for mankind and for sustainability. Owners of these items are mostly caretakers, preserving and passing them on to future generations.
The concept here is that leading artists, philanthropists, celebrities and businesses are donating artwork, experiences and other unique gifts - preferably ones valued at $100,000 or more - to be auctioned off at Christie's main showroom in this special event which benefits several sustainability-related charities. Oceana, Conservation International, Central Park Conservancy and Natural Resource Defense Council will receive 100 percent of the proceeds as Christies' is waiving commissions and fees, as well as donating its space and services. Corporate sponsors such as Barneys New York, Deutsche Bank, and Target are also supporting the effort. NBC Universal is the media partner who will be promoting the effort through on air and online assets.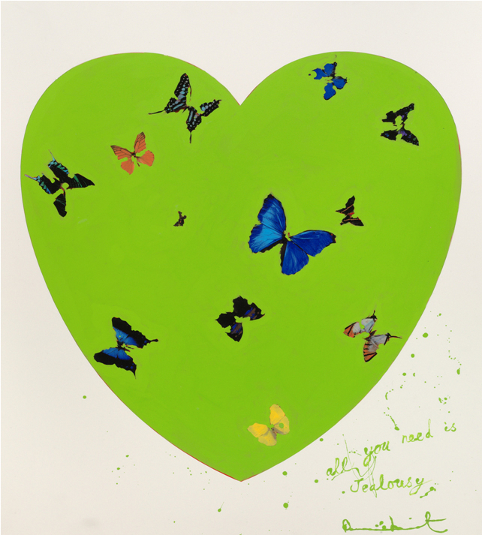 Source: Damien Hirst's "All You Need is Jealousy," an auction item
"We are bringing together corporations, celebrities, non-profits and the arts community, all setting aside their individual agendas to go green," explains Toby Usnik, Head of International Communications for Christie's and a prime mover behind "A Bid To Save The Earth." This event will even have a "Green Carpet" as participants walk in front of major national and international media to support this worthy cause. "We feel like we are on to something here," Usnik said. "It's a total cross-section of participants all committed to honoring Earth Day and supporting the environmental non-profits."
Among the most desirable auction items are art pieces by Damien Hirst and environmental artist Alan Sonfist. "The Christie's auction is a wonderful concept. It also helps to validate and strengthen the environmental art movement, which I helped pioneer back in the 60s," Sonfist explained.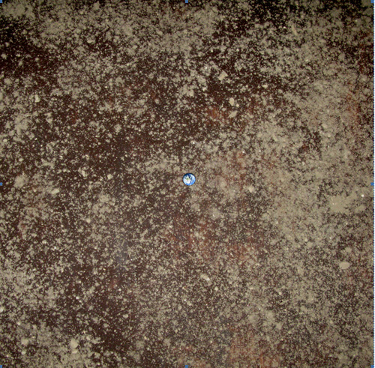 Source: Alan Sonfist's "Naked Earth," an auction item
Respected environmentalist/documentary producer Susan Cohn Rockefeller acted as adviser to Christie's in helping to choose the participating charities. (Selfishly, I wish Sierra Club could be included, maybe next year?) "This is a tool to generate significant revenue for the non-profits," Rockefeller explains. "This event is generating so much excitement, and generosity, far more than we ever expected in this economic climate." Rockefeller is donating jewelry from her own line for the auction in addition to her behind the scenes support.
Cameron Diaz, Arianna Huffington, David Duchovny, Christina Aguilera and Vera Wang, among others, are also donating personal, not material, experiences.
I spoke with Bergen about her involvement, which stems from her love of Central Park. "Central Park Conservancy has improved the park 100 percent over the past 20 years. I remember when you'd see hypodermic needles, rats...now we have the Shakespeare Gardens, it's wonderful for tourists, this is a great example of the "Adopt the Park" initiative," said Bergen.
Whomever makes the winning bid for the Central Park tour with Ms. Bergen, not to mention dozens of other unique items, will have a special experience. I plan on attending the auction on Earth Day and will provide a full report shortly thereafter. As always, thanks for reading and your comments are encouraged.... For more information, please check out www.abidtosavetheearth.org.