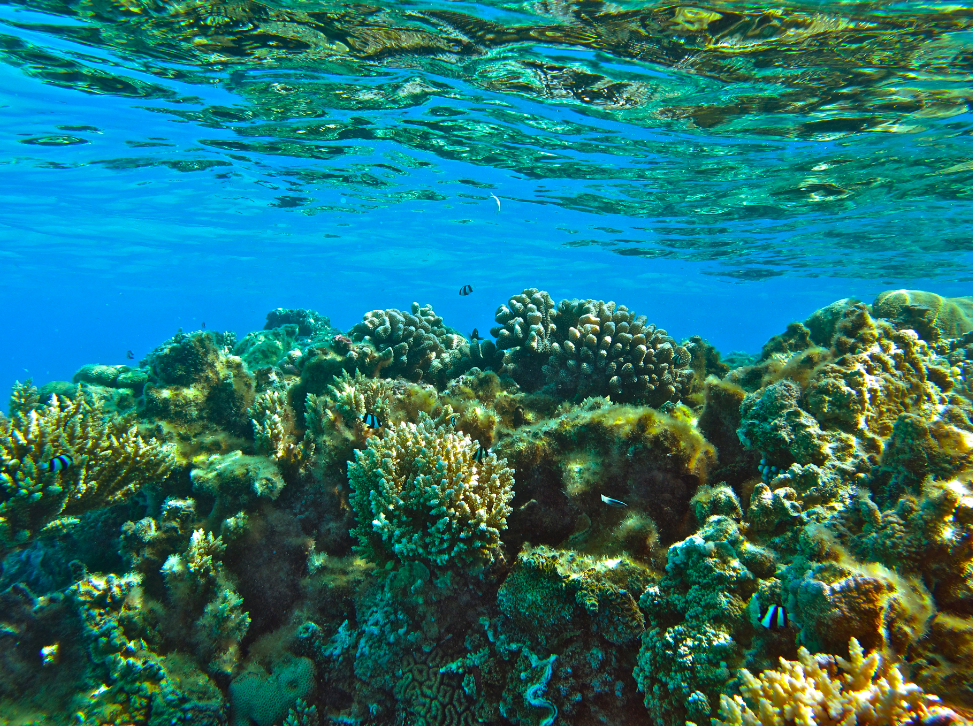 Example of living coral reef in Aitutaki. Photo courtesy of Sylvia Earle.
AITUTAKI, COOK ISLANDS - In answer to your first question, I am scuba diving in the South Pacific, about six hours due south of Hawaii by air. As exotic and remote a locale as this is, the real story is not where I am but whom I have the honor to dive with.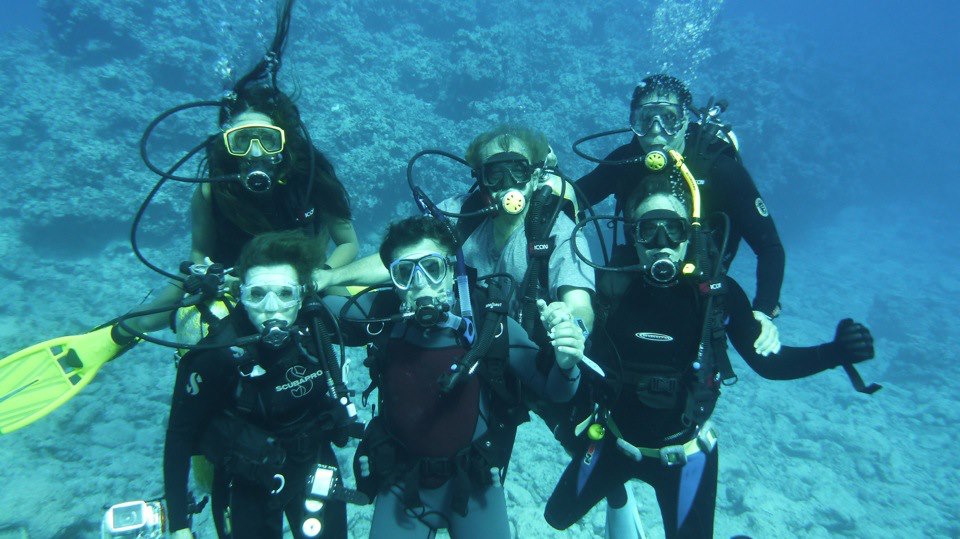 Group photo of the diving team with Sylvia Earle and Greg Stone. Photo courtesy of Greg Stone.
Not many amateur tennis players get to rally with the Williams sisters or play hoop with MJ or Kobe. Not many would-be musicians get to jam with Alison Krauss or Dave Matthews. But thanks to impulsively raising my paddle at the Christie's Green Auction in April, I find myself sitting in a dinghy with none other than the legendary Dr. Sylvia Earle, a.k.a. "Her Deepness" -- the world's most accomplished female diver and ocean advocate. And while most icons at the age of 77 are at home writing memoirs and spinning tall tales, Earle is still diving and preaching her passion for ocean preservation as she travels the world.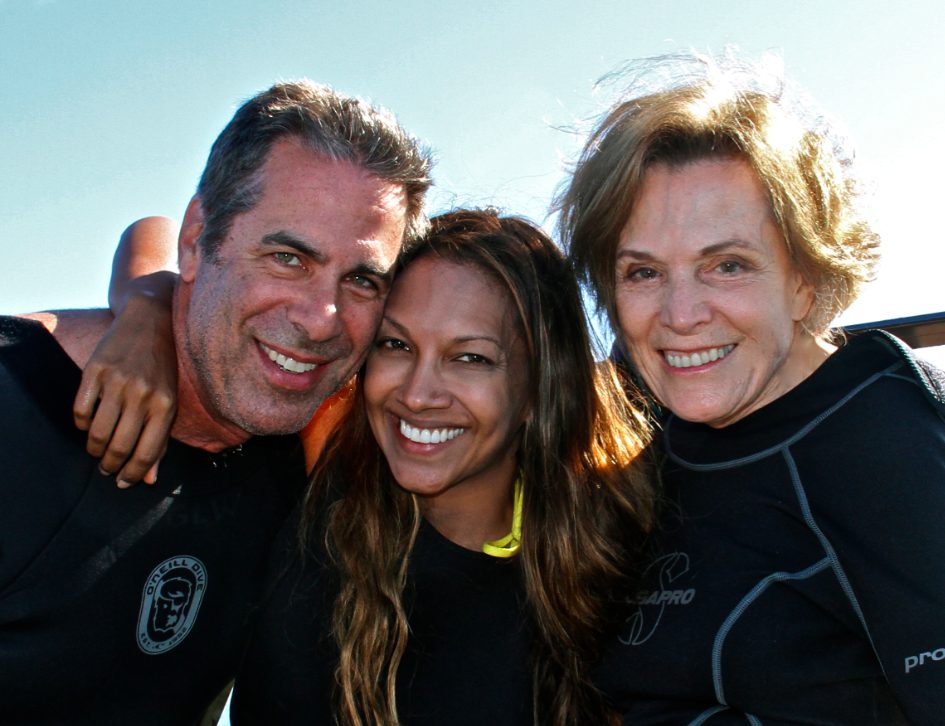 Gordon Wangers, Jennifer Schwab, and Sylvia Earle after diving Aitutaki. Photo courtesy of Sylvia Earle.
If that isn't enough, Executive VP and Chief Scientist for Conservation International (CI), Dr. Greg Stone, is also in tow. Stone is best known for his diving exploration of Antarctica, where he designed and led expeditions of icecaps in below freezing waters. This is chronicled in his award-winning book, Ice Island: The Expedition to Antarctica's Largest Iceberg. And an unexpected bonus was the presence of Peter Seligmann, a larger than life figure in the NGO world who founded CI in 1979 and has grown it to 900 employees in 30 offices worldwide, devoting its $150 million annual budget to preserving and protecting the planet on land and sea. So for this green girl, being stuck in Aitutaki, population 2,000, with the cognoscenti of the oceanic environmental world is rather like playing baseball with Derek Jeter.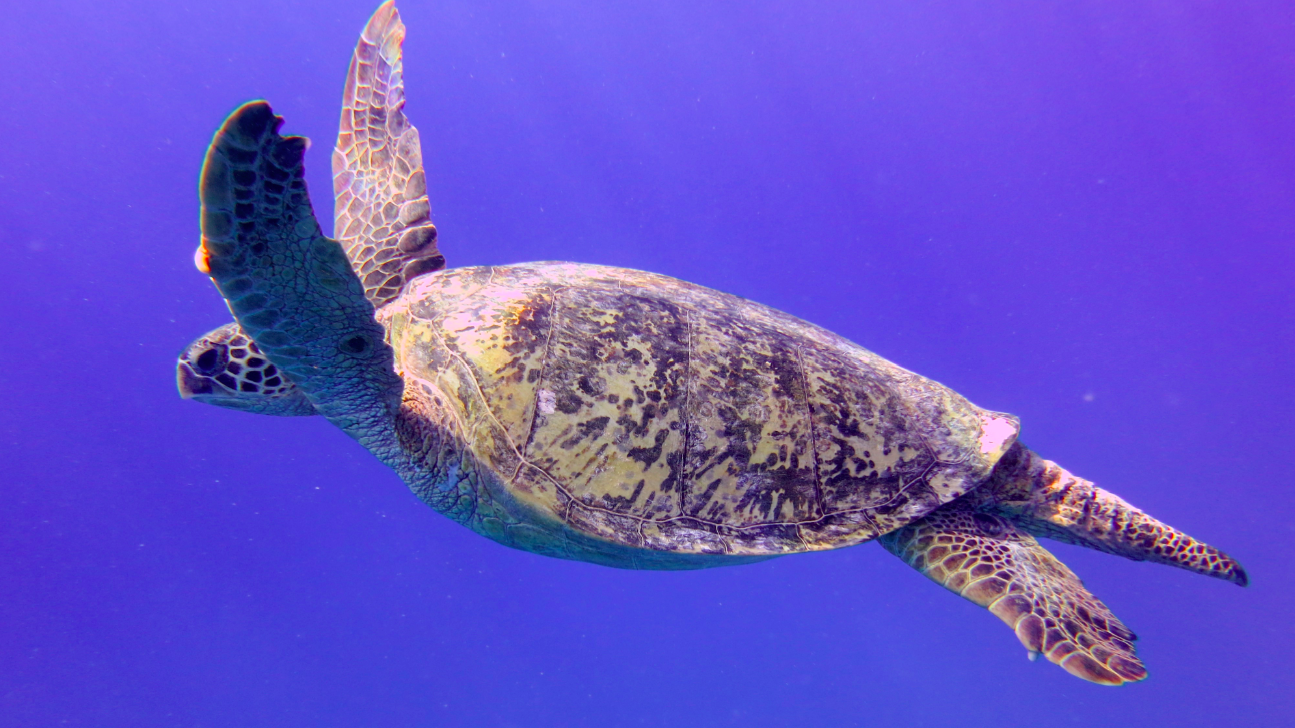 Giant Turtles swam freely around the reef. Photo courtesy of Sylvia Earle.
I have been on better dive trips -- the Blue Hole of Belize was particularly memorable, with swooning, vibrant coral and generations of tropical fish barely brushing the lens of my mask. Not to mention, the prevalence of white tip sharks, barracudas, and sting ray families made the "four-dives per day" a magical experience yet to be replicated. The difference when diving the atoll of Aitutaki was the lack of abundant sea life. The coral fields looked like a surreal undersea graveyard: grey, free-form slabs of lifeless, monochromatic stone as opposed to the throbbing, swaying conflagration of colors, shapes and sizes that define a flourishing coral field or reef. And most disturbing of all, hardly any large fish. A major reason for this unfortunate condition is that in 1992, the waters around Aitutaki "superheated" to well over 90 degrees, killing coral and driving many sea creatures away from the area. El Nino conditions and the resulting stagnant current were responsible, along with the general effects of global warming.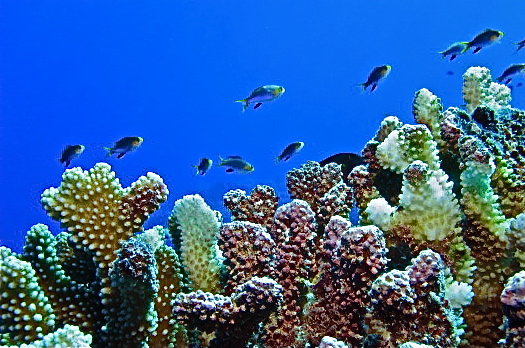 A school of fish living in the reef. Photo courtesy of Sylvia Earle.
While diving Aitutaki, Dr. Earle's lesson plans focused on how we have reached a critical decision point about saving the oceans. If we miss this window, which Earle estimates could be closed as soon as 2020, we may not be able to sustain life on this planet as we know it for our children and grandchildren. Earle explains,
Thirty years ago, twenty, even as recently as ten, many dives throughout the world featured an abundance of huge fish, gorgeous colorful coral and teeming sea life that is now absent from many of these same locations. The reasons for this are overfishing, adverse effects of global warming and mankind's general lack of concern for preserving our most precious resource, our oceans.
She supplied us with staggering statistics about the decline of the big fish population and how this correlates with the commercialization of fishing in remote island waters.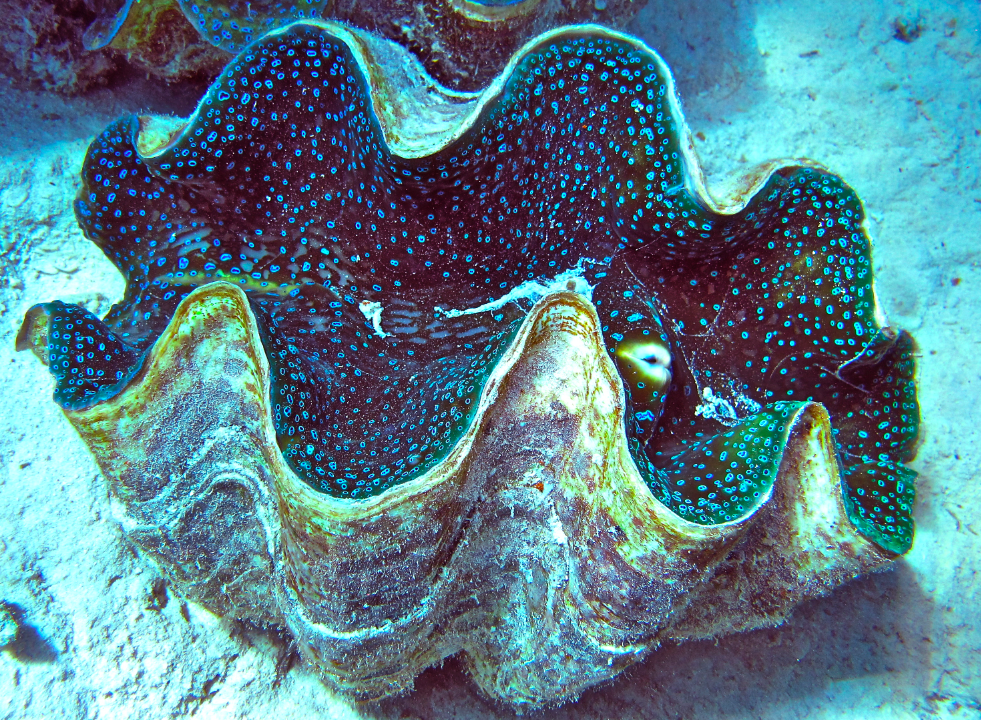 Clams. Photo courtesy of Sylvia Earle.
Another esteemed guest on our voyage, Silicon Valley tech investor and Conservation International board member Alex Balkanski, put it this way:
The water is so clear here, it provides you with disturbing insight into just how exhausted the fish populations and coral beds really are -- the clarity shows you exactly what's not there.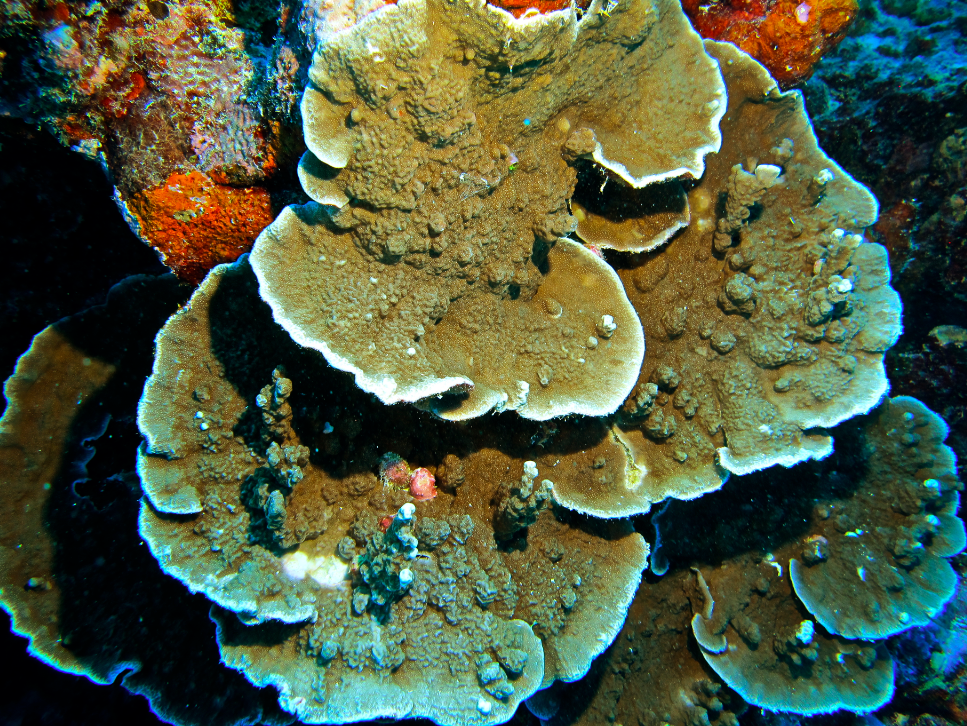 Example of dead coral in the South Pacific. Photo courtesy of Sylvia Earle.
The good news is the real reason we journeyed to this remote location - part of Conservation International's work currently involves meeting with heads of state from 16 island nations to discuss plans to "rope off" an area greater than the size of Texas, which will become the largest marine preserve in the world. As Earle notes, "If project Pacific Oceanscape comes to fruition, a significant portion of the Cook Islands marine ecosystem could be rejuvenated within ten years." This gave me a sigh of relief just knowing there is some hope for improvement.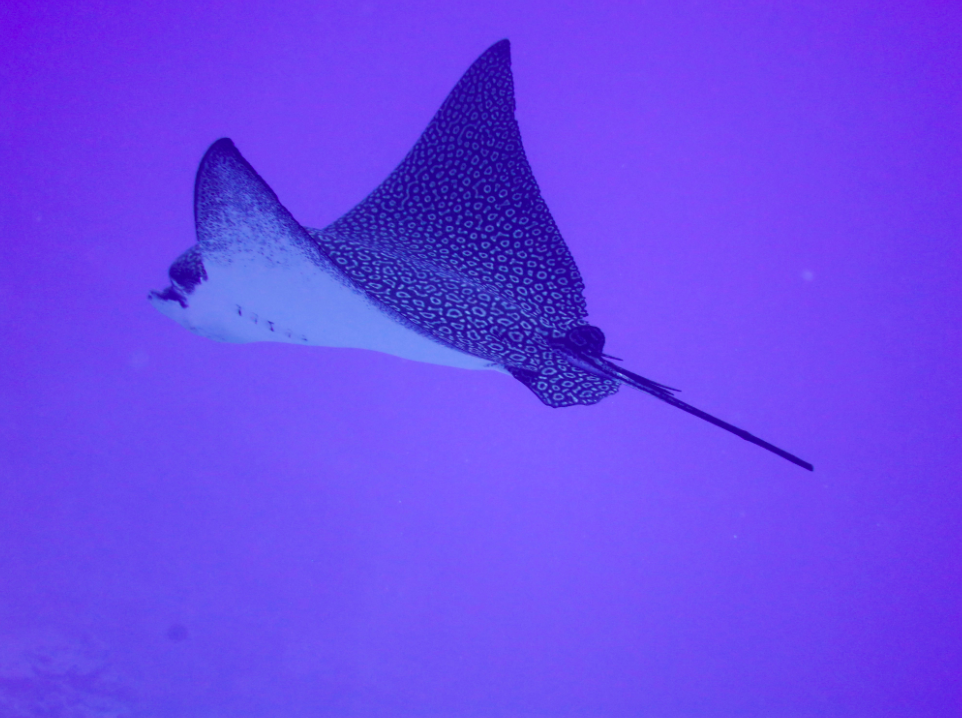 Eagle Ray. Photo courtesy of Sylvia Earle.
While I cannot in good faith recommend the Cook Islands as a vacation spot -- the facilities, food, equipment and service are not exactly five-star quality despite the stiff tariff required -- I will commit to coming back here with my husband in ten years to see if these ocean waters have been replenished. It will be an excellent case study comparing the two points in time and hopefully a project other nations will emulate if successful.
Field Spotlight: President Anote Tong from Conservation International on Vimeo.
So, next time you use the phrase, "there are plenty of fish in the sea," think twice. Because if we don't become much more vigilant about preserving the health of our oceans, there won't always be more fish in the sea.