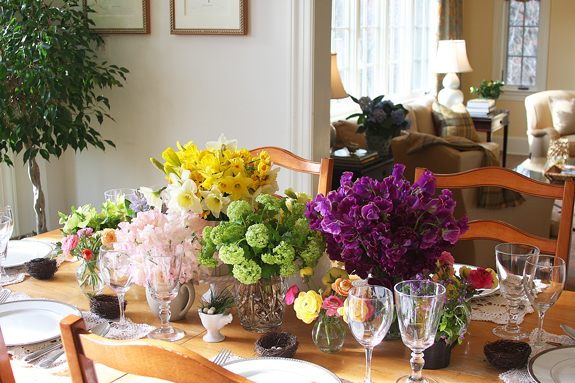 I recently hosted a small luncheon in honor of my 91-year old grandmother. To make it special, I enlisted the help of a dear friend, Beth Horta, the florist, author and photographer behind the beautiful blog Sweet Sabelle. Beth came over with a trunk-full of spring flowers -- purple and pink sweet peas, bright green viburnum, soft green Lenten roses, purple forget-me-nots, delicate pink spray roses, fragrant bright yellow and cream daffodils, lavender hyacinth, ranunculus and more -- and spent the morning helping me create a garden-like spring tablescape.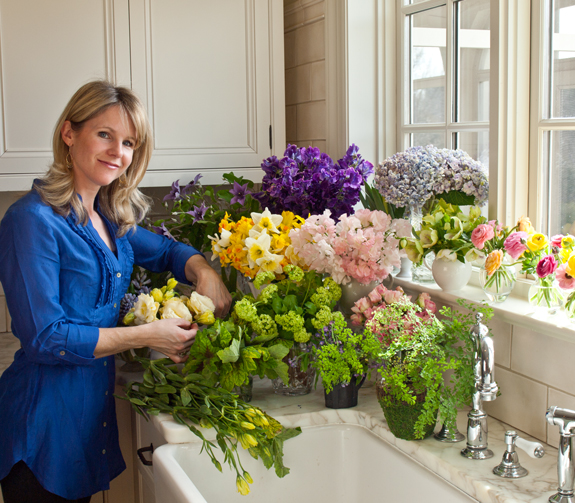 It's amazing what flowers can do...my kitchen looked and smelled like a beautiful flower shop!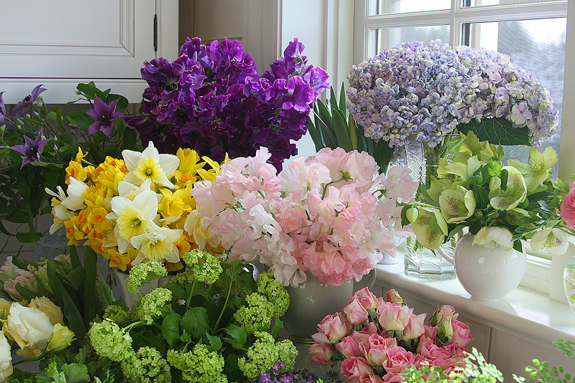 Beth has a unique style. She rummaged through my cupboards to find an assortment of containers -- everything from teapots to water glasses to crystal -- and somehow made it all work together. She likes to mix it up to add interest to the table and keep everything from looking too formal.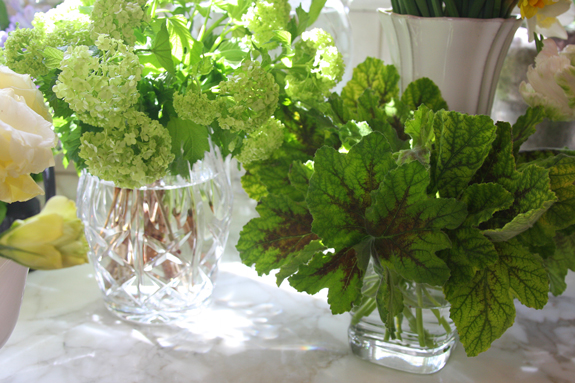 I love how she used greens, such as scented geranium leaves (above) and daffodil leaves (below), as stand-alone bouquets. Most florists use them as filler, but they looked so pretty alone.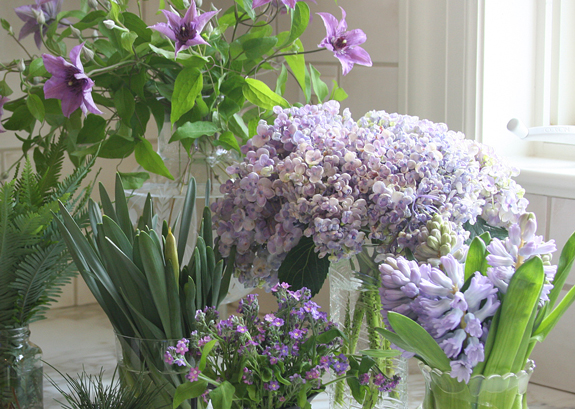 Instead of one grand centerpiece in the middle, Beth set small and medium bouquets all down the center of the table. She grouped like flowers together and arranged them at different heights (there's a cake pedestal lifting the daffodils) to create an interesting line of sight and highlight the uniqueness of each bouquet. The adorable little nests from Williams Sonoma added to the springy look -- they'd be perfect for Easter, filled with mini chocolate eggs or handwritten table cards.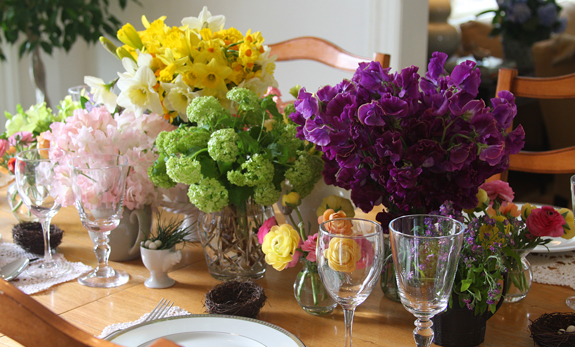 For the food, I wanted to serve something light and elegant.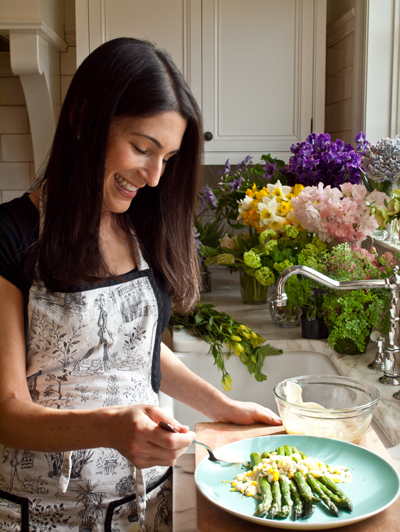 I made Baguette Slices with Butter, Radishes & Sea Salt. Very spring and very French...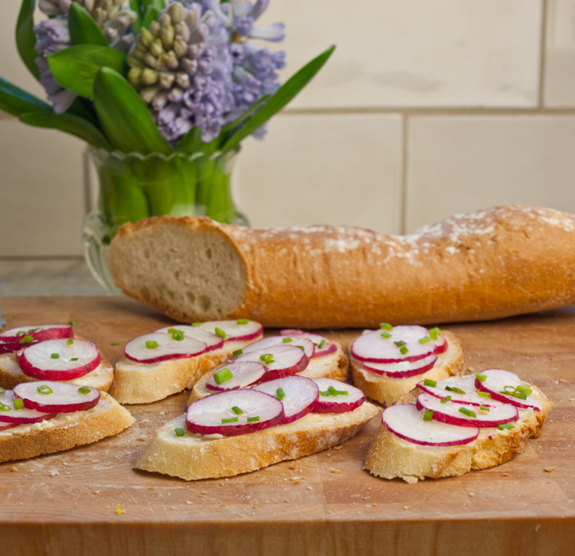 An Asparagus Salad with Dijon Mustard Sauce and Chopped Hard Boiled Egg...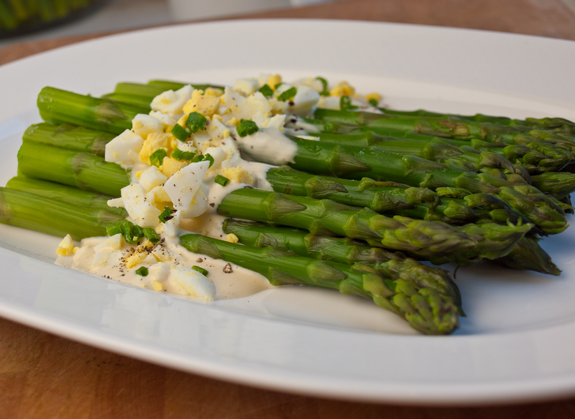 Room temperature Grilled Salmon with Garlic & Herbs (recipe coming soon!), which paired beautifully with the mustard sauce on the asparagus (you could also serve a Honey Baked Ham or Poached Salmon)...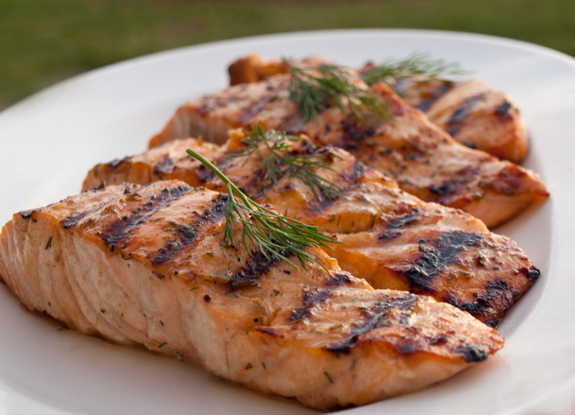 And one of my all-time favorites, Luscious Lemon Squares.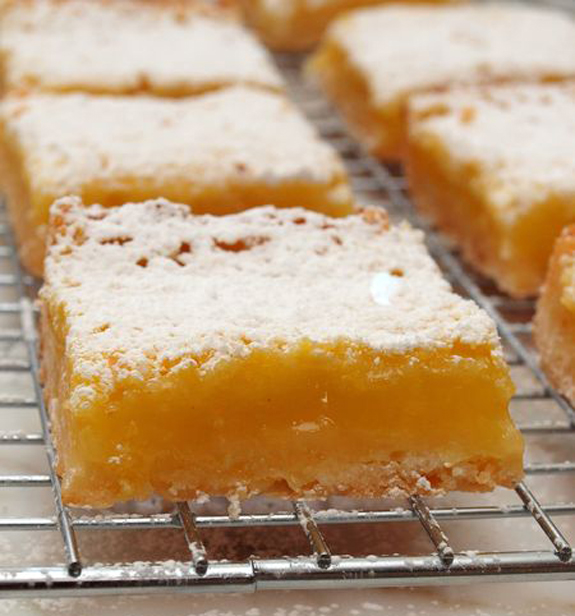 It was a beautiful day all around.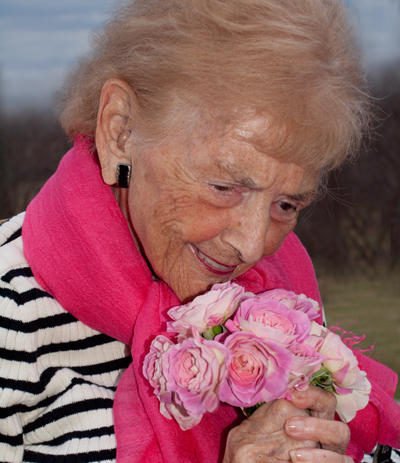 For more recipes and inspiration, visit my blog, Once Upon a Chef.