If you haven't been keeping up with the latest feminist gossip, I'll give you a summary. Apparently, men's super powers are slowly disintegrating into a depressing heap of nothingness. Many of us believe that achieving a better gender balance will solve our gender issues and ultimately create some sort of new humankind utopia. Unfortunately, we're all still programmed to believe that women are too fragile to handle manpower. So we're taking lots of vitamins, and we're exposing the many barriers to achieving balance. Lucky for us, we have technology (a.k.a., Google). Google's new algorithm is going to solve our gender-inclusion problems.
Um. *Long, awkward pause.* There is just one problem: Their Magical-Gender-Diversity-Maker Algorithm must be broken. At least one significant gender filter slipped through the cracks. It was hiding in a job description for Google's coveted Global Creative Director role, in this minimum qualification:
"12 years of experience in a
world class creative agency leading creative for iconic global brands.
" Damn. This lone job requirement virtually eliminates female applicants, since only 3% of advertising creative directors are women. (For real.
There's a conference about it
.) Their interview waiting room is going to be a complete sausage-fest. But don't fret, ladies, you may still be able to break through the Google glass. Here are some ideas:
Go back in time 12 years and change your lady-identity to man-identity. (Whoopi Goldberg did it, so we have a theoretical, successful test case.)
Go back in time 14 years and rent your garage to two Stanford geeks mumbling obscenities about some Jeeves dude.
Or... actually apply to the job, today, and -- this is important -- point out the inadvertent discrimination.
A casually-conducted study found that Google seems to exclusively recruit their top creative directors from a homogenous pool of candidates made up of creative directors from big agencies -- 97% of which are men. Such as...
Ian Tait, ECD for Google Creative Labs, formerly ECD at Wieden + Kennedy
Robert Wong, Google ECD, brought to you by Arnold Worldwide as CD
Andy Berndt, Google ECD, by way of Ogilvy as Co-President
Ji Li, Google CD, via Droga5, CD.
(There are more, but you get the point.) You might think to yourself, "Perhaps I can join Google as a bright young woman and work my way up?" Consider Robert Wong, who had the bright idea to mine creative talent from fresh young college graduates. In 2009, he launched the fabulous
Google 5
-- all dudes. Oh well. The world of executive creative directors is a tight-knit group. It's like
The Augusta National
, without the dimples. Also,
men refer men
who refer men (and so on). To be fair, I'm picking on Google because their Magical-Gender-Diversity-Maker Algorithm found its way into my social feed at a moment when I was pondering the injustices of the world. Plus, I covet Google the most. The hard truth is that most agency executive creative director job descriptions have this same gender-filter. Another casual study reveals:
What does this have to do with humankind utopia? This seemingly tiny and barely noticeable detail has a huge impact on advertising -- an impact equivalent to the
influence of advertising
and marketing on society. And we just demonstrated the impact this has on Google -- only the most influential brand in the world (
Google it
).
To be clear, I am not suggesting that anyone dumb down job requirements. I'm simply demonstrating how one little word (in this case, the word "agency") can make the difference between stellar candidates or stellar male candidates. We have to be aware of all the overt and subtle ways we perpetuate this cycle, and by "we," I mean all of us. Hold everyone accountable. This is not a women's issue, but a people issue. It's bad for men. It's bad for business. In addition to magical algorithms, we can use our human-parts to identify the ways we are preventing diversity and inclusion, in all areas -- recruitment, retainment, representation. Seek them out. Admit that they are real. And speak up about it.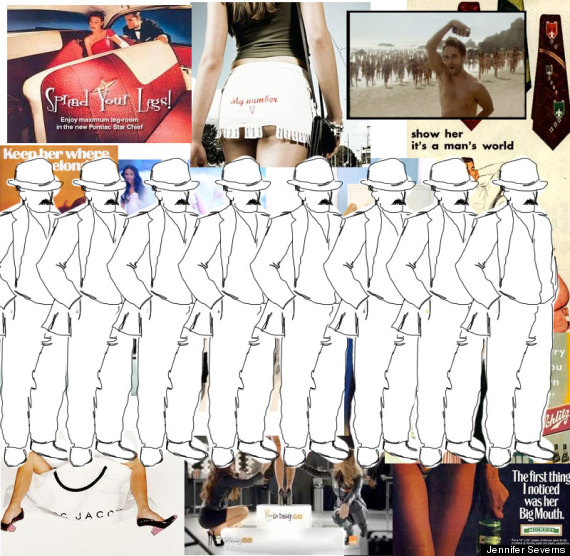 *No men were hurt in the making of this article. The opinions expressed here represent my own and are not necessarily those of my employer or clients.