The post was written by Deron Triff, CEO of Changents.com.

Today a new chapter is being written where social media meets philanthropy

The stakes were high. The expectations perhaps were even higher.
Yesterday on the fourth birthday for what is arguably the most exciting non-profit the world has ever witnessed, charity: water's "Live Drill" for clean water went terribly wrong in a far-flung corner of the Central African Republic. Scott Harrison, charity: water's iconic leader - whose Web 2.0 vision for philanthropy has catapulted the non-profit from obscurity four years ago to a near-nirvana for cause-minded Millennials - rallied his base to witness, live on Facebook, "an amazing story" of a gushing new well, providing a classic underdog, the Bayaka people, with the source of water that has been more than a decade in the waiting.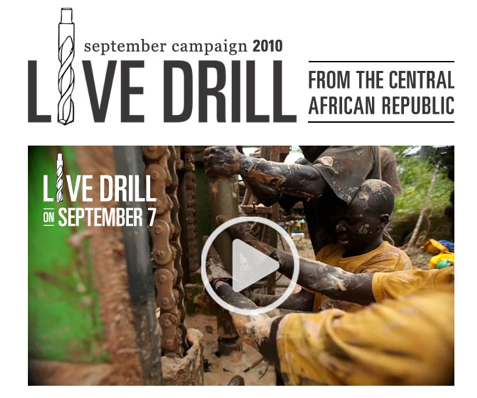 How could something so right, go so wrong? It's a familiar cliché, but in age of social media, the answer is instantaneous, transparent and dramatic.
August 30
7:30 PM EST/4:30 PST
charity: water announces $100,000 had already been raised for the organizations trademark "September Campaign" to generate $1.7 million from "donated" birthdays.
September 1
7PM EST/4PM PST
charity: water rolls out its first "live chat" on Ustream with Scott Harrison to a die-hard fan base just hours before he would leave for the Central African Republic to drill the organization's 200th well in the region. The event was quintessential charity: water - fun, exciting, instant, real and flawless.
September 1-7
charity: water begins promoting the Live Drill on September 7 where fans from around the world will "tune in" on Facebook, just as the well is being drilled to see exactly where the money is going.
September 7
4:30PM EST/1:30 PM PST
charity: water fans gather on Facebook in the Western Hemisphere at the same time the Bayaka people begin to crowd around a massive rig to cheer on a mud-covered group of laborers as they send a drill bit hundreds of feet below the Earth's surface to strike clean water for the first time in 16 years. The excitement is palpable.

4:35PM EST/1:35 PM PST
No signal from Ustream. Facebook status updates accelerate below the video window as charity: water fans around the world anxiously await an instantaneous live shot of their well. Suddenly a video signal comes through, after a UStream ad that seems terribly trivial and out of place given the event. Then it's gone.
4:43PM EST/1:43 PM PST
charity: water pushes out an alert asking fans to watch the Live Drill on Vimeo.
In a social media instant, dreams were dashed on Vimeo as Scott recounted the events of a "heartbreaking and messy day" that was "not going as planned." The compressor stopped working, but was fixed. The breaks on the rig failed, but were replaced. Problems with the drill bit slowed progress, but did not stop the efforts for going well into early morning hours. And then, at 305 feet, the well caved in due to sand-laced soil that could not support its structure.

And immediately the crowd on Facebook instantly shifted gears, sending messages across the globe encouraging charity: water to persevere. Under the weight of defeat that few (if any) anticipated, the masterful use of storytelling and instantaneous communications from charity: water ushered in a new chapter in the book many us believe they authored at the intersection between social media and social action.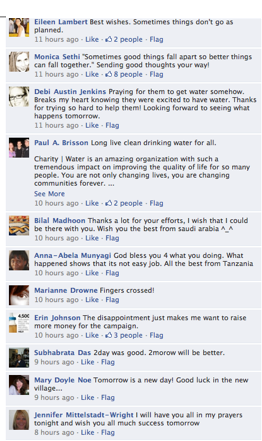 Call this new chapter "Philanthro-Drama." Call it "Reality TV meets Do-Gooderism." Call it whatever you want. The fact is that charity: water is leading the way again to use the tools of our day in ways that take something that has gone so wrong and make it so real, right and relevant.
Thanks to the do-gooder corporate arms race, we've become so accustomed to predicable outcomes even with social media's unpredictability. We can count on Pepsi Refresh awarding some lucky group of winners at the end of each month. It's a sure bet that Chase Community Giving will write checks to non-profits that win the most support on Facebook. And American Express Member's Project probably would not risk a live broadcast where consumers can witness the moment of truth for the non-profits who've won their support.
Today charity: water is drilling again -this time in a nearby Bayaka village. They haven't given up and I don't believe we'll see any white flags as long as Scott keeps doing what's he doing, as one of the most exciting Change Agents of our time. I don't know about you, but I'll be watching again today at 5PM EST. You don't get this kind of grit on HBO. And you certainly don't have chances to give like the ones charity: water offers.